Tiger Woods is one of the most successful golfers of all time. He has been one of the highest-paid athletes in the world for several years. Being the highest-paid athlete, does he own a Yacht and how much does it cost?
Tiger Woods purchased a yacht for 20 million dollars named Privacy.
In 2004, PGA tour winner, Tiger Woods, decided to purchase a 155 feet yacht named Privacy, which cost him around $20 million. His yacht is currently tying up in Albany.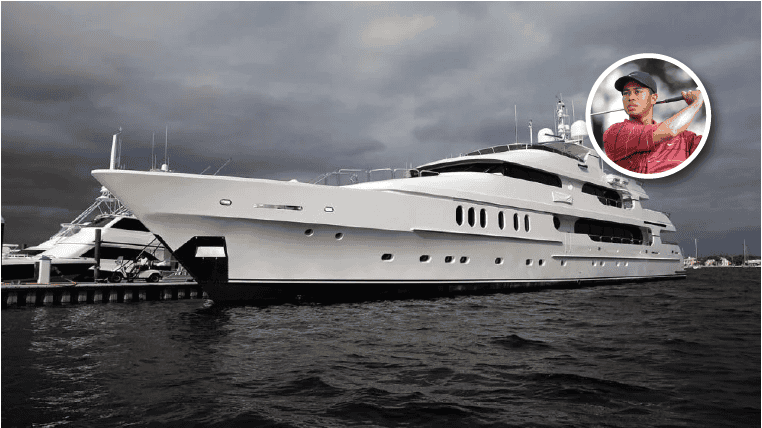 Where is Tiger Woods Yacht Right Now?
As a professional golf player, Tiger Woods is a pretty famous name. He has purchased a ship named Privacy for 20 million dollars. However, he kept his yacht moored in a bay named Oyster Bay.
According to Marine Traffic, in 2021, the yacht called Privacy left Florida, United States of America. But it is currently docked in Albany. Tiger Woods did not say anything much to the media about his yacht though. But we found some information about where his yacht has been moored.
As reported by Marine Traffic, the yacht is located on the US East Coast.
Information about Tiger Woods Yacht
| | |
| --- | --- |
| Yacht Name | Privacy |
| Yacht Owner Name | Tiger Woods |
| Build Year | 2004 |
| Status | Active |
| Yacht Length | 155 feet |
| Total Tonnage | 498 |
| Vessel Type | Pleasure Craft |
| Yacht Builder | Christensen |
| Yacht Cost | $20 million |
Tiger Woods Yacht Interior
Tiger Woods yacht called Privacy's interior designer's name is Carol Williamson and Associates Ltd. The yacht's interior is 65 hundred square feet and can hold up to 2-thousand-gallon water. Besides, the yacht has a jacuzzi, a sky-lounge bar, a gym, and many more.
However, Privacy has a lift where 3 people fit easily. Some people say that Tiger Woods' ship is one of the largest ships among golf players globally.
What is Tiger Woods' Yacht Maintenance Cost?
There are not many people in the world who want to spend their money so passionately. Besides, many billionaires and millionaires buy a yacht because it is one of their most private assets.
Moreover, there are other reasons to buy a yacht-like taking care of privacy. These privacies offer protection to millionaires and billionaires. The yacht is not insignificant for the multi-billionaires of the world.
A professional golf player like Tiger Woods needs to pay around 2 million dollars every year to maintain his yacht called Privacy. However, these luxurious ships' maintenance costs are too high and are quite troublesome these days.
To keep up with the modern world and maintain a large yacht like Privacy is too costly for him. Because of Tiger Woods, all the brand endorsements have been shortened. So, it is quite troublesome to maintain a 155 feet yacht.
According to Golf's official website, the yacht named Privacy can hold up to 12 thousand gallons of gas. We can say that it is pretty much. But it needs that amount of gas to run the twin 18 hundred-horsepower engines.
Related: How Much is Roman Abramovich Yacht
Is Tiger Woods Yacht the Largest Yacht in The World?
No, Tiger Woods' yacht is not the largest boat in the world. The largest ship in the world is Azzam. It is currently owned by a billionaire named Sheikh Khalifa bin Zayed Al Nahyan. He bought the yacht for 600 million dollars. And it is not currently ready for sale.
Every multi-millionaire is sensual about their wealth. They liked to spend their money passionately. That is why the multi-millionaires and multi-billionaires bought a yacht, jets, and many more.
Will Tiger Woods Buy Another Yacht?
According to several magazines, Tiger Woods brand endorsements have been shortened. That is why he cannot keep up the maintenance cost.
Besides, Tiger Woods will not be going to buy another yacht. However, there is a slight chance that he will buy another yacht.
Does Tiger Woods sell His Yacht?
Tiger Woods bought the yacht named Privacy for 20 million dollars. However, it is hard for him to keep up with the maintenance cost every year.
Because his endorsements are downsized. That is why he is ready to sell his 155 feet yacht called Privacy.
Tiger Woods wants 25 million dollars for his 155 feet yacht. However, he purchased the yacht for not more than 20 million dollars. On many social media platforms, Palm Beach has confirmed that Tiger Woods' toy is ready for sale. Tiger Woods is currently finding the takers.