Roman Abramovich is one of the most influential persons in Russia. On the Russian billionaires' list, Roman Abramovich is in the thirteenth position. Also, a little information for football fans is that Roman is the previous owner of Chelsea, a football club in the premier league.
As a significant figure, there are many questions regarding Roman Abramovich, including how much his yacht is. Well, let's find out here.
Roman Abramovich paid an estimated $700 million in September 2011 to purchase his yacht, Eclipse. Currently, the superyacht is around a billion dollars worth. It makes Eclipse the second most expensive yacht on earth, following the yacht History Supreme.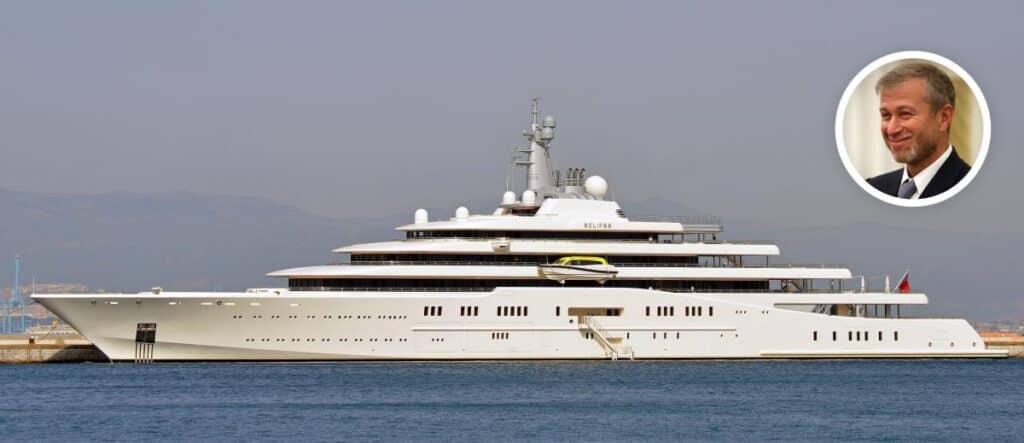 Where is Roman Abramovich's Yacht Now?
The Eclipse is not a small boat that can easily fit anywhere you want. It is the second-largest yacht in the world. So, it is evident that it needs a massive space to anchor.
Roman Abramovich had been using a Turkish port as a parking space for his yacht. A London-based firm is running that port. However, currently, the yacht is anchored in Simpson Bay. It is around the Caribbean island in Sint Maarten.
How Big is Roman Abramovich's Yacht?
Roman Abramovich's yacht was the largest in the world. However, the record did not last long. In 2013, the yacht of the United Arab Emirates' king purchased a yacht that took the world record for being the largest one.
Eclipse is a massive 162.5 meters long yacht. It has two helipads, two swimming pools, 24 guest cabins, a disco hall, and numerous hot tubs. Besides all these, there is a mini-submarine on board. That submarine can go underwater up to 50 meters.
Around 70 crew members work together to operate the yacht. The boat has a detection system that can detect missiles. Moreover, it is featured with a self-defense system like a military vessel.
Also Read: How Much Michael Jordan Yacht Cost
Who Made Roman Abramovich's Yacht?
A German shipbuilding company named Blohm & Voss manufactured Roman Abramovich's superyacht Eclipse. The company is in Hamburg, Germany. It took five years to design, build, and test that yacht combined.
However, the following company only completed the technical design. Another company named Terence Disdale designed the interior and exterior. After finishing the decorating factors, the company delivered the yacht to Roman Abramovich on 9 December 2010.
When Did Roman Abramovich Get his Yacht?
The German company started developing Roman Abramovich's yacht in around 2005. After completing the manufacturing of Eclipse, Roman had to wait more than a year before getting his hand on it.
On 12 June 2009, Eclipse was first launched. After being launched, she had to go through a sea trial. The trial took place in Frederikshavn, Denmark, in September 2009. Finally, on 9 December 2010, Roman Abramovich received the superyacht.
In February 2011, Roman Abramovich contacted SuperYachtsMonaco, where his yacht is registered to be rented. For additional information, SuperYachtsMonaco is a yacht brokerage company in Monaco.
Who Owns The Richest Yacht In The World?
When Eclipse was built, it was the most expensive yacht in the world. However, the record did not hold long. At present, History Supreme is the most luxurious superyacht, and Eclipse holds the second position on this list.
Due to being an expensive yacht, it had some drawbacks. When the Russian invasion of Ukraine began, the UK inflicted sanctions on Roman Abramovich. So, his expensive yacht would have been seized if he did not act quickly.
Roman Abramovich put his yacht in Turkey. So, he does not have to worry about the seizure. However, some other yachts that are also luxurious as Eclipse are listed below along with the current estimated value to see at a glance:
History Supreme – 4 Billion Dollars
Eclipse – 1 Billion Dollars
Azzam – 500 Million Dollars
A+ – 400 Million Dollars
Motor Yacht A – 380 Million Dollars
Dubai – 350 Million Dollars
Serene – 330 Million Dollars
Al Said – 300 Million Dollars
Radiant – 280 Million Dollars
Pelorus – 280 Million Dollars
Sources