Shawn Kemp, also known as the Reign Man, is a retired American professional basketball player and owner of a pot dispensary. Last, he had played for the Orlando Magic basketball team before retiring from the NBA. Shawn is a 3-times member of All-NBA Second Team and 6-times NBA All-Star.
Keep on reading to learn more about Shawn Kemp. Explore how much money he earned by playing in the National Basketball Association and how he blew the money he earned. Also, discover some additional information regarding Shawn Kemp, including his biography, early life, education, and many more.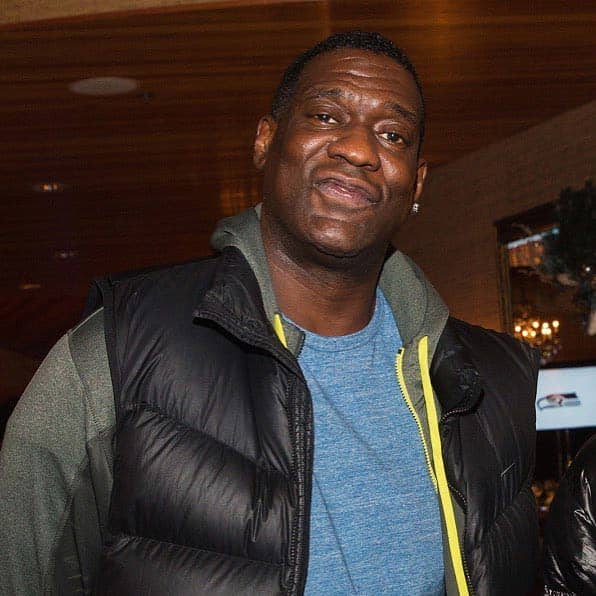 What is Shawn Kemp's net worth?
Retired American basketball player Shawn Kemp has an estimated net worth of $6 million.
Our website has approximated Shawn Kemp's net worth by adding and subtracting his expenses. According to Basketball-Reference, until 2004, he made an aggregate of 91.57 million dollars by playing in the NBA. Anyways, his current net worth is not anywhere near equal to his former net worth.
How Did Shawn Kemp lose his fortune?
Shawn Kemp was one of the richest players in the history of the National Basketball Association. However, he lost his net worth out of irresponsibility. Police arrested Shawn Kemp multiple times for drug dealing and possessing.
Besides, Shawn Kemp mothered at least 6 women and had to give money for child support. These are the known reasons for losing a fortune.
How much money does Shawn Kemp make?
Shawn Kemp made around 14.94 million dollars only from his last season 2003 – 04 in the NBA.
From 1990 to 2004, Shawn Kemp made around 92 million dollars. But unlike other basketball players, such as Antoine Walker, he did not lose almost all the money. Anyways, Shawn Kemp is currently trying to recover his unrecoverable fortune by doing business with cannabis.
How much did Shawn Kemp make from the NBA?
In 1990, Shawn Kemp started his career as a basketball player in the NBA. Until 2004, he made almost 91.57 million dollars from this profession as for the Hoopshype. The amount of money Shawn Kemp earned per season are tabled below to see at a glance:
| | |
| --- | --- |
| Session | Amount of money (in US dollars) |
| 1990 – 91 | 350 thousand |
| 1991 – 92 | 430 thousand |
| 1992 – 93 | 650 thousand |
| 1993 – 94 | 750 thousand |
| 1994 – 95 | 1 million |
| 1995 – 96 | 3 million |
| 1996 – 97 | 3.3 million |
| 1997 – 98 | 8.6 million |
| 1998 – 99 | 9.74 million |
| 1999 – 00 | 10.78 million |
| 2000 – 01 | 11.72 million |
| 2001 – 02 | 12.66 million |
| 2002 – 03 | 13.65 million |
| 2003 – 04 | 14.94 million |
| Total | 91.57 million |
Shawn Kemp's career as an NBA player
After completing college study, Shawn Kemp began his career as a professional basketball player in the NBA. In the regular season of 1989 – 90, he first played in the NBA for the Seattle SuperSonics and continued to play with the team until 1996 – 97.
In the 1997 – 98 regular season, Shawn Kemp started playing for the Cleveland Cavaliers basketball team and played them for 3 years. Later on, he played for two more basketball teams including, Portland Trail Blazers and Orlando Magic.
Post NBA career of Shawn Kemp
After retiring as a basketball player from the NBA in 2004, Shawn Kemp had to face serious financial difficulty as he blew all his money, unfortunately.
In 2008, Shawn Kemp again tried to enter the NBA to make some money. But no team in the NBA showed any interest in him as he was 38 years old at that time. Thus Shawn Kemp came to Italy to join Premiata Montegranaro.
Currently, Shawn Kemp owns a pot dispensary which is located in Seattle. With this ownership, he has become one of the fewest blacks who own cannabis stores. Shawn Kemp also joined two co-founders of Main Street Marijuana, including Ramsey Hamid and Matt Schoenlein.
Biography of Shawn Kemp
| | |
| --- | --- |
| Full Name | Shawn Travis Kemp Sr. |
| Professional Name | Shawn Kemp |
| Nicknames | Reign Man, The Reignman |
| Gender | Male |
| Sexual Orientation | Straight |
| Date of Birth | 26 November 1969 |
| Place of Birth | Elkhart, Indiana, United States of America |
| Zodiac Sign | Sagittarius |
| Ethnicity | Black |
| Nationality | American |
| Nationality by Birth | American |
| Height | 6 feet 10 inch |
| Weight | 127 kg |
| Marital Status | Married |
| Relationship Status | Married |
| Wife Name | Marvena L. Thomas (Since 2001) |
| Children | 2 sons (Shawn Kemp Jr. and Jamon Kemp) |
| Profession | Retired basketball player and Pot dispensary owner |
| Net Worth | $6 million |
The early life of Shawn Kemp
On 26 November 1969, Shawn Kemp was born in Elkhart, Indiana, United States of America. He spent his childhood in his birth town. In addition, Shawn Kemp was born in a black family, and he was raised by his mother named Barbara Kemp.
Shawn Kemp finished his high school education at Concord High School, situated in Elkhart, Indiana. On the first day of the B/C All-Star Camp, he outplayed Terry Mills, a preparation star. In addition, he has been titled Indiana Mr. Basketball for his outstanding basketball performance.
After completing high school, Shawn Kemp attended the University of Kentucky. But later on, he had to transfer to Texas's Trinity Valley Community College, as he was charged for stealing his teammate Sean Sutton's two gold chains. Yet, the charge was not lifted.
FAQs
Is Shawn Kemp a drug addict?
Drug addiction was the cause of Shawn Kemp's career-ending as an NBA player. He was highly addicted to cocaine and alcohol addiction and had to spend years in rehab to overcome his addiction.
Did Shawn Kemp work in filmography?
Besides basketball, Shawn Kemp has worked in TV series and films. According to IMDb, in 2012, he first appeared in a movie named Omerta, where he acted in the role of a swat. Later on, in 2013, Shawn Kemp worked in a TV series named The (206), where he was in 2 episodes as a guest actor.