Durk Derrick Banks, an American rapper, is professionally known as Lil Durk. Currently, he has an estimated net worth of $4 million. But the question is "How Much Does Lil Durk Charge For a Feature?"
The rapper recently claimed that he deals $500k for a performance. That price range puts him in the same ballpark as other top-tier rappers like J. Cole and Kendrick Lamar.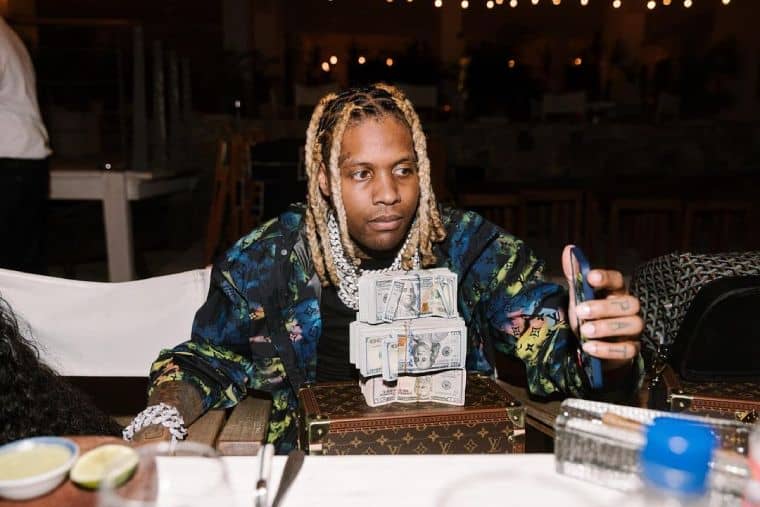 Lil Durk wrote on his Instagram account "Just closed for 500k on a show that's a w for the trenches."
It's also worth noting that Lil Durk is often willing to negotiate his fee, so if an artist is truly interested in working with him, it's likely that a deal can be reached.
How Much Does Lil Durk Charge For a Verse?
Previously, Lil Durk was charging $100k for a verse. But his charging rate has increased within a short time. Recently, he reiterated that he has charged $350k for a verse.
He charged it presumably for someone he is not familiar with. Lil Durk did not offer the homie discount. You can invite him to your show if you can pay half a million.
Lil Durk's charging rate has skyrocketed due to his label which gave him about $40 million. His popularity is increasing day by day. Maybe his charging rate will be increased more in the future.
How Much Does It Cost to Book Lil Durk in 2023?
It is one of the common questions people currently searching on the internet about the American singer Lil Durk. He is an influential rapper in the United States. Typically, his charging rate can be high.
After noticing his recent $500k deal, we can probably say that you must spend a lot of money to book Lil Durk. The price range may be around half of a million to one million.
A few years ago, the charging range was under $100k for a show. In 2020, his booking price was an estimated $200k. Hope it is clear to you about his charging range.
His cost depends on some factors. You must spend extra amounts if you want him to book from outside of his state. However, you can clarify the matter directly with his agent or manager.
How Can I Book Lil Durk?
If you want to book Lil Durk, you have to go through a booking agency. Because the booking agents are directly working with celebrities. They may help you to contact Lil Durk.
Now you can figure out a real online booking agency. Lil Durk is not interested in sharing his personal contact number. So, we cannot give you the number right now.
We can give you his website address. His website is "lildurk.com." You may get some information from his website. On the other hand, he is active on social media.
On Twitter, he has an account named THE VOICE (@lildurk.) We found a Gmail address on his Twitter account. It is lildurkmgmt@gmail. com. You can privately text him on his official Facebook page.
Overall, it is better to communicate physically with his manager or agent. Now you are thinking about who the manager of Lil Durk is. We will clarify it for you, keep reading.
Also Read: How Much Trippie Redd Charge For a Feature
Who is Lil Durk's Current Manager?
Let's know about MANAGER OLA ALI. He is the current manager of the famous American rapper Lil Durk. He and Lil Durk have been familiar with each other for a long time.
Though Ola Ali is successful, he is passionate and hungry for more. He gets the opportunity to work with several young stars. Ola Ali may help you to contact Lil Durk.
How Much is Lil Durk's Ticket?
Lil Durk's ticket price varies in some sectors, including the show venue. Let's look at his previous average ticket price at a glance.
| | | |
| --- | --- | --- |
| City | Venue | Average Ticket Price |
| New York | Dos Equis Pavilion | $125 |
| Tulsa | BOK Center | $111 |
| New York | PNC Music Pavilion | $125 |
| Chicago | United Center | $164 |
| New York | Oakland Arena | $125 |
| New York | AK-Chin Pavilion | $125 |
Hope it is clear to you all about his average ticket price now.
Does Lil Durk have a Concert in 2023?
Yes, Lil Durk announced a second U.S. tour in 2022. He is going on a "7220 Deluxe Tour." Fans were excited to know about his upcoming tours.
However, he performed in many concerts since the onset of his rap career. Recently, he attended a show that's venue was Hard Rock Stadium in Miami Gardens.