Being one of the richest men in the world, Bezos enjoys a pretty lavish lifestyle. Including owning a superyacht. People often wonder, how much did Jeff Bezos' yacht cost?
Jeff Bezos spent 500 million dollars on his yacht named Y721. It is needless to say that his yacht will be a superyacht with a helipad.
Jeff Bezos's yacht measures about 127 meters long. Besides, it is 57 feet bigger than a football ground. As reported by BOAT International, it is too large to sail under a bridge.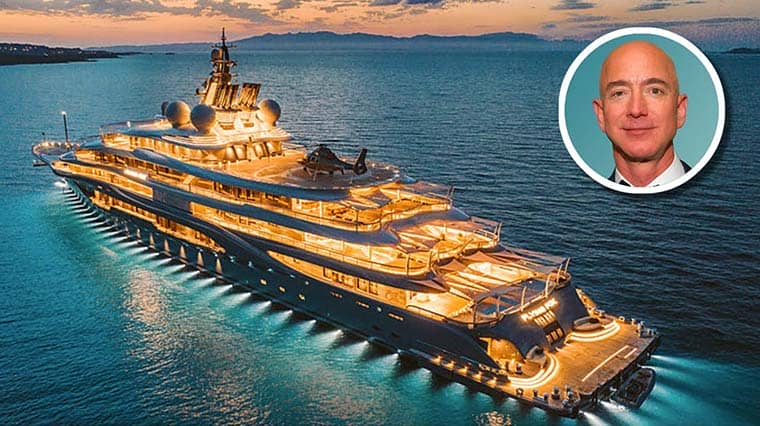 What is Jeff Bezos's Yacht Maintenance Cost?
There are not many people in the world who want to spend their money so passionately. Besides, many billionaires buy a yacht because it is one of their most private assets.
Moreover, there are other reasons to buy a yacht-like taking care of privacy. These privacies offer protection to billionaires. The yacht is not insignificant for the multi-billionaires of the world.
As a founder of an e-commerce company, Jeff Bezos loves to live a lavish life. That is why he purchased a super yacht. On the contrary, Y721 needs around 50 million dollars to maintain properly every year on average.
According to several magazines, the Y721 will cost more than 25 million dollars to run. It needs 40 crew members to operate the yacht.
Who owned Jeff Bezos's Yacht?
At first, Oceanco did not reveal their project which was owned by an Omani businessperson, Mohammed Al Barwani.
In November, they revealed their big secret of building a ship named Y721. Then Jeff Bezos purchased the ship from Mohammed Al Barwani for 500 million dollars.
Where is Jeff Bezos's super Yacht?
According to Boat International, the superyacht of Jeff Bezos is currently in Netherlands' Oceanco Shipyard. As reported by many magazines, the superyacht cannot pass from under a bridge. That is why Rotterdam temporarily dismantled their Koningshaven bridge named De Hef.
According to NPR, the bridge is 95 years old and the Dutch are ready to dismantle it temporarily for Jeff Bezos to let his superyacht pass. The residents of Rotterdam are not very happy about this project.
Around 13 thousand people are interested but 4 thousand people are not very pleased about it. They throw a Facebook event called Throwing eggs at the superyacht of Jeff Bezos.
Moreover, the authorities told in the news that the protest was a joke among people and friends. But it started to get out of hand. But by observing the situation, if the project comes true, the residents will show up with eggs to throw.
How many rooms does Jeff Bezos Yacht have?
Jeff Bezos owns a superyacht currently located in the Netherlands Oceanco Shipyard named Y721. This yacht is the largest superyacht in the world. It measures 127 meters in length. Besides, it is bigger than a gigantic football field.
Moreover, Y721 has 82 rooms, a wine cellar, a movie theater, helipads, three gigantic decks, and swimming pools.
Related: How Much Does Jerry Jones Yacht Cost
What is Jeff Bezos's Yacht fuel capacity?
On average, a 70 meters yacht needs about 130 gallons for every hour with the engines. So, according to our calculations, the 127 meters long superyacht of Jeff Bezos needs more than 230 gallons every hour for the engines to run.
However, it is unclear whether it has backup diesel for impact. Needless to say, it has electric power for its backup.
It will need 25 million dollars to operate the superyacht every year. That is pretty costly for a commoner. But for a multi-billionaire like Jeff Bezos, it is nothing.
What kind of Yacht does Jeff Bezos own?
Many of the magazines said that Jeff Bezos owned the Flying Fox. However, he and Amazon's members denied that he did not own Flying Fox. Anyway, Bezos commissioned a vessel named YS 7512 from one of the best builders called Damen Yachts.
YS 7512 is 246 feet long. And it can take around 45 guests and crew members on board. She is one of the most gigantic yachts in the world.
How much does Upkeep on a Yacht Cost?
The yearly maintenance costs calculate 10 percent of the total purchase price which is about 10 thousand dollars to 100 thousand dollars on average.
However, a superyacht like Jeff Bezos's Y721 needs more than 25 million dollars every year on average. Y721 has several small yachts to support it. Moreover, Jeff Bezos can earn millions of dollars through his superyacht.