Hermes is a French luxury fashion brand that is best known for its products named Birkin and Kelly Handbags.
The company has made more than a billion dollars every year on average. So, people can wonder how much Hermes Artisans make.
Hermes pays $4,700 to an artisan every month. It means about $48,000 per annum on average.
The company is not only paying the artisans but also other employees too. So, keep on reading to know more about them.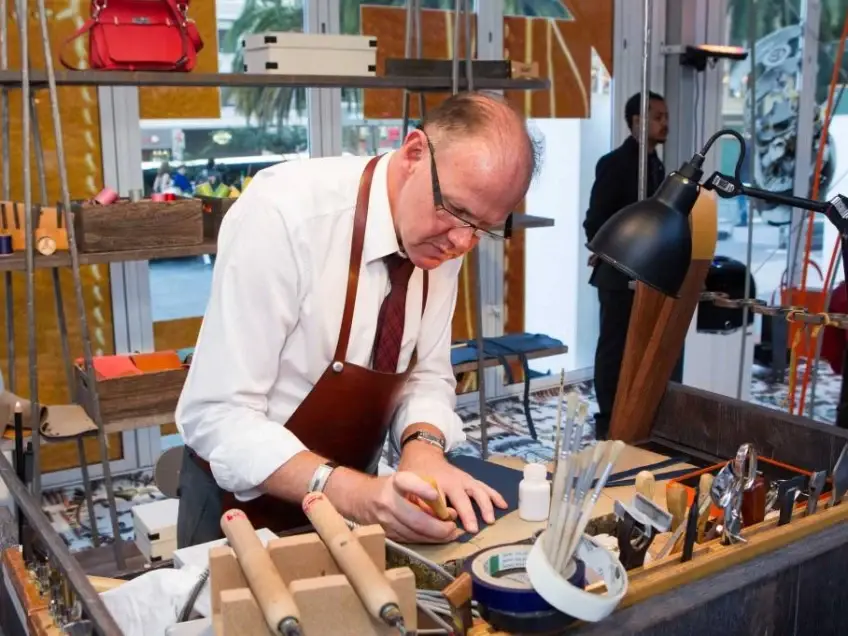 How Much Money Does Hermes Make a Year?
Hermes is a big fashion and leather crafting company which allows them to make billions of dollars each year. In 2022, the company will have made over 8 billion dollars. World-widely, the company has got a massive response from its customers.
We have gathered some information on how much money Hermes made over 5 to 6 years. All the income statements have been given below to know better at a glance:
| | |
| --- | --- |
| Year | Yearly Income Statements |
| 2017 | $5.55 billion |
| 2018 | $5.97 billion |
| 2019 | $6.88 billion |
| 2020 | $6.34 billion |
| 2021 | $8.99 billion |
Related: How Much Do Uber Drivers Make
Does an Artisan Make Commission from Hermes?
Artisans have fixed salaries, paid holidays, and collective bonuses. Depending on the country, an artisan's group can make a performance-related bonus and co-sharing scheme. But they did not get commissions from it.
However, they are highly talented craftspeople who receive fair compensation for their knowledge and creativity. Additionally, Hermes artisans are valued employees who frequently receive opportunities for career advancement within the business.
How Many Discounts Do Hermes Employees Get?
Hermes respects their staff and artisans because of their contribution. If the staff and all employees do not contribute enough, then the company will not become anything in the future. Besides, the employees get discounts from Hermes.
The regular employees of Hermes get about a 30% discount. Moreover, they have other compensations, including dry cleaning, cinema tickets, development opportunities, gym memberships, voluntary benefits, and many more.
How Many Artisans Does Hermes Have?
On 31 December 2021, Hermes employed more than 17,000 people. Among them, 7,634 people are artisans. Most of the artisans are in France, which is around 63%. And, 1000 artisans join the artisan community in a year.
Fortunately, most of the items of Hermes are manufactured in France. So, it is obvious that 63% of the company's 63% of people are working there.
Also, the company has 52 production factories in 11 different countries, including France, the United States of America, Switzerland, the United Kingdom, Italy, and Vietnam.
How Much Money Do Hermes Sales Associates Make?
We have briefly discussed how much money an artisan makes from Hermes. But does anyone know how much money a sales associate makes every year? It's time to reveal this answer.
Hermes's sales associate makes a huge amount of money every year, through salaries, bonuses, and many other things. A sales associate makes more than $44,000 every year. It means he or she can generate more than $3,900 per month.
We have talked about the fixed salary. Then how much do they earn in total?
A sales associate of Hermes makes an overall $50,000 every year through different criteria. He or she gets a pretty decent commission from here too because the company needs more customers to sell its products.
It is a big opportunity for them to make money while working here.
How Much Money Does a Director of Hermes Boutique Make?
Henning Udo Goldmann is currently the CEO and director of Hermes. He makes a massive amount of money through here. His basic payment is $112,000 every year.
However, Henning Udo Goldmann makes more than $187,000 every year on average through different sectors of the company. Moreover, he is trying to raise his wealth to earn more to be a multi-billionaire.
How to Become a Good Hermes Artisan?
To be a good Hermes artisan, a person must first have a passion for craftsmanship and an appreciation for the attention to detail required in luxury goods. Through practice and apprenticeship, he can improve his sewing, leatherworking, and other crafting skills.
Besides, there are several courses where an individual can become an artisan of Hermes. The company gives 18 months of training for the work. The system has two phases, one is called Frontal Lesson and the other one is at the Desk.
The 200 designated teachers are always watching over their students all the time. Through vocational training centers or employment agencies, candidates are chosen for each new position.
Finally, develop a respect for the brand's heritage and history. Then, work to uphold the high standards of quality that have made Hermes one of the most prestigious names in high fashion.