DaBaby is an American rapper who was formerly known as Baby Jesus. His prominence rose to the mainstream in 2019 after releasing some record-breaking mixtapes. One of DaBaby's studio albums has secured the seventh position on Billboard 200.
As usual, people are curious about Dababy like the other celebrities. One of their favorite questions about him is, how much does he charge for a feature? Well, let's find out here.
As of 2022, DaBaby charges from 5 to 300 thousand dollars for a verse. The rate was not always this high. In 2019, after his popularity skyrocketed, the amount he charges is out of most other rappers' leagues. Besides the featuring, DaBaby's concert ticket pricing has also been outraged.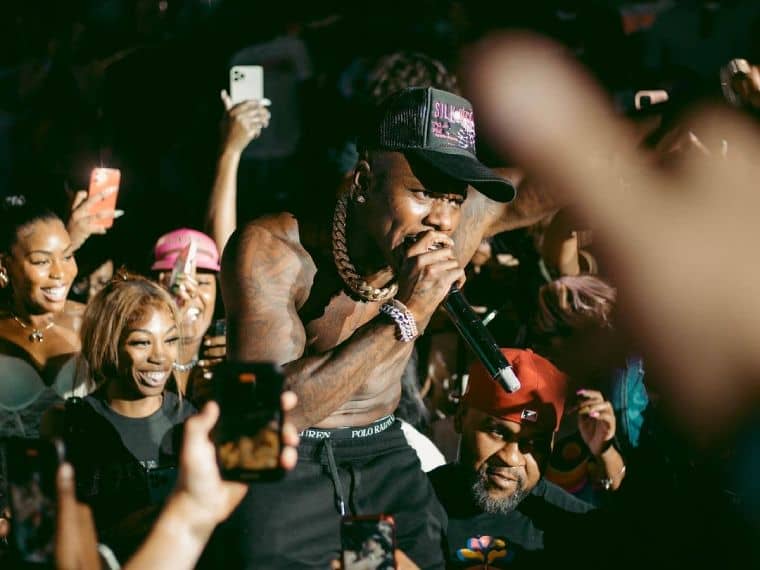 How Much DaBaby Took For a Feature Before?
The price of DaBaby's features was not always out of reach. In 2019, DaBaby first reached a point where he found himself in the mainstream. People started to acknowledge him. So, his demand for performing feature songs started to rise.
Besides, the songs where DaBaby appeared as a featured artist were getting massive success. So, it is evident that his demand for the music industry was growing day by day. And now, he can easily claim up to 300 thousand dollars as a featured singer and rapper.
Before 2019, DaBaby charged around 5 thousand dollars for a verse. Before that, to gather mass attention, he released several mixtapes from 2014 to 2018. It was a very wise move for him, as his prominence came from putting effort into the mixtapes.
Related: Boosie Feature Price
How Much Should an Artist Charge For a Feature?
Well, there is no fixed amount to say how much an artist can charge for making a feature verse. Some factors select the charge a singer can make to do the job, including
Popularity of the singer
Skill of Singing
Experience
Anyways, there is a rough estimation based on how much record companies are willing to pay to singers and rappers for a feature. Generally, companies pay around 10 to 20 thousand dollars to an average singer for a feature song.
The price is different for those who have fulfilled the above factors, such as DaBaby. DaBaby is currently charging up to 300 thousand dollars for a feature. Some singers charge more than him, and that is based on those factors.
How Many Features Did DaBaby Do?
As of 2022, DaBaby has made a massive 88 songs as a featured artist. He began his journey as a featured singer in 2017 by singing in Moonie Music, and the song was All I Ever Wanted. In the following year, DaBaby sang five other songs as a featured artist.
DaBaby's success rate as a featured artist was not high in 2018 as well. However, Finally, in 2019, a song featuring DaBaby named Cash Shit ranked in Billboard US. It was the beginning of his glorious career as a featured artist.
The number of featured songs DaBaby did each year is tabled below to see at a glance:
| | |
| --- | --- |
| Year | Number Of Featured Songs |
| 2017 | 6 |
| 2018 | 14 |
| 2019 | 39 |
| 2020 | 18 |
| 2021 | 11 |
Does DaBaby's Featured Songs Rank?
DaBaby is a very talented artist, and his popularity is growing more and more. Some of his songs have ranked on Billboard Hot 100, US R&B, etc. The first song where he worked as a featured artist went crazy was Cash Shit. Billboard listed it at the 36th position and US R&B at the 16th.
Including the first song that has ranked, a vast of 12 featured songs of DaBaby ranked on Billboard. The featured songs that have secured a position in the Billboard Hot 100 are listed below with the rank:
| | |
| --- | --- |
| Song Title (Year) | Billboard Hot 100 Rank |
| Cash Shit (2017) | 36 |
| Enemies (2019) | 16 |
| Hot Shower (2019) | 58 |
| Death (2019) | 59 |
| My Oh My (2020) | 12 |
| Whats Poppin (Remix) (2020) | 2 |
| Levitating (2020) | 2 |
| For The Night (2020) | 6 |
| Cry Baby (2021) | 28 |
| Beat Box 3 (2021) | 12 |
| I Did It (2021) | 43 |
| Skat (2021) | 47 |
Sources