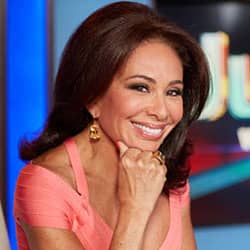 Jeanine Ferris Pirro is an American author and TV personality who was born on June 2, 1951. The most important thing is that she was a former prosecutor as well as a judge at New York State.
In fact, she was the first elected female judge as well as an attorney in Westchester County, New York as a Republican. Well, Jeanine Pirro has a net worth of $13 million.
Pirro is mostly known as the host of Justice with Judge Jeanine at Fox News Channel. Moreover, she had contributed to NBC News most frequently. She also appeared on The Today Show on a regular basis. A Republican, she was the first female judge elected in Westchester County, New York.
Another important thing is that Pirro gained popularity because of her movement against domestic abuse as well as crimes against senior citizens. In 2006, Pirro asked for the Republican nomination for the United States Senate to oppose Hillary Clinton. But she didn't get the nomination. In 2018, she wrote a book to defend the Anti-Trump sentiment.
Judge Jeanine Pirro: At a Glance
| | |
| --- | --- |
| Full Name: | Jeanine Ferris Pirro |
| Celebrated Name: | Judge Jeanine Pirro |
| Born: | June 2, 1951 |
| Birth Place: | Elmira, New York, United States. |
| Birth Sign: | Gemini |
| Height: | 1.63 meters |
| Weight: | 110 lbs |
| Nationality: | American |
| Marital Status: | Divorced |
| Spouse: | Albert Pirro (m. 1975; div. 2013) |
| Children: | 2 |
| Profession: | TV Host, Author |
| Net Worth: | $13 million |
| Education: | University at Buffalo (BA), Albany Law School, Union University (JD) |
| Political Party: | Republican |
Career
Pirro started her law career as an Assistant District Attorney In 1975. At the first stage of her career, she wrote appeals as well as handled minor cases. One of the most remarkable things is that she became the first female judge of Westchester County on January 1, 1991. And she performed as a judge for a couple of years.
Later in November 1993, she was elected the District Attorney in the same county. In fact, she held the position for the first time as a woman in Westchester County. Again, she was elected subsequently in 1997 as well as in 2001.
Pirro has authored six books so far, and she wrote a couple of crime novels. When it comes to talking about her media career, then it should mention that she appeared at a variety of shows.
We mentioned earlier that Pirro hosts the popular show named Justice with Judge Jeanine. However, she hosted the show from home owing to Covid-19 in March 2020.
FAQs
What happened to Judge Jeanine Pirro with her husband?
Well, she got married to Albert Pirro in 1975. But the couple got separated in 2007 owing to their "tumultuous" relationship. And finally, they got divorced in 2013.
Does Jeanine Pirro have children?
Yes, she has two children with Albert Pirro.
Is Jeanine Pirro Republican?
Yes, she is Republican. And she actively supported Donald Trump for the 2016 US Presidential election.