TheStradman is a famous American automotive YouTube celebrity and automobile enthusiast who has an estimated net worth of $3.25 million. People call him a car enthusiast as he has 21 supercars in his possession until now, including Bugatti Veyron 16.4, 2020 Tesla Model 3 Performance, McLaren 570S, etc.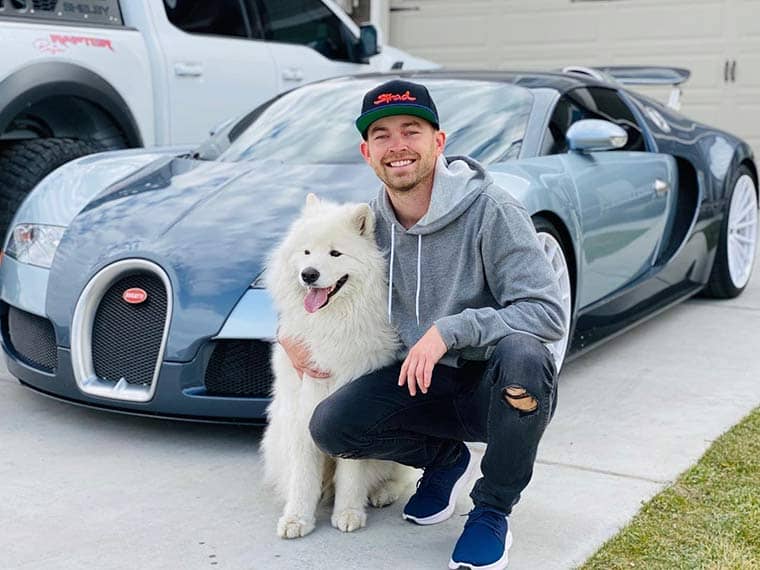 Go through the following article to explore more about TheStradman. Discover how he achieved so much prominence and how he made such massive net worth throughout his career.
Also, know some additional information regarding TheStradman, including biography, early life, education, and lots of other things.
How much money does TheStradman make?
Car enthusiast TheStradman makes around 650 thousand dollars every year.
YouTube is the largest earning point of TheStradman. According to Social Blade, he makes up to 550 thousand dollars in ad revenue every year only from his YouTube Channel. Besides the channel, TheStradman also earns a massive amount of money by selling merchandise online.
How many cars does TheStradman have?
Until now, TheStradman has purchased 21 luxury and supercars in total. Currently, he has 11 cars in his garage and has sold the rest. However, the cars he has possessed until now are listed below to see at a glance:
2003 Lamborghini Murcielago 40th Anniversary
2004 Ferrari F430 Challenge Stradale
2005 Ford GT
2006 Lamborghini Gallardo (Twin-Turbo)
2012 Lamborghini Aventador
2012 McLaren 12C
2013 Ferrari 458 Spider (Chandler David Smith was the buyer)
2016 Lamborghini Aventador Roadster Pirelli Edition
2017 Ford Focus RS (Mountune edition)
2018 Ford F-150 Raptor Shelby
2019 Lamborghini Urus
2020 Toyota Supra Launch Edition
2020 Jeep Gladiator (6×6 Build)
2020 Chevrolet C8 Corvette (Chandler David Smith bought it)
2020 Tesla Model 3 Performance
2021 Chevrolet C8 Corvette 3LT
2021 Polaris RZR Ultimate XP4 Pro
Audi R8
McLaren 570S
Bugatti Veyron 16.4
Rolls Royce Stretch Limousine
What does TheStradman do for a living?
TheStradman is a car devotee and a successful YouTube celebrity. He earns money from his YouTube channel and his online official merchandise shop. However, TheStradman's workings are described briefly below to skim:
YouTube Personality
Online Merchandise Shop Owner
Workings on YouTube
James Lucas Condon is known by his YouTube channel's name, TheStradman. On 27 July 2012, he created his YouTube channel. Within these years, his channel has achieved an aggregate of 3.41 million subscribers and has uploaded a total of 906 video content.
The YouTube channel's videos have gotten a total of 758.12 million views. Besides, he gets an estimated 200 thousand dollars every day, which is worth up to 800 dollars. In addition, he gets up to 550 dollars every year from the channel.
The basic information regarding the channel, TheStradman, has been tabled below to see at a glance:
| | |
| --- | --- |
| YouTube Channel Name | TheStradman |
| User-Created | 27 July 2012 |
| Country | United States of America |
| Channel Type | Autos |
| Total Uploaded Contents | 906 |
| Total Subscribers | 3.41 million |
| Total Views | 758.12 million |
| Channel Grade | B + |
| Country Rank | 1,545th |
| Entertainment Rank | 23rd |
| Yearly Earnings | 35 thousand to 565 thousand dollars |
Selling Merchandise Online
TheStradman has an official website named thestradman.com from where he sells merchandise to his fans and followers. On the website, there are product categories, including clothing, accessories, and special editions.
Under the clothing section, one can find various clothing merchandise, such as hoodies, jackets, tee shirts, socks, etc. The clothing price starts from 19.99 dollars and raised to 49 dollars.
In the accessories section, there are only three products, including stainless steel water bottles, school bags, and socks. Anyways, TheStradman should have made up to 100 thousand dollars per year from this sector by selling merchandise and also from Google for his website traffic.
Biography of TheStradman
| | |
| --- | --- |
| Full Name | James Lucas Condon |
| Professional Name | TheStradman |
| Gender | Male |
| Sexual Orientation | Straight |
| Date of Birth | 7 May 1989 |
| Place of Birth | Oregon, United States of America |
| Present Address | Salt Lake City, Utah, United States of America |
| Zodiac Sign | Taurus |
| Ethnicity | White |
| Nationality | White |
| Nationality by Birth | American |
| Height | 5 feet 11 inch |
| Weight | 70 kg |
| Marital Status | Not Married |
| Relationship Status | In a Relationship |
| Girlfriend Name | Tessa Peay (Stradgirl) |
| Profession | Automotive YouTuber and Automobile Enthusiast |
| Net Worth | $3.25 million |
The early life of TheStradman
On 7 May 1989, TheStradman was born in Oregon, United States of America. Currently, he is living in the south of Salt Lake City, Utah, United States of America. In addition, when TheStradman was only 16 years old, he dropped out of high school.
Recently, TheStradman's father had a heart attack. The attack led his father to a stroke and needed to take him to the hospital. After suffering for a month, TheStradman's father tragically died in the hospital.
FAQs
Why did TheStradman sell his Bugatti?
In the early of 2021, TheStradman listed his Bugatti Veyron on eBay. He decided to sell his car because he does not want his car to be backdated. Besides, TheStradman has listed his car on the marketplace so that he can earn by selling his car second-hand.
What company owns TheStradman?
TheStradman made all his money from his YouTube channel. However, before creating an account on YouTube, he worked as an accountant, but he did not like his job and left. After leaving the job, TheStradman started his YouTube channel. Currently, he owns a net worth of around $3.25 million.
How did TheStradman get his name?
TheStradman, originally James Lucas Condon, was very fond of the Ferrari F430 Stradale and it was his dream to buy one. When he opened his YouTube account, he took the name of the following car's model. Even, TheStradman's girlfriend's YouTube channel's name is Stradgirl, also from the car's name.