The Island Boys are twin brothers who went viral releasing — "I am an island boy". This song has gained 797.3 million views on TikTok so far. On social media, the 20-year-old twin brothers are known as Kodiyakredd and Flyysoulja respectively. However, Island Boys aka Kodiyakredd and Flyysoulja have a combined net worth of $200k.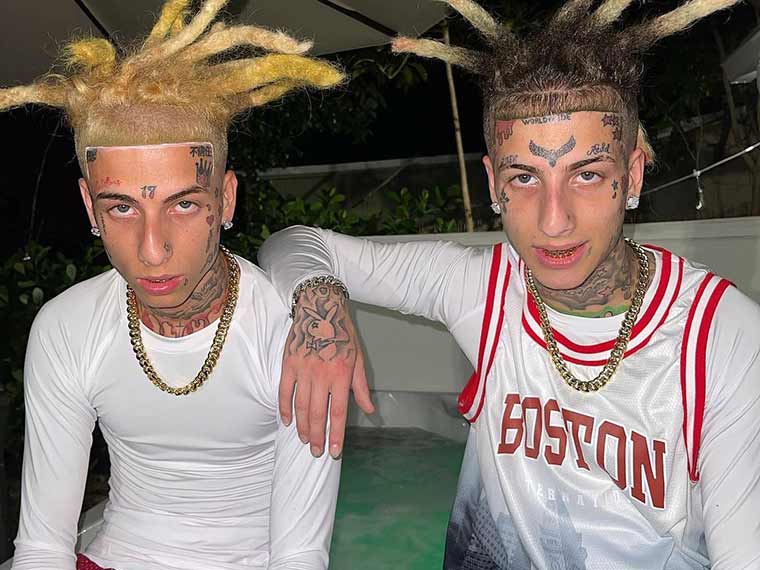 Early Life
Frankie and Alex Venegas are the real names of Kodiyakredd and Flyysoulja. The twin brothers were born on 16 July 2001. They are from Florida, United States.
In 2007, Frankie and Alex's father died of a heart attack. Their parents are Cuban. Due to their father's death, the Island Boys grew up in a single-parent home.
The Island Boys passed their childhood horribly. They committed robberies and assaults at an early age. Though their mother tried to educate them, the twin brothers didn't accept the will. Most often, the Island Boys misbehaved with others.
Thus, the Island Boys experienced jail life for a couple of years at an early age.
After pursuing a wonderful musical career, the Island Boys thankfully didn't commit any crimes.
Career
The Island Boys passed their childhood in uncertainty. Life was full of chaos and crimes.
However, The Island Boys first joined YouTube on 28th March 2020. They run their YouTube channel under the name of Big Bag Ent.
The Island Boys generally upload vlogs and music videos on their YouTube channel. YouTube couldn't do anything big as TikTok has done for the twin brothers. Their "I'm an Island Boy" song went viral on TikTok, resulting in a ton of hashtag on this Chinese creation.
Besides, the hashtags "island boi" and "island Bois" have also taken off on Twitter!
The Island Boys freestyle rap song was viewed 5.1 million in a week! They did an insane job.
The twin brothers also released some amazing songs like:
Smoke
9ine
Money
Real Right
These songs didn't make any notable impression. But, they didn't give up. However, their musical success came with a blast indeed!
Talking about YouTube, the Island Boys have 44.9k YouTube subscribers on the Big Bag Ent YouTube channel. Their YouTube content has been viewed 14,956,137 times! They make $2.6k to $41.2k YouTube revenue per month.
The Island Boys individually have 1.4 million & 3.1 million TikTok followers. Flyysoulja has obtained the largest followers in comparison to the twin brothers.
Apart from YouTube and TikTok, the young brothers also make a handsome amount of wealth on Cameo. This is just the beginning of their career.
Island Boys Net Worth
As of this writing, Island Boys' combined net worth is estimated to be $200k. Most of the fortune came from their TikTok, YouTube, and Cameo accounts. Instagram has also contributed in this regard. The Island Boys aka Flyysoulja and Kodiyakredd are doing a fantastic job on social media.
How do the Island Boys make money?
Counting Flyysoulja and Kodiyakredd's six-figure net worth, you must query their earning sources. "How the Island Boys accumulate the six-figure net worth?" — You must have thought about this question…
Well, the Island Boys rely on multiple social media platforms to make their bread and butter. These platforms and their channels have provided below:
From TikTok, one can make a lot of fortune through —
TikTok ads platform
Growing accounts and selling them
Donations
Managing influencer campaigns
Consulting
Management servicing
The twin brothers have 1.4 and 3.1 million followers on TikTok. These numbers are well enough to gross thousands!
YouTube is also a promising platform for the rappers and vloggers like Flyysoulja and Kodiyakredd. The Twin brothers launched their YouTube channel on 28th March 2020 under the name of Big Bag Ent. Since then, they have uploaded 74 vlogs and music videos so far.
The Island Boys make $30.9k to $494.1k per year from their Big Bag Ent youtube channel. That measures the YouTube revenue as:
$2.6k – $41.2k per month
$600 – $9.6k per week
$86 – $1.4k per day
To be more specific on Big Bag Ent, have a glance at the last ten days YouTube revenue:
| | |
| --- | --- |
| Date | YouTube Revenue |
| 2021-11-14 | $89 – $1.4k |
| 2021-11-13 | $0 |
| 2021-11-12 | $217 – $3.5k |
| 2021-11-11 | $93 – $1.5k |
| 2021-11-10 | $107 – $1.7k |
| 2021-11-09 | $125 – $2k |
| 2021-11-08 | $55 – $878 |
| 2021-11-07 | $181 – $2.9k |
| 2021-11-06 | $0 |
| 2021-11-05 | $265 – $2.6k |
Thus, the Big Bag Ent is growing so far so well for the Island Boys.
A healthy amount also comes from Island Boys' cameo account. They charge $600 for business booking and $190 for personal video requests on the platform.
Instagram has also contributed a bit to the Island Boys. In the upcoming days, they will surely double their estimated net worth.
Personal Life
At an early age, the twin brothers — Frankie and Alex Venegas lost their father. Thus, they grew up with their mother.
The twin brothers have girlfriends, though they hardly express the names. Flyysoulja and Kodiyakredd have posted a lot of photos featuring their girlfriends.
What are the Island Boys doing now?
Being a fan of Island Boys, you must be hungry about their upcoming content. Well, the Island Boys have fully concentrated on their musical career. They have appeared on the No Jumper podcast featuring their plans, rap careers, origin, and so on.
In short, Frankie and Alex Venegas wouldn't be a trending issue if they didn't release the song "I am an island boy". This song earned 31,600 likes and 16k retweets on Twitter in just six days!
Island Boys: At a Glance
| | |
| --- | --- |
| Real Name | Frankie and Alex Venegas |
| Stage Name | Kodiyakredd and Flyysoulja |
| Gender | Male |
| Date of Birth | 16 July 2001 |
| Birth Place | Florida, United States |
| TikTok Followers | 1.4 million and 3.1 million |
| YouTube Subscribers | 44.9k |
| Net Worth | $200k |
Sources