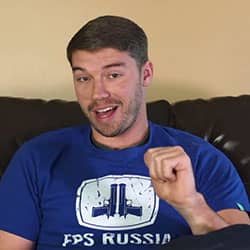 FPSRussia is a YouTube channel about guns as well as explosives. Basically, Kyle Lamar Myers created this channel on 19 Apr 2010. featuring firearms and explosives. The channel has an estimated net worth of $2 million.
Kyle Lamar Myers is an American. Well, he was born in Mason, Georgia. In his videos, he played the role of Dmitri Potapoff, who is a heavily accented Russian.
Myers used to explain the features of the different types of weapons on his channel. Sometimes he told the history as well as essential information about the weapons.
From the FPSRussia's starting on 19 Apr 2010, the channel reached the milestone of 1-million subscribers, as of June 2011. However, now the channel has achieved over 6.9 million subscribers, as of September 2020.
One of the mentionable things is that he used many heavy-duty equipments including AK-47, .50 BMG rifle, and so on. However, Myers stopped producing as well as uploading any videos from 2016.
FPSRussia: At a Glance
| | |
| --- | --- |
| Channel Name: | FPSRussia |
| Created on: | 19 Apr 2010 |
| Owner: | Kyle Lamar Myers |
| Starred as: | Dmitri Potapoff |
| Born: | May 9, 1986 |
| Birth Place: | Lavonia, Georgia |
| Birth Sign: | Taurus |
| Height: | 6 ft 2 in. (1.88 meters) |
| Weight: | Unknown |
| Nationality: | American |
| Marital Status: | Unknown |
| Spouse/ Partner: | Unknown |
| Children: | N/A |
| Profession: | YouTuber |
| Net Worth: | $2 million |
Personal Life and Career:
Myres initially ran a channel named "klm5986" before creating the FPSRussia. Basically, he got inspired to become a YouTuber. Initially, he featured the videos from the other YouTubers, for instance., His YouTube channel often featured videos from other YouTube xSocrates.
Later he created the FPSRussia on 19 April 2010 and started to produce videos on a variety of firearms as well as explosives. In fact, he was passionate about letting people know how firearms work in real life as well as the comparison with Films, and Video Games. Basically, Myres got this idea when he worked at a car dealership.
One of the notable things is that he used a Russian accent as well as portraying the role of Dimitri who is a Russain. while making videos. He even had a Russian co-worker who helped him to pronounce the Russian accent.
Kyle Lamar Myers made the videos on their family farmhouse in Georgia. However, he stopped working for FPSRussia from 2016. Since then the channel has been inactive.
Well, he also has another popular channel named MoreFPSRussia. The channel has nearly one million subscribers.
FAQs
What happened to FPSRussia?
Keith Ratliff was found shot dead on January 3, 2013, who was a member of the production team of the FPSRussia.
When was FPSRussia created?
Well, the FPSRussia was created on 19 Apr 2010 by Kyle Lamar Myers.
Is FPSRussia still active?
Not really, the channel is not active now. But the number of subscribers as well as viewers is increasing gradually.