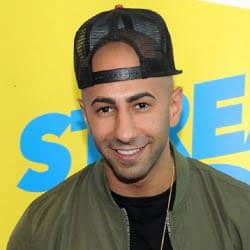 FouseyTube is the stage name of the Palestinian-American YouTuber & Actor—Yousef Saleh Erakat. On YouTube, he produces vlogs, pranks, and parodies.
Having 10.5 million subscribers, Yousef Saleh Erakat, aka FouseyTube, has accumulated a net worth of $4 million. He created his YouTube channel—fouseyTube—on 21 March 2011. Since then, his channel has grossed over 1 billion views. FouseyTube's Social Blade country rank is #272 where his entertainment rank is #236.
Outside YouTube, Yousef Erakat is famous on Instagram. His Instagram profile—Yousef Erakat—has more than 3.5 million followers. As an actor, Yousef is best known for his role in 'Boo! A Madea Halloween', 'Boo 2! A Madea Halloween', and 'We Love You'.
Earning Highlights
Yousef Saleh, aka FouseyTube, has earned most of his wealth through YouTubing. His main channel has more than 1 billion views that are well enough to gross millions. His 1 billion views can gross over $2.5 million through ads.
Well, income through YouTube depends on many criteria like location, views, devices, and so on. In this regard, Yousef Saleh Erakat earns well enough as most of his viewers are from America.
Yousef Saleh generally earns $1.8 million from his 'FouseyTube', YouTube channel per year. In 2014—just after 3 years of FouseyTube—Yousef earned $950 thousand.
Talking about FouseyTube Social Blade analysis, Yousef Saleh made $4.1k last month. Rise and fall in his content view have made his earning variable. However, his estimated yearly earning is between $3.1k and $48.8k.
Yousef has further earned from his acting career. He has worked in some high budget films so far. He portrayed Jonathan in the 2016 and 2017 film Boo! A Madea Halloween & Boo 2! A Madea Halloween. These two films were high budget films that earned $75 and $48 million in the worldwide box office.
FouseyTube: At a Glance
| | |
| --- | --- |
| Real Name | Yousef Saleh Erakat |
| Gender | Male |
| Date of Birth | 22 January 1990 |
| Birth Place | Fremont, California, United States |
| Height | 5 ft 10 in (1.78 m) |
| Weight | 75 kg |
| Marital Status | Single |
| Girlfriend | Simmi Singh |
| Profession | YouTuber, Actor |
| Nationality | Palestinian-American |
| Net Worth | $4 million |
Early Life
YouTuber Yousef Saleh Erakat, aka FouseyTube, was born to a Muslim family in Fremont, a city in California, on 22 January 1990. Yousef's parents are Palestinian. He is the youngest child of his family. Yousef's sister Noura Erakat is a Palestinian-American legal scholar who works as a human rights attorney.
Yousef studied theatre arts at San Jose State University. In 2013, he graduated from this University. He secured his acting career, moving to Los Angeles.
Career
Yousef started his YouTube career by creating multiple YouTube channels. His main YouTube channel—FouseyTube—made him a successful YouTuber that has 10.5 million subscribers and over 1 billion views.
On 21 March 2011, Yousef Erakat launched his FouseyTube channel on YouTube. This channel is an entertainment channel. He mainly uploads comedy sketches and pranks on this channel.
Before FouseyTube, Yousef covered fitness and P90X review in his YouTube channel though it was not able to gross subscribers and views.
However, in 2012, Erakat became MBMuslima Magazine's No. 3 Inspiring Muslims under 40. In 2015, Yousef took his stage name—Fousey—releasing his debut single Prideland. He released a music video of this song on another vlog channel—DOSEofFOUSEY.
Talking about Yousef's acting career, he is best known as Jonathan for his role in Boo! A Madea Halloween & Boo 2! A Madea Halloween. Besides, he portrayed Ford in the 2016 film 'We Love You'.
Not only an actor but Yousef is also a producer and Director. He produced the documentary film 'Roman Vs. Fousey' and 'Change the Way You Think'.
In 2015, Yousef became the 'Show of the Year' winning the 5th Annual Streamy Awards for his 10.5 million subscribed YouTube channel—FouseyTube. One year after, he became "Entertainment of the Year", winning the 6th Annual Streamy Awards.
FAQs
Are Fousey And Simmi Still Together?
In 2018, Yousef Erakat started dating Simmi Singh—an Indian-American YouTuber who is best known as The Simszter. But, they broke up later.
How Much Is Lilly Singh Worth?
Lilly Singh is a Canadian YouTuber who is a former girlfriend of Yousef Erakat. Lilly is mostly known as Superwoman—her long time YouTube username. However, Lilly Singh owns a net worth of $8 million.
What Happened To FouseyTube 2020?
In 2020, Yousef Erakat tweeted sharing his feelings. He added that two years ago, his life was changed forever. YouTuber Keemstar has made a three-part YouTube documentary-series, "The Hard Truth about FouseyTube".
Sources: