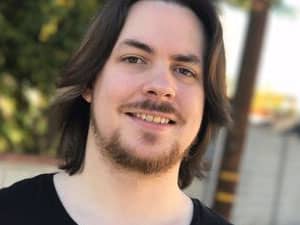 Arin Hanson is a prominent American voice actor, animator, and social media personality who has a net worth of $18 million. He is widely famous for his animations on his YouTube channel named 'Egoraptor.'
Since 2005, Arin Hanson has worked with 20 web animated series published on his own YouTube channels, 'Egoraptor' and 'Game Grumps,' and other media.
Since 2009, Arin has worked with game manufacturing companies and made 15 games in total and recently working in two other games named Hex Heroes and The Cyanide and Happiness Adventure Game. Arin also acted as an executive producer for a game called Dream Daddy: A Dad Dating Simulator.
[ez-toc]
How Much Does Arin Hanson Make?
Arin Hanson earns most of his money by making animations and sharing on social media, and working as a voice actor.
Arin earns almost 2.5 million dollars annually only from YouTube. Besides, he has other social media accounts where he has a substantial fan-follower community. So, his periodic earnings are listed below:
Yearly Income: $4.4 million
Monthly Income: $366.67K
Weekly Income: $91.67K
Daily Income: $13.09K
Hourly Income: $546
How Does Arin Hanson Make Money?
Arin Hanson is skillful from different respects. He is an animation creator and a voice actor at once. Arin has social media accounts on YouTube, Instagram, and Facebook, and his fan-follower community is enormous.
Besides Arin's regular jobs, he also runs an online store where he sells merchandise to his fans and followers. His diverse works are listed below:
Creating animations
Working as a voice actor
Earnings from YouTube
Selling merchandise from the online store
Creating Animations
Arin Hanson is a great animation creator. He started his career as an animator in September 2004 by releasing his first animation on DeviantArt named 'Final Fantasy 7 Flash Spoof.' But it was not a success. In 2005, his first awesome animation was released that gave him popularity called 'Metal Gear Crisis.'
When MTV producers saw Arin's creation, the Metal Gear Crisis, they invited Arin Hanson to create short animations for online video gaming shows called The G-Hole. MTV pays around 50 to 99 thousand dollars per year to animators.
Besides, he worked on animation videos for graphical games, animated short parody video games, short comedic series animation, a Shounen anime parody, etc.
Working as a Voice Actor
Arin Hanson is not only an animation creator but also a voice actor. He has done vocals in 11 different animated videos, such as parody animated videos, comedic short series, etc. Besides, 15 other games using Arin's voice in their video games.
In 2005, Arin did his first vocal act in Metal Gear Crisis in Solid Snake's role. In 2006, he was the person who acted as a voice actor in the video game Marvel: Ultimate Alliance, where he gave his vocal to Bruce Banner.
Again he has given voice to animated series broadcasted on the television channels, such as in the Cartoon Network and the Disney television. The TV series animations where he gave his voice are provided below:
| | | |
| --- | --- | --- |
| Name of the animation | TV channel name | Role |
| Rick and Morty (2015) | Cartoon Network | Cyborg Photographer |
| Mighty Magiswords (2016-18) | Cartoon Network | Gatealux/ various others |
| The Owl House (2020-) | Disney Television | Snaggleback/ others |
Earnings from YouTube
Arin Hanson has a YouTube account where he uploads his self-created animated videos and video game commentaries. His YouTube Channel is Egoraptor. He joined YouTube through this channel in July 2006.
Egoraptor channel has got 2.88 million subscriptions and has 97 videos. The aggregate number of views the videos got until now is 543.9 million views. From this channel, he annually receives up to 80 thousand dollars.
Besides, there is another YouTube channel, 'Game Grumps,' where he works with a partner named Dan Avidan. His partner is a comedian and works together to make comedic animations, random stuff, and Awesome animated series.
The YouTube channel Game Grumps got 5.44 million subscriptions and has an insanely full of 7551 videos. The channel has a massive 58.56 billion views in total, and annually they get up to 1.5 million dollars revenue from YouTube for this channel.
Selling Merchandise from Online Store
Arin Hanson has another source of earning money is his online merchandise store. The store is named after the YouTube channel Game Grumps.
He sells various items from the online shop, such as t-shirts, hats, socks, pins, stickers, books, accessories, etc. Arin's primary customers are his fan-followers of his YouTube. There he advertises his shop in videos.
Biography of Arin Hanson
| | |
| --- | --- |
| Full Name | Arin Joseph Hanson |
| Gender | Male |
| Date of Birth | 6 January 1987 |
| Birth Place | Margate, Florida, USA |
| Height | 6 feet 2 inch |
| Weight | 220 Pounds |
| Marital Status | Yes (2013) |
| Wife | Suzanne Berhow |
| Profession | Voice Actor, Animator, Social Media Personality |
Early Life
Arin Hanson spent his childhood in Margate, Florida. In the middle of his high school study, he left his general education and moved from Florida to California in 2009. In California, he met Suzy Berhow, who became his wife in 2013.
Hanson's mother has a therapy center for healing horses. The center is non-profitable. Hanson streams online his mother's charity center often to help and support.
FAQs
Are Arin and Dan still friends?
No. Dan and Arin are not friends anymore. They only talk to each other while working in the studio. They do not speak or talk about each other outside the studio.
Does Arin Hanson have siblings?
Yes, Arin Hanson has a brother. His name is Nate Hanson. He lives in Poland, Oregon, with his family.
How much money does Game Grumps make?
The channel has 7551 videos, and it is growing every day. And the channel has a total of 58.5 billion views that makes almost 1.2 million revenue annually.
Sources