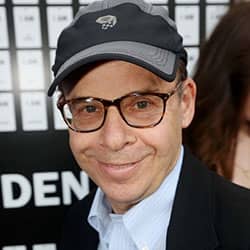 Frederick Allan Moranis also known as Rick Moranis has an estimated worth of 10.3 million USD. His major source of wealth is film, television and music. As a famous canadian actor Rick Moranis has gained a lot of fame.
Rick Moranis is a pure talent that is rare to find. He started his career as a radio host, but soon he has achieved the experience of a lot of professions. Rick is also known as a musician, comedian, screenwriter, voice actor, director, and a television producer as well.
During his time in acting, he has faced significant family issues. For such reasons, he had faced a huge trade-off between his career and personal life.
Keep on reading to know how Rick came to possess such a large amount of worth despite his family issues.
Earning Highlights
Rick Moranis is best known as an actor. He has appeared in 20 movies in total. Among which he has played the leading character in 4 movies. These 20 films have made a worldwide aggregate box office of around 1.7 billion USD. The 4 films he played as the leading role have made almost 621 million USD.
He has also directed The Adventures of Bob & Doug McKenzie: Strange Brew which made a worldwide box office of $7 million.
Rick Moranis is best known for his benchmark performance in Ghostbusters, The Flintstones, Brother Bear, Ghostbusters II and Honey, I Shrunk the Kids.
| | | | |
| --- | --- | --- | --- |
| Film Title | Year | Domestic Opening | Worldwide box office |
| Ghostbusters | 1984 | $13 Million | $295 Million |
| The Flintstones | 1994 | $29.7 Million | $358 Million |
| Brother Bear | 2003 | $291k | $250 Million |
| Ghostbusters II | 1989 | $29.5 Million | $215 Million |
| Honey, I Shrunk the Kids | 1989 | $14.2 Million | $222 Million |
With the net worth of $10.3 million, Rick Moranis's earnings-
Per year: 1.7 Million USD
Per month: 143k USD
Per week: 33k USD
Per Day: 4.7k USD
As mentioned earlier, Rick has a reputed career in the music world as well. He has 3 fine Albums released till date. A brief summary of his discography is given below
| | |
| --- | --- |
| Title | Year |
| You, Me, The Music and Me | 1989 |
| The Agoraphobic Cowboy | 2005 |
| My Mother's Brisket & Other Love Songs | 2013 |
Rick Moranis: At a Glance
| | |
| --- | --- |
| Real Name | Frederick Allan Moranis |
| Stage Name | Rick Moranis |
| Date of Birth | 18 April 1953 |
| Age | 66 |
| Place of Birth | Toronto, Ontario, Canada |
| Nationality | Canadian |
| Height | 168 cm |
| Profession | Actor, Comedian, Musician |
| Net Worth | 10.3 Million USD |
Early Life
Rick was born on 18th April 1953. He was born and raised in a Jewish family in Toronto. His ancestors are found to be from the kingdom of Hungary. He had Geddy Lee, frontman of the band Rush, as his schoolmate during his days in the elementary school.
When Rick started his career as an entertainer by becoming a DJ in the 1970s, he was still in his high school, Sir Sandford Fleming Secondary School, the same school he completed his high school degree from.
Career
Rick Moranis had an interesting career. He was the most renowned face in Hollywood during the apex of his career. As an artist he could be called the jack of all trade.
He is a musician, a comedian, a screenwriter, a voice actor, a director, and last but not the least, a television producer as well. More detailed discussion on his career is given below.
During the mid 90's Rick Moranis started his career as a radio disc jockey at three Toronto radio stations. His on-air name was Rick Allan.
In 1977 Rick teamed up with Ken Finkleman, Winnipeg born writer and director for a series of live comedy performances on "Midweek" and "1980".
His stunning performance as a comedian set his future career path ready for the take off. He came to play major roles as an actor in popular films like Ghostbusters, The Flintstones, Brother Bear and Honey, I shrunk the kids.
He played as Louis Tully in Ghostbusters and Ghostbuster II, in Brother Bear he played as Tuke, in The Flintstones he played Barney Rubble and in Honey, I Shrunk the Kids he played as Wayne Szalinski.
While he was at his peak in both career and personal life when he got married to Ann Belsky who used to be a costume designer. Over time in their married couple, Ann and Rick had become parents of two. A perfect balance on both ends, work, and life, made him an invincible performer. 
The toughest challenge came to Rick's life, when his wife passed away from cancer in 1991. He was not only left with the grief of losing his wife, he was left with the huge responsibility of raising two kids as a single father.
He had to make the nuggets wise decision in his life. Due to heavy traveling issues associated with various stages of production would leave him little or no time for the kids. This was cleverly recognized by Rick. So, he decided to take a backstep from his work life soon after his wife's death. In 2016, he declined to appear in "Ghostbusters".
Those who were fascinated by Rick Moranis's performance were left mesmerized again by his decision. However, it was announced that Rick has agreed to return to his famous character for a new entry in the "Honey, I Shrunk the Kids".
FAQs
When was Rick Assaulted?
Rick Moranis was randomly assaulted by an unidentified man in New York City. It was around 7:00 AM on October 2020 when a total stranger came and sucker-punched this 66 years old man and knocked him down in the middle of the town, leaving several injuries in the hip, head and the entire left side of the victim's body.
Why did Rick stop making movies?
After his wife's death, Rick was left with the responsibility of a single father of two kids. For Rick, managing time for both parenting and travelling involved in film making was way too difficult. So, he decided to take a break from movies for the time being.
Sources:
Rick Moranis – IMDb – Rick Moranis IMDB
Rick Moranis on Amazon Music– Rick Moranis Albums