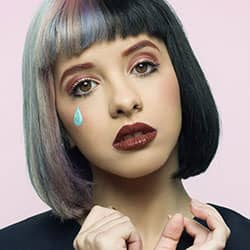 Melanie Martinez is an American singer, songwriter, photographer, director, and actress who has a net worth of $8 million. Her debut studio album—Cry Baby ranked #6 on the Billboard 200 Chart. As an actress, Melanie Martinez became famous after appearing in the reality TV series—The Voice.
Talking about musical style, Melanie is a pop, rock, and electro pop singer. Since 2012, she has been playing an active role in the music industry.
Apart from music, Martinez has gained worldwide attention after appearing in the 2019 musical horror film—K-12 and NBC's television series—The Voice. She further appeared in the YouTube Premium Web series—Extra Credit.
Earning Highlights
Melanie Martinez has earned most of her wealth through music sales and television appearances. Apart from these, she accumulated a large portion of her wealth through musical tours and endorsing products.
Earning Through Musical Albums & Tours
In 2015, and 2019, Melanie Martinez released her studio albums Cry Baby & K-12. Her first studio album—Cry Baby—was sold 41k units within a week. This album earned a Platinum Certificate on 24 February 2017 after reaching a selling record of 1 million in the U.S.!
The price of the album Cry Baby on Amazon is $21.50. Therefore, Melanie Martinez earned millions of dollars through this album.
Talking about K-12, this studio album sold 265k units in the United States. Checking on Amazon, this album goes for $22.42.
Most of the time Melanie Martinez was busy giving musical tours. Her tours include:
Cry Baby Tour
Dollhouse Tour
K-12 Tour
Adam Lambert's The Original High Tour
Lindsey Stirling's Music Box Tour
Melanie has earned well enough through these musical tours.
Earning Through Television Appearance
In 2012, Melanie Martinez appeared in NBC's vocal talent show—The Voice. Appearing in this TV show, Melanie released her maiden single—Dollhouse. Besides, she made a deal with Atlantic Records.
Apart from The Voice, Melanie Martinez appeared in the 2019 horror musical film—K-12. This film has grossed $360k so far in the worldwide box office. In the worldwide aggregate box office, Martinez has ranked #4,283.
Earning Through Endorsement
After releasing Cry Baby, Melanie Martinez dealt with Lime Crime Inc. to release two lipsticks one of these will be called Cry Baby and the other will be Teddy Bear. However, the blue lipstick of the company named after Melanie's album, Cry Baby.
What's more, Martinez signed with Lime Crime to release a commercial new fragrance—Cry Baby Perfume Milk. Hence, Melanie Martinez earned a lot of money through brand endorsements.
Earnings Summary
In a nutshell, here's Melanie Martinez's yearly, monthly, weekly, and daily income or salary:
Yearly Income: $1 million
Monthly Income: $83k
Weekly Income: $19k
Daily Income: $2,739
Melanie Martinez: At a Glance
| | |
| --- | --- |
| Full Name | Melanie Adele Martinez |
| Gender | Female |
| Date of Birth | 28 April 1995 |
| Birth Place | Astoria, Queens, United States |
| Height | 5 ft 2 in (1.58 m) |
| Weight | 45 kg (99 lbs) |
| Marital Status | Single |
| Boyfriend | Michael Kennan |
| Profession | Singer, Songwriter, Actress |
| Nationality | American |
| Net Worth | $8 million |
Early Life
Melanie Adele Martinez was the daughter of Jose Martinez and Mery Martinez. She was born on 28 April 1995 in Astoria, Queens. Melanie Martinez is of Puerto Rican and Dominican descent. At the age of four, the Martinez family moved to Baldwin, New York.
Talking about education, Melanie Martinez studied at Plaza Elementary School. While studying here, Melanie was taught how to sing. Later, she graduated from Baldwin High School.
Career
At the Plaza Elementary School, Melanie Martinez learned singing and began poetry. Later, she learned to play the guitar. She expressed her musical talent participating in the MSG's Varsity Talent Show, where she sang 'Money (That's What I Want)'. Here, Martinez was eliminated in the second round.
However, Martinez auditioned for the third season of the American singing competition television show—The Voice. While competing in this show, Melanie Martinez released her debut single Dollhouse. She also released her first EP on this name.
While releasing Dollhouse, Melanie Martinez signed with Atlanta Records. After signing with Atlanta Records, She released her first studio album—Cry Baby in 2015.
The Billboard ranked Martinez's first EP—Dollhouse, No. 4 on their hot 200 charts. Besides, Martinez gained enormous popularity after releasing singles like Carousel, Pity Party, and Soap.
On SoundCloud, Melanie Martinez has released 92 musical tracks so far. On this platform, she has 455k followers.
In 2019, Melanie released her second studio album—K-12. What's more, she appeared in the horror musical film that year. The fantasy horror K-12 film has earned $360k so far in the worldwide box office.
Throughout one decade of a musical as well as acting career, Melanie Martinez has earned Billboard Music Awards nominations so far.
FAQs
What Are Melanie Martinez Albums?
Melanie Martinez has released two studio albums and EPs. She is a singer, songwriter, and actress. Since her childhood, Martinez began writing songs. However, Melanie Martinez's albums are K-12, After School, Cry Baby, Pity Party EP, and Dollhouse.
Who is Melanie Martinez Dating Now?
Now, Melanie Martinez is dating Oliver Tree. She is still unmarried. Talking about Oliver Tree, he is also a musician from California. Oliver and Melanie have a long time relationship. On 30 September 2019, Melanie and Oliver posted photos and revealed their long time interaction.
Is Melanie Martinez Hispanic?
Melanie Martinez can talk the Hispanic language. She was born in Astoria, Queens. Melanie is of Puerto Rican and Dominican descent. Her family moved to Baldwin, New York when she was only four. Her parents are Jose Martinez and Mery Martinez.
What Is Melanie Martinez Birth Sign?
The moon sign or Birth Sign of Melanie Martinez is Taurus. Her sun sign is Cancer. Melanie was born on 28 April 1995. Having a Zodiac sign — Taurus, one's personality is defined as stable natured.
Sources:
boxofficemojo.com/ K-12 earning in the worldwide Box office.
the-numbers.com/ Melanie Martinez
soundcloud.com/ Melanie Martinez