Lindsey Stirling is a prominent American singer, violinist, dancer, author, actress, YouTube personality, and producer who has a net worth of $12 million. She has won dozens of awards, including the Billboard Music Award, YouTube Award, etc.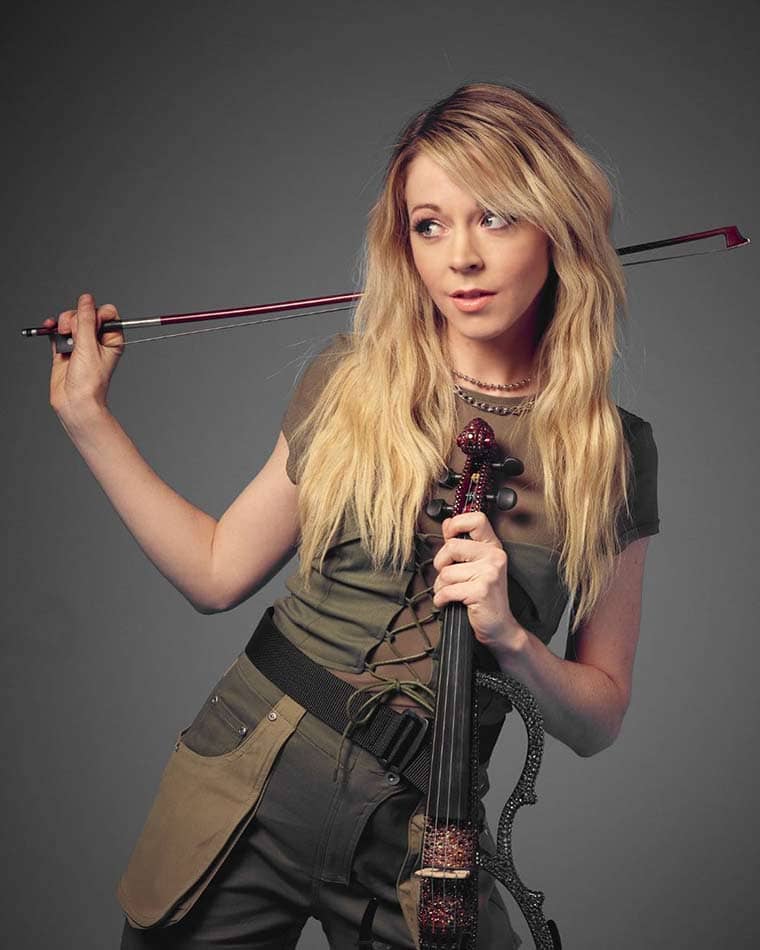 Read the full text to find out more about Lindsey Stirling and her career workings. Explore how she has gotten so much prominence and wealth as well. Also, know some details regarding Lindsey Stirling, including biography, early life, education, and lots of other things.
How much does Lindsey Stirling make a year?
American singer and violinist Lindsey Stirling makes around $6M per year on average.
According to Social Blade, Lindsey Stirling makes up to $950K in ad revenue per year. Besides YouTube, she has earned a massive deal of money, around $2M, from selling studio albums.
Moreover, Lindsey Stirling generates a colossal amount from selling merchandise online, performing concerts, acting, and others.
How does Lindsey Stirling make money?
Lindsey Stirling's earning sources are multi-directional. She earns from YouTube, acting, singing, performing concerts, and many more. Thus, Lindsey Stirling's workings are described below to know her activities more clearly:
Singer
Filmography Career
YouTube Personality
Online Merchandise Seller
Author
Workings as a Singer
Lindsey Stirling has a vast singing career. According to Discogs, in 2010, she released her first single song named Lindsey Stomp. The song was not on the label.
Until now, Lindsey Stirling has made an aggregate of 25 singles and extended plays and a lot of music videos. Besides these, she has released a number of 6 studio albums, and she debuted her first album in 2012 named Lindsey Stirling. The album was sold in many countries, including in Sweden 10K copies.
The name of Lindsey Stirling's 6 albums is tabled below to see at a glance:
| | |
| --- | --- |
| Studio Album Name (Released Year) | Label Name |
| Lindsey Stirling (2012) | Bridge Tone Records |
| Shatter Me (2014) | Lindseystomp Music, LLC |
| Live From London (2015) | Lindseystomp Music, LLC |
| Brave Enough (2016) | Not On Label |
| Warmer In The Winter (2017) | Concord Records |
| Artemis (2019) | BMG |
According to Concert Archives, Lindsey Stirling has performed a lot of concerts from 2012 to the present. The tickets for her concerts can be found between $85 to $120, which is kind of overpricing. The number of concerts she did each year is listed below:
| | |
| --- | --- |
| Year | Number of Concerts |
| 2012 | 3 |
| 2013 | 15 |
| 2014 | 39 |
| 2015 | 68 |
| 2016 | 68 |
| 2017 | 14 |
| 2018 | 69 |
| 2019 | 14 |
| 2020 | 1 |
| 2021 | 9 |
Workings in Filmography
Lindsey Stirling's filmography career is not as vast as her singing career. According to IMDb, in 2010, she participated in America's Got Talent's 5th season, where she was in her self-character.
In 2015, Lindsey Stirling appeared in a dance drama directed by John Swetnam. In that drama, she was in the role of Phelba. Later in 2017, Lindsey Stirling did a documentary named Lindsey Stirling: Brave Enough. In the same year, she participated in Dancing with the stars' 25th season and became runners-up.
Lindsey Stirling also worked in a TV series named The Outpost. There, she was in the role of Pock. Besides, she again came to America's Got Talent as a guest performer in 2018.
Workings as a YouTuber
Lindsey Stirling has a YouTube channel named after her name, Lindsey Stirling. On the channel, she shares her songs and violin plays. In addition, Lindsey Stirling gets up to 600K views every day on her videos on average which would make up to $950K in a year.
The basic information of the channel, Lindsey Stirling, is given below:
| | |
| --- | --- |
| YouTube Channel Name | Lindsey Stirling |
| User-Created | 20 May 2007 |
| Country | United States of America |
| Channel Type | Music |
| Total Uploaded Contents | 157 |
| Total Subscribers | 13 million |
| Total Views | 3.3 billion |
| Channel Grade | B + |
| Country Rank | 213th |
| Entertainment Rank | 165th |
| Yearly Earnings | $60K to 970K |
Selling Merchandise Online
Lindsey Stirling has an official website named lindseystirlingmerch.com. From the website, she sells clothing to her fans and followers. Besides, Lindsey Stirling sells album DVDs on that website.
The price range is from 20 dollars to 45 dollars. Considering her popularity, Lindsey should easily earn up to 500 thousand dollars from selling merchandise.
Writing Books
According to thrift books, Lindsey has written 9 books. Some of her books are based on violin tutorials. However, Lindsey books based on the violin are listed below:
Lindsey Stirling-Violin Play-Along
Lindsey Stirling Favorites: Violin
The Greatest Showman: Medley
Lindsey Stirling at a glance
| | |
| --- | --- |
| Full Name | Lindsey Stirling |
| Professional Name | Lindsey Stirling |
| Gender | Female |
| Sexual Orientation | Straight |
| Date of Birth | 21 September 1986 |
| Place of Birth | Santa Ana, California, United States of America |
| Present Address | Gilbert, Arizona, United States of America |
| Zodiac Sign | Virgo |
| Religion | Mormon Faith |
| Ethnicity | White |
| Nationality | American |
| Nationality by Birth | American |
| Height | 5 feet 3 inch |
| Weight | 50 kg |
| Marital Status | Not Married |
| Relationship Status | Single |
| Previous Boyfriend Name | Devin Graham(1st) and Ryan Weed (2nd) |
| Current Boyfriend Name | None |
| Profession | Singer, Violinist, Dancer, Actress, Producer, Author, YouTube Celebrity |
| Net Worth | $12 million |
The early life of Lindsey Stirling
On 21 September 1986, Lindsey was born in Santa Ana, California, United States of America. In addition, she grew up in Gilbert, Arizona. Besides, Lindsey Stirling is a believer in Mormon Faith.
Lindsey Stirling's father's name is Stephen Stirling, and her mother's name is Diane Stirling. In addition, she has two sisters, including Brooke S. Passey, and Jennifer Stirling, and a brother named Vova Stirling.
Lindsey Stirling completed her pre-high school education at Greenfield Junior High. When she was 16 years old, she started studying at Mesquite High School and completed her high school period from here. Besides, Lindsey has completed her graduation at Brigham Young University.
FAQs
How much money does Lindsey Stirling make on YouTube?
According to Forbes, in 2015, Lindsey Stirling was listed as one of the World's top-earning YouTube stars, including other YouTube personalities, such as Pewdiepie and KSI. Currently, she is making up to 950 thousand dollars in ad revenue per year from her YouTube channel named Lindsey Stirling.
Is Lindsey Stirling self-taught?
Lindsey Stirling has learned dancing by herself and is mostly a self-trained dancer. At the stage, she said that she might not be a trained dancer, but she knew how to put her passion behind the movement. Besides, she received a very short violin lesson, 15 minutes per week.
Who writes Lindsey Stirling songs?
Producer Marco G. worked as the songwriter for Lindsey Stirling's first studio album. In addition, she released the songs one at a time on her YouTube channel. Once Lindsey Stirling and Marco G. had made many single songs, which was more than sufficient to make a studio album.