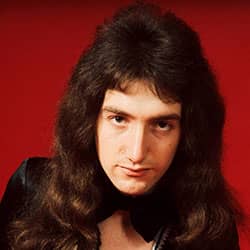 John Deacon is a retired English musician who has a net worth of $190 million. As a music lover, you must have heard the name of Queen. Well, he was the bass guitarist of the 1970s popular rock band Queen. Deacon retired from Queen in 1997 after the death of Freddie Mercury, the lead vocalist of Queen.
As a musician, Deacon's contribution to Queen is noteworthy. He composed numerous super-hit songs like I Want To Break Free, You're My Best Friend, Another One Bites the Dust, and so on. Besides, he co-wrote One Vision, Friends Will Be Friends, and Under Pressure songs.
This prominent guitarist joined Queen in 1971. Deacon amused the music lovers through his home-made amplifier called Deacy Amp. After recording No One But You song without Freddie Mercury, this famous musician retired from the music industry in 1997.
John Deacon: At a Glance
| | |
| --- | --- |
| Full Name | John Richard Deacon |
| Gender | Male |
| Date of Birth | 19 August 1951 |
| Birth Place | Leicester, England, U.K |
| Height | 1.81m |
| Weight | 74kg |
| Spouse | Veronica Tetzlaff (m. 1975) |
| Children | 6; (five sons, one daughter) |
| Profession | Songwriter, Musician |
| Nationality | British |
| Net Worth | $190 million |
Early Life
John Richard Deacon was born in Leicester, England, in August 1951. His parents were Arthur Henry and Lilian Mollie Deacon. Deacon's father worked at an insurance company called Norwich Union. John grew up in Oadby, Leicester, England.
Talk about education Deacon attended many schools like Beauchamp Grammar School, Linden Junior School, and Gartree High School. While studying in school, he became interested in electronics and electronic devices. Later, Deacon attended Chelsea College, London, where he studied electronics.
Career
At the age of fourteen, Deacon joined his maiden band called The Opposition. Deacon worked with this band as a rhythm guitarist. Later, he switched to bass. A few years later, he left The Opposition as he wanted to study electronics.
After obtaining a degree in electronics from the Chelsea College, Deacon joined the Queen in 1970. He passed his career-best session with Queen. Deacon worked for Queen as the bass guitarist. Besides, his contribution to some super-hit songs is noteworthy.
Alongside Freddie Mercury, Deacon co-wrote popular songs like Friends Will Be Friends, Under Pressure, and One Vision. Besides, he composed numerous popular songs, including I Want To Break Free, You're My Best Friend, Another One Bites the Dust, and so forth.
Without Freddie Mercury, Deacon, along with Brian May and Roger Taylor, released their last song called No One But You. On 17 January 1997, Deacon said goodbye to the music industry.
Salary Highlights
John Deacon earns $20.42 million per year, which counts as $1.7 million per month. Deacon's weekly salary is $392k. He gets $2330 per hour.
FAQs
What Does John Deacon Do Now?
John Deacon is out of public eyes for many years. Moreover, he didn't appear at Queen's induction into the Rock and Roll Hall of Fame in 2001. He is passing his time with his family. 
Why Did John Deacon Leave The Queen? 
In 1997, John Deacon left Queen. The reason behind it was the death of Freddie Mercury. He became upset after hearing the news of Mercury's death in November 1991. Hence, Deacon decided to say goodbye to music. 
How Much Is Queen's Worth?
Queen is the 1970s popular rock band formed by Brian May. After the success of Bohemian Rhapsody, this band has a net worth of 445 million Euros.