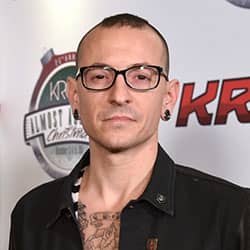 Chester Bennington was an American musician, singer, songwriter, and actor who had a net worth of $30 million. You must have heard the name of Linkin Park, the highest-selling musical group band of the 2000s. Well, Chester Bennington was the lead vocalist of this band.
Bennington was a prominent musician. As a part of Linkin Park, he came into attention after the band's debut album Hybrid Theory. This album gained a Diamond certificate from the RIAA. Besides, he released further popular albums like Meteora, A Thousand Suns, The Hunting Party, Living Things, and so on with Linkin Park.
Moreover, as a lead vocalist of the rock band Dead By Sunrise, he is associated with the studio album Out of Ashes. Chester was No.46 on the Hit Parader magazine's Top 100 Metal Vocalist of All Time chart. This talented rock musician suicide by hanging on 20 July 2017.
Chester Bennington: At a Glance
| | |
| --- | --- |
| Full Name | Chester Charles Bennington |
| Gender | Male |
| Date of Birth | 20 March 1976 |
| Birth Place | Phoenix, Arizona, U.S. |
| Died | 20 July 2017 |
| Height | 5ft 10in (1.78m) |
| Weight | 65kg |
| Spouse | Samontha Olit (m. 1996; div. 2005); Talinda Bentley (m. 2006) |
| Children | 6 |
| Profession | Musician, Singer, Songwriter |
| Nationality | American |
| Net Worth | $30 million |
Early Life
Chester Charles Bennington was born in Phoenix, the capital of the city Arizona, U.S., on 20 March 1976. His father was a police detective while his mom was a nurse. At the age of seven, an older male friend sexually abused him. That continued until he was 13. Chester's parents separated when he was only 11. The overall situation affected him. Hence, he started writing poetry and songs to comfort him. Later, Bennington began taking drugs and alcohol.
Chester moved to his mom when he was 17. In this period, his mom helped him to divorce drug addiction. Before starting his professional music career, Bennington worked at a Burger King.
Career
Bennington started his musical career working with the band Sean Dowdell and His Friends? He, along with this band, released three tracks. Later, Chester moved to California for an audition of the rock band Linkin Park.
The record producer Jeff Blue helped Bennington joining Linkin Park. Chester earned his career-best salaries and fame while working with Linkin Park. In 2000, this band released its maiden album, Hybrid Theory, which gained a Diamond certificate from RIAA. As a lead vocalist, Chester Bennington came into attention.
Later, Chester, along with Linkin Park, released super-hit albums like Meteora, Minutes to Midnight, A Thousand Suns, One More Light, and so forth. In 2005, Chester Bennington co-founded the electronic rock band called Dead by Sunrise. This band released their first album, Out of Ashes, in 2009.
Apart from music, Bennington is an actor too. He appeared in films like Crank, Crank: High Voltage, Saw 3D, and Artifact. On 20 July 2017, this famous musician suicide by hanging at his home located in Palos Verdes Estates, California.
Salary Highlights
Chester Charles Bennington earned $4.8 million per year. That indicates, his monthly salary was $400k and weekly $92k. He gained $13k daily income, and his hourly rate was $547.
FAQs
What Happened To Linkin Park After Chester Died? 
Chester Bennington was the lead vocalist of the 2000s popular rock band Linkin Park. The question raised, what will happen to this band after the death of Chester. Well, Mike Shinoda, co-founder of Linkin Park, added that Linkin Park would continue. 
How Much Is Mike Shinoda Worth?
Mike Shinoda is a famous musician and record producer who owns a net worth of $45 million. He is best known as the co-founder of the rock band Linkin Park.
Who Was Chester Bennington Best Friend? 
Chris Cornell was Chester's best friend. Like Chester, Chris suicide by hanging in May 2017. Chester became very sad after hearing the news of his best friend's death and wrote a letter marking Cornell as an unrivaled pure talented artist.