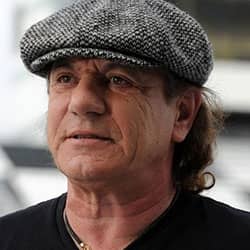 Brian Johnson is a British singer, songwriter and former member of AC/DC (Australian Rock Band). He has a net worth around $90 million.
Bon Scott was a singer of AC/DC, but he passed away in 1980, and Brian Johnson grabbed that possibility as a lead guitarist. After being a member of that Australian band, Brian forked out his inner creativity as much as he can. And fitted himself as a 3rd lead vocalist. But unfortunately, he had to stop his journey with that band because of his hearing problem in 2016.
Brian Johnson was also a member of a British glam rock band Geordie from its founding time. His tribute to the music industry is unforgettable.
Brian Johnson: At a Glance
| | |
| --- | --- |
| Name | Brian Francis Johnson |
| Date of Birth | 5 October 1947 |
| Birthplace | Dunston, County Durham, England |
| Occupation | Vocalist, guitarist, songwriter |
| Religion | Christian |
| Height | 1.65 m |
| Marital status | Married |
| Spouse name | Brenda Johnson |
| Children | Kala Johnson, Joanne Johnson |
| Net Worth | $90 million |
| Nationality | British, English |
Personal Life
Brian Johnson, a face of the music industry was born in Dunston, England on 5 October 1947. His father served in the British military as a sergeant major.
In 1968, Brian married Carol but this marriage didn't work out, and they divorced each other. Brian has two daughters, Kala Johnson and Joanne Johnson.
Career
Early in his career, he worked with a few bands including Gobi Desert Canoe Club (the first band where he started his career), Fresh, the Jasper Hart Band, and he was also a band named Geordie.
From Geordie, he released his first solo song 'I can't Forget You Now', and a solo album including his ten songs ' Strange Man'.
After the death of Bon Scott, Brian got selected as a guitarist in AC/DC. Though Brian has a competent voice, so he got an invitation to give an audition for a vocalist of the band. And Brian became an official vocalist of AC/DC. In that year he released an album with the band named 'Back in Black' and it earned worldwide fame and became one of the best selling albums.
His contribution to the lyric of AC/DC has been stopped from 1988 and his last contributed album was Blow Up Your Video. Rock or Bust was Jonson's last album with AC/DC. Later in 2016, he announced his retirement from the band because of his hearing problem.
Brian also wrote many lyrics for several works including 'Kill the Sunshine' 'Locked and Loaded'.
He gave his voice for a character in a video game ' Call of Duty'.
Awards and Achievements
For Brian's contributions to the music industry, he received an award 'Doctor of Music' by Northumbria University.
Quotes
"Happiness isn't some elusive treasure we chase after. It's a state of being we need to practice."
"Self-actualization is the oxygen for the soul."
FAQs
How much is Brian Johnson worth?
Brian Johnson has a net worth of $90 million.
Why did Brian stop singing for AC/DC?
For Brian's hearing issue he stops singing for AC/DC