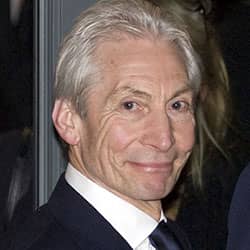 Charlie Watts is an English drummer, composer, producer, and musician who owns a net worth of $170 million. This versatile rock musician worked with the popular English rock band The Rolling Stones.
Charlie is best known for his outstanding drumming skills. As a drummer, he has been very successful with the rock band The Rolling Stones since 1963. He is the only Rolling Stones member who has appeared in all the studio albums of the groups and ranked #12 of Rolling Stone's 100 greatest drummers of all time.
Besides, Charlie appeared in the production of Jazz Music. He further worked with The ABC&D of Boogie Woogie band as a drummer. Talk about his achievements, he was introduced to the Modern Drummer Hall of Fame and listed in the International Best Dressed List Hall of Fame.
Net worth: $170 Million
Charlie Watts: At a Glance
| | |
| --- | --- |
| Full Name | Charles Robert Watts |
| Gender | Male |
| Date of Birth | 2 June 1941 |
| Birth Place | Kingsbury, United Kingdom |
| Height | 1.73m |
| Weight | 72kg |
| Spouse | Shirley Ann Shepherd (m. 1964) |
| Children | 1; (Seraphina Watts) |
| Profession | Drummer, Composer, Musician |
| Nationality | English |
| Net Worth | $170 million |
Early Life
Charlie Watts was born in London on 2 June 1941. His father, Charles Richard Watts, was a lorry driver. He has a sister named Linda. His real name is Charles Robert Watts.
Talk about education, Watts went to Tylers Croft Secondary Modern School where he displayed his enormous talent in music, art, football, and cricket. At the age of thirteen, Charlie showed his interest in Drumming. Later, he attended Harrow Art School.
Career
After a great lesson in art school, Charlie worked as a Graphic Designer. As a graphic designer, Charlie contributed to the fifth British album, Between the Buttons, by The Rolling Stones.
As a designer, he has been very successful in designing Bridges To Babylon Tour, A Bigger Bang Tour, Licks Tour, and so on. From an early age, he had great attention to Jazz music. However, in 1963, Charlie joined as a drummer to the reputed English rock music band The Rolling Stones. He gained huge popularity working with Rolling Stones.
Besides, he was associated with the English blues band Blues Incorporated and The ABC&D of Boogie Woogie Band. His career achievements are very high. He was introduced to the Rock and Roll Hall of Fame. The Modern Drummer Magazine has listed his name on the Modern Drummer Hall of Fame. Moreover, he is the 8th Richest Drummer in the 20 Richest Drummer List of all time.
Salary Highlights
This prominent English drummer earns $28.33 million a year. Hence, his monthly salary is $2.36 million. He gets weekly $545k and daily almost $78k. His hourly income is $3234.
FAQs
Who Is The Richest Drummer In The World?
Ringo Starr is the richest drummer in the world. He owns a net worth of $350 million. This richest English drummer works with the band The Beatles. However, Charlie Watts holds the 8th position in the richest drummer list.
Who Is Charlie Watts Wife?
Shirley Ann Shepherd is the wife of Charlie Watts. They got married in 1964. This couple has a daughter named Seraphina Watts who was born in 1968.
Does Charlie Watts Have Cancer?
Charlie Watts was diagnosed with throat cancer in 2004. He has to undergo two operations to get rid of this disease.