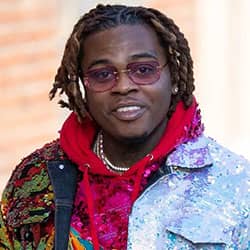 Gunna is a famous American rapper, songwriter and fashion influencer who has a net worth of $4 million. Gunna is also known as Sergio Giavanni. He is best known for his song "Drip too Hard" in collaboration with Lil Baby. He has also collaborated with Travis Scott, Gucci Mane, Young Thug and many others.
Gunna is currently signed to YSL Records, 300 Entertainment and Atlantic Records. His famous projects include Hard Body, Drip Season, Drip Harder Drip or Drown.
Keep on reading to know how this 27-year-old boy has made his way to possess such a large amount of worth.
Earning Highlights
Gunna's yearly revenue earning from 2018 is given below
| | |
| --- | --- |
| Year | Revenue Earnings |
| 2018 | $202.5K |
| 2019 | $875.6K |
| 2020 | $1.1M |
| 2021 | $155.2k (Till February) |
A more detailed breakdown of his earnings is given below
Per year: $1,500,000
Per month: $125,000
Per week: $28,846
Per day: $4,109
Sources of Income
Most of the rich men or women in recent times tend to have multiple sources of income. Celebrities are no different. Sergio Giavanni Kitchens has also generated his wealth from various sources of income. As a rapper his primary source of income is, as you guessed it, selling albums.
And in a world filled with the massive influence of social media what else can be the secondary source of income for a rapper other than social media platforms?
So, Gunna's sources of wealth can be distinguished into three broder sections-
Selling Albums
Social Media Platforms
Other Assets
Gunna is an opportunist. Outside his studio, music and album related incomes he would like to take a shot on any opportunity that presents itself with potential income generating ability.
Selling Albums
Gunna has released several albums in collaboration with various artists. Some of his billboard hit albums are given below:
| | |
| --- | --- |
| Album | Release Year |
| Drip Season | 2016 |
| Drip Season 2 | 2017 |
| Drip or Drown | 2017 |
| Drip Season 3 | 2018 |
| Drip Harder | 2018 |
| Drip or Drown 2 | 2019 |
| Wunna | 2020 |
His album, Wunna, became number one on the US Billboard top 200 charts. It earned 111k album equivalent units in its first week.
Gunna also has worked on several non-album singles. Among which "Back and Forth", "Vibes in LA" in 2017; "Sold Out Dates" in 2018; "Cash Cow" in 2019 and "Quarantine Clean" in 2020 are greatest hits.
Social Media Platforms
Among all social media platforms, Gunna has mentionable popularity in Youtube and Instagram.
YouTube
His youtube channel has over more than 1.41 million subscribers with a total view of 839 million+ views. Based on his subscribers and total views, his monthly earning is somewhere between $5,000- $87,000 and yearly earning is somewhere between $65,000- $1,000,000.
Instagram
Gunna's instagram page has more than 3.4M followers. As per public assumptions on instagram payments for accounts with over 1 million followers, his insta page should earn $6.7k to $11.2k per post.
Other Assets
Gunna owns a 2-tone Presidential Rolex, of which he isn't very proud of. Gunna claims his worst money ever spent was the purchase of two presidential Rolex to make it a 2-tone Presidential Rolex.
Each Presidential Rolex with White gold and Diamond can cost from $39k to $52k.
His best purchase, based on maintaining its value or has gone up over time, was his level 6 armored bulletproof Cadillac.
It should be noted that the highest level of such a vehicle is level 7, which is only applicable for the president of the United States. So Gunna technically owns the highest ranked bulletproof Cadillac any normal citizen with around $350k cash in hand can in recent days.
Gunna Overview
| | |
| --- | --- |
| Real Name | Sergio Giavanni Kitchens |
| Stage Name | Yung Gunna, Gunna |
| Date of Birth | 14 June 1993 |
| Age | 27 |
| Place of Birth | College Park, Georgia, United States |
| Nationality | American |
| Height | 178 cm |
| Weight | 154 lbs |
| Profession | Rapper |
| Net Worth | 4 million USD |
Early life
Gunna was born and raised in College park, Georgia. His mother raised him along with his four older brothers. He went to North Springs Charter School of Arts and Sciences and Langston Hughes High School. He started making music at the age of 15. In 2013 he released the mixtape "Hard Body" under the Yung Gunna stage name.
In his early life, Gunna considers himself as a hustler. He would have sold anything, anything like shoes, clothes and even weed to finance his early career related expenditures.
Career
Gunna had an early head start in his career after he was introduced to Young Thug, an American rapper. As days passed on, he came in touch with more big figures in the hip-hop arena like Travis Scott and Gucci Mane. Gunna released his debut mixtape "Drip Season" via YSL Records. On 11th May 2017 he released "Drip Season 2" and on 10th November he released his first extended play "Drip or Drown".
In early 2018 he released "Drip Season3" which featured Lil Durk, Metro Boomin and Lil Uzi Vert, Young Jordan and Young Thug on its deluxe edition.
As Mentioned earlier, his non-album single "Sold Out Dates" came out in 2018. It received millions of streams on YouTube and SoundCloud. His album "Astroworld" was the highest selling album in 2018. On October 5th Gunna and Lil Baby released their mixtape Drip Harder which featured Drake along with other rappers.
In the next year, Gunna released "drip or Drown 2" in February. Gunna was featured on Young Thug's single "Hot" in August, 2019. This song ranked number one on Apple Music.
Finally, last year, 2020, Gunna released his masterpiece "Wunna" on 22nd May. It peaked number one on the US Billboard 200 charts.
FAQ
Who is Gunna's manager?
Ebonie Ward is known for overseeing the career of Gunna. This Atlanta based manager is also appointed to Future and other top tier creative artists. Ward graduated from Albany State University situated in southern Georgia.
Why was Gunna arrested?
In June 2018, Gunna along with one of his producers Taurus were arrested by police for possession of marijuana. Actually, Gunna and Taurus were on their way to perform at Arkansas, and on their way they got lost and had no other options left than to ask the police nearby for help. However, they were released on bond for $2,500 the next day.
Sources: