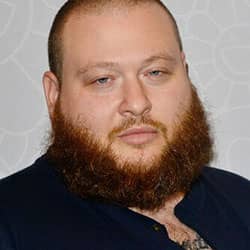 Action Bronson is the stage name of the American rapper, chef, television presenter, and writer Ariyan Arslan.
Action Bronson has accumulated a net worth of $10 million throughout his twelve years of versatile career. His rap songs prominently talk about food. Outside raping, Bronson is very famous for hosting 'The Untitled Action Bronson Show' and 'Fu*k, That's Delicious'—a travel program on Viceland. 
Since 2008, this rapper has released four studio albums so far. As of September 2020, Bronson released his fifth studio album 'Only for Dolphins'.
As of 2019 and 2020, Bronson earned worldwide popularity as an actor, appearing in The Irishman and The King of Staten Island.
Salary Highlights
Action Bronson earned most of his wealth through music selling. Releasing five studio albums and numerous tracks on Soundcloud, Bronson has made well. He has released 208 tracks on Soundcloud.
Bronson is a social media star as well. He has successfully made a remarkable impression on the hearts of music lovers.
Here's Action Bronson's social media impression:
Instagram Followers: 1.8 million
Twitter Followers: 342.6k
Youtube Subscribers: 353k
Facebook Followers: 611k
Soundcloud Followers: 226k
What's more, Bronson played cameo roles in the 2019 film 'The Irishman' and the 2020 film 'The King of Staten Island' that has earned $968k and $2.23 million worldwide.
Apart from these, Bronson earned selling his 'Stoned Beyond Belief' and 'Fu*k that's Delicious' books- published on 19 March 2019 and 12 September 2017, respectively. 
Here's Action Bronson net worth over the years:
Net Worth in 2016: $400k
Net Worth in 2017: $6 million
Net Worth in 2018: $7.5 million
Net Worth in 2019: $8.1 million
Net Worth in 2020: $10 million
Therefore, Action Bronson's net worth massively increased between 2016 and 2017.
Action Bronson: At a Glance
| | |
| --- | --- |
| Real Name | Ariyan Arslan |
| Gender | Male |
| Date of Birth | 2 December 1983 |
| Birth Place | Flushing, New York, United States |
| Height | 5 ft 8 in (1.74m) |
| Weight | 128 kg (283 lbs) |
| Marital Status | Single |
| Children | 3 |
| Profession | Rapper, Actor, Author |
| Nationality | American |
| Net Worth | $10 million |
Early Life
Ariyan Arslan aka Action Bronson was born to a Jewish mother and Muslim father on 2 December 1983, in Flushing, New York.
He has a lot of monikers like Action Bronson, Bam Bam, Mr. Baklava, Bronsolino, and so on. However, Bronson grew up in Muslim tradition. He went to Bayside High School located in Bayside, Queens. In 2002, he graduated from this school.
Career
Raping was a favorite hobby to Action Bronson. After graduation, Bronson worked as a gourmet chef in New York. Furthermore, he was the host of the online cooking show called Action in the Kitchen.
The hobby became subsistence after breaking his leg in the kitchen. However, he has been very successful in the kingdom of rap music.
Bronson's debut studio album is Dr. Lecter, which he released in 2011 via 'Independent record label'.
Action Bronson came to attention after releasing his Blue Chips mixtape that aids him in earning contracts with The Alchemist, Goliath Artists, Blink-182, and so on. Though he was offered a lucrative contract with Sony, he accepted Vice-a digital media and broadcasting company.
Before acting, Bronson appeared on the television screen as the television show host. In 2018, he played little role in the 'Game Over, Man!' film. Later, he got recognition as an actor, appearing in the 'The Irishman', and 'The King of Staten Island'.
He was nominated for the Rookie of the Year awards, in 2013. Next year, he further earned nominations for the BET Hip Hop Awards for his second collaborative mixtape, Blue Chips 2.
FAQs
Did Action Bronson Have Baby?
Though Action Bronson is unmarried, he has three children—two of them from his former girlfriend. Recently, his current girlfriend gave birth to a son.
Who Is Action Bronson Dating Now?
Currently, Action Bronson is dating Val—his second girlfriend. On 11 November 2019, Val gave birth to a son. However, Bronson has two children from his previous girlfriend.
Is Action Bronson A Good Rapper? 
Action Bronson can proffer opera music through rapping. He is a great artist. In his song, the presentation of wordplay and flow is impressive. Hence, Bronson is a good rapper. 
Is Action Bronson Related To Big Body Bes? 
Big Body Bes is the stage name of Sadikaj- an American rapper and TV presenter. He is associated with Action Bronson. Bronson describes Big Body Bes as his Albanian cousin. Bes was born to Albanian parents. Hence, Bronson describes him as his Albanian Cousin.
Sources