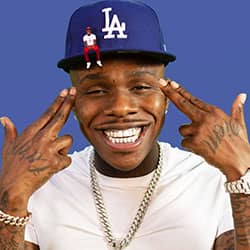 A Boogie wit da Hoodie is a singer, rapper, songwriter. His net worth is $5 million.
His actual name is Artist Julius Dubose. But A Boogie wit da Hoodie is his stage name. He was only twelve when he started rapping. People used to call Dubose, A Boogie. And he was always wearing hoodies. Thus his name stood as A Boogie wit da Hoodie.
Dubose is mostly known for his songs Numbers, Drowning, The Bigger Artist, Hoodie SZN, Artist 2.0. Besides, his very first 3 albums debuted in the Billboard chart.
Anyway, Dubose has been releasing songs from his label Highbridge since 2016. His new album A Boogie vs. Artist is about to release in 2020.
A Boogie wit da Hoodie: At a Glance
| | |
| --- | --- |
| Name | Artist J. Dubose |
| Birthday | December 6, 1995 |
| Birthplace | Highbridge, New York City |
| Gender | Male |
| Height | 5 feet 10 inch |
| Profession | Singer, Song Writer |
| Net Worth | $5 Million |
| Nationality | American |
Early Life
Dubose was born in Highbridge, New York City, grew up there. He joined the Eagle Academy. Meanwhile, he started rapping after listening to 50 Cent and Kanye West's rap.
Afterwards, Dubose got into trouble for selling narcotics and hemp. As punishment, he was sent to Florida by his parents. They kept him under house arrest.
Dubose built a studio in the house. His focus was on music even though he used to do part-time jobs.
Career
Dubose released his first single officially through SoundCloud when he was nineteen. As there were lacking in the song, the producer of the song asked Dubose to work with a trainer. So that he gets the techniques right.
The training made Dubose progress a lot. Dubose moved to New York to start hip-hop perfectly in 2015. He with the other 3 members created Highbridge the Label.
In 2016, from Highbridge the Label, Dubose released his first project named Artist. It set its position on the Forbes list of upcoming rappers. In the same year, Dubose signed with Atlantic Records.
Dubose was named as one of the tens of the American hip-hop magazine named XXL's 2017 Freshman Class. He featured many songs with famous Ed Sheeran, Khalid, Lil Durk.
What is more, Dubose released his album Artist's sequel, Artist 2.0 on February 14, 2020. His daughter Melody Valentine Dubose was born on this day. So he chose to release the album on Valentine's Day.
Award and Achievements
Some songs of Artist J. Dubose earned certificates from RIAA. Moreover, he has been included in the top 10 list of XXL Freshman Class of 2017.
Quotes
"Being self-made means putting yourself in a position to help others put themselves in position to be successful."
"No matter where I'm at in life, whether I'm in the music industry, rich, poor, everybody needs love in their life. Gangsta or not, everybody needs love in their life. You can't act too hard about that."
"New York sounds like something that I could really listen to. It's like a vibe; it's a hit song. It's a song that you could listen to in five years and still like."
FAQs
Who's Artist J. Dubose's girlfriend?
Ella Bands. She is a social media influencer. 
How many children does Artist J. Dubose have? 
Two. He and his girlfriend Ella Bands have welcomed their second child in June 2020. 
Who are Artist J. Dubose's parents?
Cyrus Dubose Jr and Tia Dubose Freeman. His father is very active in social media.
What is Dubose's son's name? 
Artist Jr, he was born in 2020.