6ix9ine or Tekashi69 is the stage name of hip-hop American rapper, Daniel Hernandez. He rose to fame releasing his sleeper hit song, Gummo, in late 2017. Through his distinctive rainbow-colored hair, extensive tattoos, and publicized celebrity feuds, 6ix9ine became a controversial public personality. 6ix9ine is estimated to have a net worth of $10 million.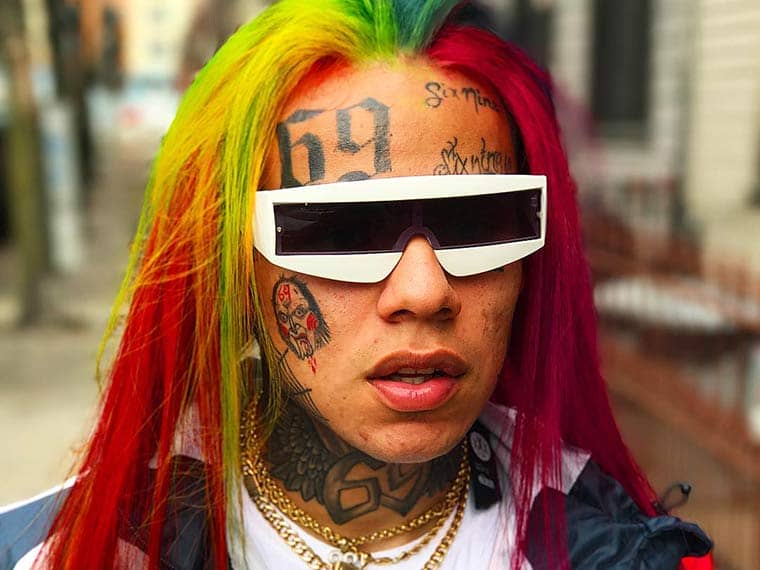 Early Life
Daniel Hernández was born to Natividad Perez-Hernandez and Daniel Hernandez Sr., on 8 May 1996, in Brooklyn, New York. He is of mixed descent. His mother, Natividad Perez-Hernandez, came to the US for better opportunities whereas his father, Daniel Hernandez Sr., came from Rio Piedras, Puerto Rico.
At an early age, 6ix9ine was fond of playing soccer and basketball. He played major league soccer at the age of 13. Throughout their youth age, Hernandez and his brother Oscar grew up in a church.
Talking about education, Daniel Hernandez went to Juan Morel Campos Secondary School. Later, he passed his tenth grade from Legacy High School.
Until 9 years of age, Daniel Hernandez didn't know his father well. His mother lied to him saying that his father was dead. Hernandez's father was a prisoner. He served five years behind bars due to drug dealing.
Daniel Hernandez's life was not smooth at all. He had to face a lot of financial crises during his childhood. However, Daniel worked for many jobs including busboy to the delivery boy.
Career
Before starting his hip-hop musical career, Daniel Hernandez worked for various types of jobs. He served as a delivery boy at a grocery shop.
In 2012, Daniel Hernandez first chose the hip-hop music industry as his career. He met Peter Rodgers who is the CEO of the New York record label and began practicing hip-hop music.
Hernandez first released his rap song in 2014 titled — 69. Later, he collaborated with two fellow rappers — J.A.B. and Dirty Sanchez. Daniel released many songs and albums over the next three years.
Daniel Hernandez gained the attention of hip-hop music lovers through aggressive rapping style and genuine use of anime in his music videos. He further took the stage names "Tekashi69", "Tekashi", and "6ix9ine". These names came from Japanese anime.
In July 2017, Daniel Hernandez gained a lot of social media coverage through his commercial debut single — Gummo. This song gained a platinum certificate from RIAA. In the Billboard Hot 100 chart, "Gummo" ranked #12. Besides, his next song "Kooda" ranked #61 on the Billboard Hot 100 chart.
In 2018, 6ix9ine released his debut studio album — Dummy Boy. Two years later, he released his second album, Tattle Tales.
Throughout his musical career, 6ix9ine has released:
Music Videos: 29
Mixtapes: 1
Singles: 13
Studio Albums: 2
Tours: World Domination Tour 2018
Daniel Hernandez has done a lot of Philanthropic works throughout his career as well.
6ix9ine Net Worth:
As of this writing, 6ix9ine has grossed an estimated net worth of $10 million. Throughout his big record deals, 6ix9ine has been able to gross this hefty sum. He has signed with GlobalStreamNow and 10k Projects. His signing amount with GlobalStreamNow is estimated to be more than $5 million.
How 6ix9ine make money?
6ix9ine makes most of his fortune from numerous sources like:
Record Deals
Musical Tours
YouTube
Talking about record deals, 6ix9ine has made contracts with record labels like — GlobalStreamNow and 10k Projects. In July 2020, he announced a record deal with GlobalStreamNow for $5 million. Besides, he took a handsome amount from 10k Projects.
Being a hip-hop musical star, 6ix9ine has appeared in many concerts including the World Domination Tour in 2018. A single ticket of 6ix9ine's concerts averagely goes for $50. VIP packages at festivals may cost $1k!
Talking about YouTube, Daniel Hernandez first launched his YouTube channel on 6th April 2018. His YouTube channel, Tekashi 6ic9ine has gained 19.9 million subscribers so far. Besides, he has earned over 5 billion views.
From YouTube, 6ix9ine makes:
Monthly Income: $7.4k to $118.1k
Yearly Income: $88.6k to $1.4 million
Weekly Income: $1.7k to $27.5k
Daniel Hernandez averagely makes $246 to $3.9k a day.
Therefore, from the aforementioned three major sources, Daniel Hernandez makes his bread and butter.
Personal Life
6ix9ine is dating Jade. In 2018, he met Rachel Watley Jade and began dating. Before Jade, 6ix9ine dated Sara Molina.
6ix9ine: At a Glance
| | |
| --- | --- |
| Full Name | Daniel Hernandez |
| Gender | Male |
| Date of Birth | 8 May 1996 |
| Birth Place | New York City, United States |
| Height | 5 ft 7 in |
| Weight | 150 lbs |
| Marital Status | Single |
| Profession | Rapper, Singer |
| Nationality | American |
| Net Worth | $10 million |
Sources