Halyna Hutchins was a Ukrainian cinematographer and journalist. She is well known for being the cinematographer of films like Archenemy (2020), Darlin' (2019), and Blindfire (2020). This talented cinematographer died due to an incident while shooting Rust. It is estimated that she had a net worth of $500k.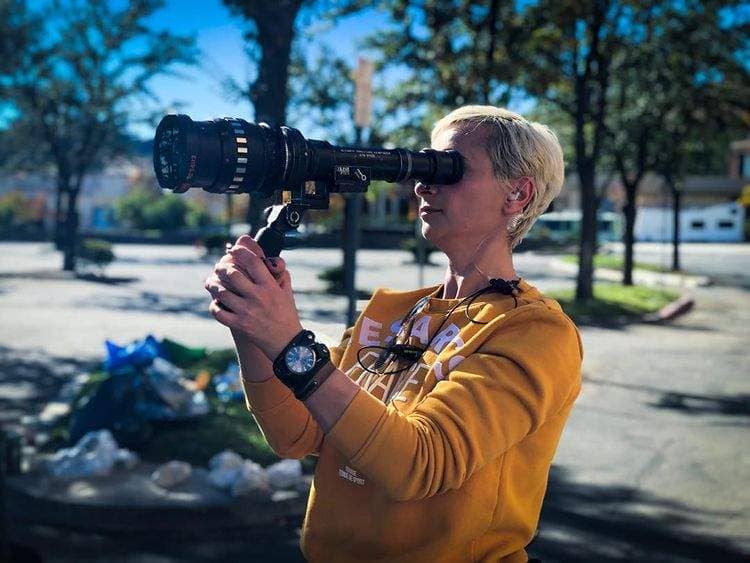 Early Life
Hutchins was born on April 10, 1979, in Horodets, Zhytomyr Oblast, Ukraine. Her father, Anatoly Androsovych was in the Soviet Navy. Due to her father's profession, she spent her childhood on a Soviet military base in Murmansk, Russia.
Halyna attended Kyiv National University in Ukraine where she studied International Journalism. She graduated from that University with a bachelor's degree.
Career
Halyna Hutchins started her career as an investigative journalist at British documentary production in Europe. She got fascinated by cinematography and wanted to focus on filmmaking. So, she moved to Los Angeles to take on roles in production and fashion photography.
Being encouraged by Bob Primes, Halyna joined American Film Institute Conservatory for a two-year master's program and graduated in 2015. Her thesis project was exhibited at the Camerimage International Film Festival, AFI Fest, and the Austin Film Festival.
Halyna had filmed a lot of short films in her career. In 2019, she was hired as the director of photography for the film Darlin'. She had also worked on the superhero film Archenemy in 2020. She had recently worked on a racially charged cop drama, Blindfire (2020).
Halyna was chosen as one of the American Cinematographer's Rising Stars of 2019. She participated in the Fox DP Lab Program and was selected as one of the cinematographers for the 21st century Fox DP Lab.
Halyna Hutchins Net worth:
Halyna Hutchins was a very talented and promising cinematographer and investigative journalist. She was gradually impressing everyone with her skills of capturing moments. She was one of the eight female cinematographers of the Fox DP Lab program. Halyna's talent and passion for cinematography made her owner of wealth worth $500k.
How did Halyna Hutchins make money?
Halyna Hutchins had an impressive net worth of $500k. The majority of her fortune came from cinematography. Let's take a look at the income sources of Halyna Hutchins
Major sources of income
Halyna Hutchins was quite impressed with the camera and had a very promising career. She was riding the ladder of success. Halyna had worked on more than 30 projects including shorts, drama, and films in her career. The cinematography was the main source of income for Halyna.
Halyna was about to earn $48k for her last project before death. She used to charge between $40k to $50k depending on the movie and shooting time.
Halyna started her career as an investigative journalist. She used to make $50k to $60k annually as a journalist.
Personal Life
Halyna Hutchins met her husband, Matthew Hutchins in Kyiv while studying journalism at Kyiv National University. Matthew Hutchins is an American citizen who was staying in Kyiv for studying. They dated for a while and got married in 2005.
Halyna moved to Los Angeles to focus on filmmaking with her husband in 2010. They are blessed with a son named Andros in 2012.
Death
Halyna Hutchins was at the peak of her career and was gradually getting herself engaged in some big projects. At this time a fatal incident took place during the shoot of Rust and took her life away.
On October 21, 2021, on the twelfth day of shooting, actor, and producer Alec Baldwin was rehearsing a fighting scene with a revolver with the crew on the set of Rust at the Bonanza Creek Ranch in New Mexico, United States.
Halyna Hutchins along with the other two crew members was behind the camera and recording the scene. Alec Baldwin was supposed to remove the gun from a holster and point it towards the camera. Alec Baldwin was suggesting how the scene should be done.
So, he pulled the gun from the holster and fired it. The bullet penetrated her chest striking another crew member, Joel Souza's shoulder.
Within three minutes, the emergency crew appeared and Halyna was choppered to the University of New Mexico Hospital in Albuquerque, where she was announced dead.
Halyna Hutchins: At a Glance
| | |
| --- | --- |
| Name | Halyna Hutchins |
| Gender | Female |
| Date of Birth | 10 April 1979 |
| Death | 21 October 2021 |
| Birth Place | Horodets, Zhytomyr Oblast, Ukraine |
| Marital Status | Married |
| Husband Name | Matthew Hutchins |
| Children | 1 (son) |
| Profession | Journalist and Cinematographer |
| Net Worth | $500k |