Marshmello is a widely famous American electronic music maker and DJ who owns a net worth of $56 million. Some of his songs, including Friends, Happier, Silence, Alone, and Wolves, have secured top 30 in the Billboard Hot 100.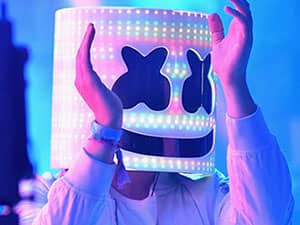 Keep on reading to discover how Marshmello can earn such colossal wealth at such a young age. Moreover, learn some details, such as his biography, academic life, real estate, and lots of other things.
How much money does Marshmello make?
Marshmello earned all of his money from producing electronic music. In his 6 years of career, he has made 56 million dollars or 9.3 million dollars on average. However, Marshmello's earnings are listed below in a periodic format:
Yearly Income: $9.3 million
Monthly Income: $775 thousand
Weekly Income: $178.8 thousand
Daily Income: $25.5 thousand
Hourly Income: $1.06 thousand
How does Marshmello make money?
Marshmello is a professional electronic music producer. He earns his money from YouTube ad revenue and performing concerts. Besides, Marshmello also released albums on the music market. All the sources of earnings are given below into some points:
Music Career
Concert Performer
YouTube Personality
Selling Merchandise from the Website
Earnings from Music
In 2015, Marshmello started his career by singing singles, Keep It Mello, as a lead singer. The song is included in the Joytime album. Moreover, though it was Marshmello's first song, its success hit the sky. It secured 25th position on the US dance chart.
In the next year 2016, Marshmello released his first album named Joytime. The album was a total hit. It was in the 5th position in the US dance chart and 14th on the US Heat chart.
From 2015 to 2021, Marshmello has released a lot of his creations. The creations of Marshmello are categorized below:
| | |
| --- | --- |
| Category | Number of Creations |
| Studio Albums | 3 |
| Singles | 41 |
| Extended Play Records (EPs) | 2 |
| Remixes | 16 |
| Music Videos | 43 |
| Charted Songs | 9 |
Concert Performer
In 2015, Marshmello started his career. In a short period, he has accomplished many things. Hundreds of concerts are one of the greatest accomplishments in his career. In the year of 2015, Marshmello's first song was released and in that same year, he started his concert journey.
Until now Marshmello has done 492 concerts. In which year, how many concerts he has done are given below to see at a glance:
| | |
| --- | --- |
| Year | Number of Concerts |
| 2015 | 6 |
| 2016 | 116 |
| 2017 | 181 |
| 2018 | 130 |
| 2019 | 55 |
| 2020 | 4 |
YouTube Personality
On 6 April 2015, Marshmello created a music-type account on YouTube named Marshmello. Today, his YouTube channel is one of the most celebrated YouTube channels in the world.
Marshmello YouTube channel has a total of 53 million subscriptions. It gives the channel 23rd rank in the world based on subscriptions. Besides, the channel has 470 video content. Moreover, the uploaded videos on his channel have an aggregate of 11.74 billion views. That puts Marshmello in 10th place on the US chart.
For having such a massive amount of views, Marshmello gets up to 7.7 million dollars ad revenue per annum from YouTube.
Selling Merchandise from the Website
Marshmello has an official website on Google named marshmellomusic.com. From that website, he sells merchandise to his fan-followers. From the number of YouTube subscriptions, you can guess the size of Marshmello's fan-based community. Thus he earns a massive deal of money from his website.
On the website, there are a lot of Marshmello's iconic collections, such as Marshmello hoodies, Marshmello t-shirts, smile collections, kids and youths collections, etc.
Biography of Marshmello
| | |
| --- | --- |
| Full Name | Christopher Comstock |
| Professional Name | Marshmello |
| Gender | Male |
| Sexual Orientation | Straight |
| Religion | Buddhism |
| Zodiac Sign | Taurus |
| Ethnicity | White |
| Date of Birth | 19 May 1992 |
| Place of Birth | Philadelphia, Pennsylvania, United States of America |
| Height | 5 feet 11 inch |
| Weight | 57 Kg |
| Nationality | American |
| Marital Status | Not Married |
| Relationship Status | Dating |
| Girlfriend | Kelsey Calemine |
| Profession | Electronic music producer |
| Net Worth | $56 million |
The early life of Marshmello
Christopher Comstock, widely known as Marshmello was born on 19 May 1992. His birthplace is Philadelphia, Pennsylvania, United States. More likely, Marshmello spent childhood in his birthplace.
Marshmello always hid the information regarding his parents. Thus there is no evidence of his parents. But Marshmello has a sister named Madi Comstock. In addition, he completed his high school at The Shipley School. Moreover, the school is situated in Bryn Mawr which is 12 miles away from Philadelphia, Pennsylvania.
Real Estate of Marshmello
In summer 2020, Marshmello bought a 7,818 square feet, 5 bedroom house. He bought that house in the Guard Gate Community. In addition, Paris Hilton and Kendall Jenner have homes in this community. Marshmello paid around 10.8 million dollars to buy the house.
Besides, in 2018, Marshmello had bought his first house in Los Angeles in the Laurel Canyon neighborhood. He spent 3.6 million dollars to purchase that house.
FAQs
Why does Marshmello hide its face?
In 2017, Marshmello confirmed in an interview why he hides his face. Marshmello told the reporters that he always wanted to stay far from publicity and fame. He also said that he was trying to spread positivity and tried to connect with people.
Did Marshmello ever reveal his face?
Marshmello did not reveal his face for once in public. Besides, he has no intention of revealing his face in public. He has just wanted to connect with people. Marshmello does not need publicity which is not beneficial at all.
Why is Marshmello popular with kids?
On the YouTube channel, Marshmello, around 40 percent of the total viewers are under the age of 13. However, attracting children to Marshmello's DJ content was their strategic vision. And they are successful by now. Currently, they are launching music DJ content where targeting viewers are the youngest ones, Toddlers.
Sources