Martin Short is an American-Canadian actor, writer, singer, and television show host who has a net worth of $26 million. He came to the limelight appearing in the Canadian sketch comedy — Second City Television and Saturday Night Live. While appearing in the Saturday Night Live, Short received a weekly salary of $20k.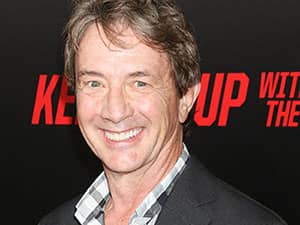 Outside acting, Martin is also known for his charity works. He donated his winning prize money of $32k from the celebrity show — Who Wants to Be a Millionaire. He is an active member of the Canadian charity Artist Against Racism.
How much does Martin Short make?
Have a glimpse on Martin Short's yearly, monthly, weekly, and daily income:
Yearly Income: $4.33 million
Monthly Income: $361k
Weekly Income: $83k
Daily Income: $12k
Hourly Income: $494
How does Martin Short make money?
Martin Short is a prominent American-Canadian actor. He began his acting career appearing in the Canadian youth television series — Right On, in 1972.
However, Short has earned most of his wealth through his fifty years of an acting career so far. Are you thinking about his earning from acting? Well, a short description is given below counting his money from acting —
How much does Martin Short make from acting?
Martin Short has an acting credit of 103 films and television series. His best-known film appearance is:
The Santa Clause 3: The Escape Clause
Inherent Vice
Three Amigos
Innerspace
These films have earned multi-million in the worldwide box office. Grossing figures of these films are mentioned below:
| | |
| --- | --- |
| Films | Worldwide Box Office Earnings |
| The Santa Clause 3: The Escape Clause | $111 million |
| Inherent Vice | $15 million |
| Three Amigos! | $39 million |
| Innerspace | $26 million |
Short played the title character alongside Steve Martin and Chevy Chase in the $25 million budgeted film — Three Amigos!
In total, Short is credited with nearly $2 billion in the worldwide box office. His supporting role in the film industry aided to gross $1.1 billion in the International box office.
Besides, Short's leading role in the Three Amigos! gross $39 million. Furthermore, his voice work in Madagascar 3: Europe's Most Wanted (2012) grossed $746 million in the worldwide box office.
In television series, Martin Short was paid a $20k weekly salary for his appearance in the American late-night television show — Saturday Night Live.
Martin also appeared and wrote the sketch comedy series — Second City Television. Typically, a 'Second City Television' cast received $32k to $42k a year. Someone like Martin Short should have been paid well enough for his two-end contribution in this series.
Real Estate & Car Collection
Martin Short bought a 1,836 square foot home that is located in the Beachwood Canyon area of Los Angeles for $1.1 million. Besides, he bought another 3-bedroom home in Pacific Palisades for his daughter.
In Canada, Short has also a cottage that is located on Lake Rosseau, Ontario.
Talking about car collection, Short owns the 1965 Aston Martin DB5 Convertible. This car is worth $2.4 million in the US.
Martin Short: At a Glance
| | |
| --- | --- |
| Birth Name | Martin Hayter Short |
| Gender | Male |
| Date of Birth | 26 March 1950 |
| Birth Place | Hamilton, Ontario, Canada |
| Height | 5 ft 7 in (1.71 m) |
| Weight | 68 kg or 150 lbs |
| Spouse | Nancy Dolman (m. 1980; died 2010) |
| Children | 3 |
| Profession | Actor, Comedian, Singer, Writer |
| Nationality | American-Canadian |
| Net Worth | $26 million |
Early Life
Martin Short is the youngest son of Charles Patrick Short and Olive Grace. He was born in Hamilton, Ontario, on 26 March 1950. He grew up as Catholic.
Short's maternal parents are of Irish and English descent. In 1968, his mother died of Cancer. However, Short completed his high school session at Westdale Secondary School. Later on, Short earned his Bachelor of Arts degree from McMaster University in 1971 in the field of Social Work.
Career
After graduation, Short approached for a Social Work career. He became interested in acting after Stephen Schwartz's musical composition — Godspell.
In 1972, Short first appeared in the youth TV series — Right On. In 1979, he appeared in 13 episodes in the American sitcom The Associates. His first film appearance began this year portraying Engel in the comedy film — Lost and Found.
However, Martin Short's career breakthrough came after his role in the Canadian sketch-comedy, Second City Television. He appeared in this series from 1981 to 1984.
Besides, Short became further famous after his prominent appearance in the late-night comedy show, Saturday Night Live.
Apart from films and television series, Martin Short was regular in comedy specials, theatre, and video games. Throughout his fifty years of an acting career, Martin Short has won twelve awards and forty-four nominations so far.
In a nutshell, Martin Short's winning awards are:
Primetime Emmy Awards (two times)
Banff Television Festival Awards
Canadian Screen Awards (four times)
DVD Exclusive Awards
Film Independent Spirit Awards
Gemini Awards
Online Film & Television Association Awards (two times)
FAQs
Are Martin Short And Steve Martin Friends?
Yes, they have remained close friends. They first met in the 1980s for filming in The Three Amigos. Since then, these two actors remained in a close friendship.
Who Is Martin Short's Wife?
The famous Canadian actress Nancy Dolman was the wife of Martin Short. In August 2010, Nancy Dolman died of ovarian cancer. However, this couple has three children.
Where Is Martin Short Today?
Martin Short and his family are now living in Pacific Palisades, Los Angeles. He also has another home in Ontario, Canada. However, he is now a naturalized US citizen.
Sources