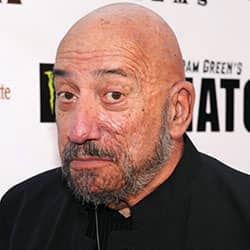 Sid Haig was an actor, musician, film producer. He had a net worth of $1.5 million.
Sidney Eddie Mosesian was his real name. He was mostly known for starring in the films The Devil's Rejects and House of 1000 Corpses, 3 From Hell. People used to call Sid Haig the icon of horror cinema.
Sid appeared in several tv shows such as Batman, Mission: Impossible, Charlie's Angels, The Dukes of Hazzard, The A-Team. Besides, he was an experienced drummer and recorded Full House with T-Birds.
Sid Haig lived from 1939-2019. He was suffering from heart and lung failure. This icon of horror cinema was bald and almost always bearded.
Sid Haig: At a Glance
| | |
| --- | --- |
| Name | Sidney Eddie Mosesian |
| Date of Birth | July 14, 1939 |
| Date of Death | September 21, 2019 |
| Birthplace | Fresno, California, USA |
| Gender | Male |
| Height | 1.89m |
| Profession | Actor, Musician, Film Producer |
| Net Worth | $1.5 million |
| Nationality | American |
Early Life:
Sid Haig, son of Roxy and Haig Mosesian, was born and grew up in Fresno, California. He started dancing as a paid performer when he was seven years old. Firstly, he had joined the children's Christmas Show and then Vaudeville show.
Sid made his parents buy a drum set for him. He mastered many music styles like jazz, blues, country, swing. Furthermore, Sid sang the song, Full House with the T-Birds cause he found it easy to make money singing.
Career
Sid Haig started acting in 1960 with the short film The Host. From that time, he starred in almost 350 tv shows and 70 movies. He became the leading one in Jack Hill's cinemas.
Moreover, Sid made his entry in tv shows with the Untouchables in 1962. But he turned himself off from acting for nearly five years. By that time, he became a hypnotherapist.
After five years of temporary retirement, he came back with Tarantino's cinema Jackie Brown. In 2003, Sid starred as Captain Spaulding in House of 1000 Corpses.
For this character, he is known as the modern icon of horror cinema by people. From that very time of Captain Spaulding, Sid was famous as the Horror Icon.
He did many projects with Rob Zombie including, The Devil's Rejects, Devil in my Ride, The Lords of Salem, Hatchet 3, 3 From Hell. Sid was about to appear in the 2020 film Hanukkah and 2021 film Abruptio. Both of them are horror movies.
Awards and Achievements
In the 13th Annual Fangoria Chainsaw Awards, Sid Haig received the Best Supporting Actor Award. He also earned the Best Actor Award in the 15th Annual Fangoria Chainsaw Awards.
Quotes
"Was I a successful father? Maybe not. Was I a successful husband? Probably not. Was I a successful actor? Probably not."
"If you're not passionate about what you want to do, you won't be good at it."
FAQs
What's for Sid Haig mostly known?
Mainly for the maniacal clown Captain Spaulding. 
Was Sid Haig married? 
Yes. Susan L. Oberg. They got married in 2007. 
To whom the Haig Group Company belonged to?
Susan L. Oberg and Sid Haig. They found the group together. 
How many times Sid Haig played as Captain Spaulding? 
Three times. Primarily in the House of 1000 Corpses. Later reprised the role in The Devil's Rejects and 3 From Hell.