The king of Bollywood, Shah Rukh Khan, further known as SRK. King Khan's Net worth is $600 million making him one of the richest actors worldwide.
He is an actor, film producer, television personality, Co-Chairmen of The Red Chillies Entertainment, Co-owner of the Indian Premier League cricket team named "Kolkata Knight Riders" &"Trinbago Knight Riders" on CPL & so on!
In between his 38 years Bollywood careers, he has successfully presented above 80 films taking 14 Filmfare Awards. He was awarded the "Padmashri" from the Govt. Of India and the "Ordre des arts et des letters" & the "Legion of Honour" from the Govt. of France.
Net Worth: $600 Million
He has been portrayed from numerous characters including Villainous roles, as an alcoholic, NASA scientist, Hockey coach, and having Asperger Syndrome. With these attractive characters, he has won the hearts of the Indian diaspora as well as the Globe.
Because of his endorsement and entrepreneurship ventures, he has leveled as "Brand SRK" by the media. His social work includes health care & disaster relief, children's education, leadership in women's and children's rights in India, which honored him with UNESCO's Pyramide con Marni award & World Economic Forum's crystal award.
Shah Rukh Khan: At a Glance
Net Worth
$600 Million
Date Of Birth
November 2, 1965
Parents
Father: Taj Mohammed Khan Mother: Lateef Fatima Khan
Sister
Sehnaz Lalarukh Khan
Gender
Male
Height
5ft 8 in (1.73m)
Spouse
Gauri Chibber
Children
3; Aryan Khan, AbRam Khan, Suhana Khan
Nationality
Indian
Occupation
Actor, film producer, television personality, businessman.
Honors
Padma Shri (2005)
Ordre des Arts et des Lettres(2007)
Légion d'honneur(2014)
Religion
Islam
Early Life
King Khan was born into a middle-class Muslim family on November 2, 1965. He spent his beginning five years in Mangalore.
Khan grew up in the posh colony Rajendra Nagar. Khan lived a middle- class life and grew up relying on his father's restaurant income. Khan attended St. Columba's School in central Delhi.
During his school life, he became famous for study as well as sports regarding hockey and football receiving the school's highest award "The Sword of Honour". Thus, he got the inspiration to pursue a career in sports. But, due to shoulder injury, his desire was nipped into the bud! Then he began to act in stage plays and received highness.
SRK earned his bachelor's degree in economics enrolling himself at Hansraj college though he spent many times at Delhi's Theatre Action Group (TAG). After bachelor, King Khan named himself to obtain a master's degree in mass communication at Jamia Millia Islamia but left due to pursuing his acting career.
Sadness came apart due to the loss of his father and mother in between ten years. king Khan was given the Birth name Shahrukh khan but he propose his name as Shah Rukh Khan. Later on, he espoused Gauri Chibber, a Panjabi Hindu, in a conventional Hindu wedding ceremony.
Career
A journey from a middle-class family to a millionaire wasn't easy at all. King khan's maiden character was seen in "Dil Dariya" a TV series in 1988. Later on, due to production delay, he was seen in "Fauji" in 1989 catching his television debut.
After performing some TV series successfully he desired to enter in Bollywood. Khan's maiden movie is, "Deewana" released in 1992. At the first entry, Khan's "Deewana" became a box office hit selecting him the Filmfare Best Male Debut Award. Later on, he was seen in a villainous character in between 1993 to 1994.
His anti-hero role is seen in "Darr", "Baazigar", "Maya memsaab", "Anjaam" all made him the Filmfare Best actor awards. Khan's Romantic Role started with the melodramatic thriller, "Karan Arjun" becoming the second highest-grossing film in that year. He was portrayed as a romantic hero in, "Dilwale Dulhania Le Jayange". The Box Office India declared it an all-time blockbuster movie with a gross of over $17 million worldwide. But in 1996, all of Khan's released was fall. In the following year, he earned success with a romantic comedy role in, "Yes boss" selecting him as the Filmfare best actor.
Without Kissing any Co-stars, King Khan became a romantic persona though he broke the rule after strong urging by Yash Chopra in 2012. In 1999, Khan's "Baadshah" was released titled him as the "Baadshah Of Bollywood" by the media. In that year khan became a producer releasing "Phir Bhi Dil Hai Hindustani" though it was a commercial failure. Later on, his success continues by the "Mohabbatein", "Kabhi Khushi Kabhie Gham" "Devdas", "Kal Ho Naa Ho", "Chalte Chalte" in the film industry. He has enrolled in more than 80 Bollywood films.   
In 2004, Khan named him as a Co-chairman of "Red Chillies Entertainment". In addition, Khan was hosted in numerous TV shows including "Kaun Banega Crorepati", "Kya Aap Paanchvi Pass Se Tez Hein" etc. King Khan is a frequent Stage Performer worldwide. Khan owns the Indian Premier League team "Kolkata Knight Riders" & Caribbean Premier League team "Trinbago Knight Riders". He along with his wife owns a Six-story in Mumbai named Mannat.
Salary Highlights
Shahrukh Khan's Yearly salary is $72,727,000. According to various media reports, Khan claims $28 million to $35 million per film. 
Shah Rukh Khan Wife of Recent Image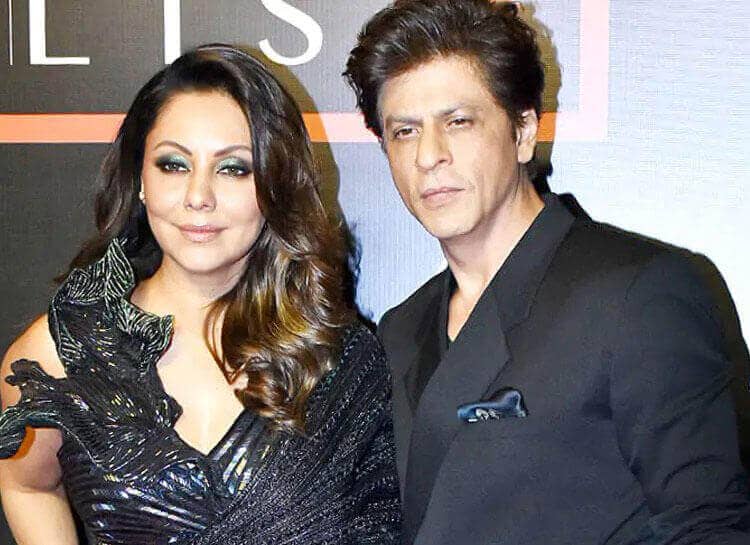 FAQs
Will SRK Become a Billionaire?
Yes! It is possible because Shah Rukh Khan has secured a place in the richest Indian list as well as the globe.
Who is Richer Shahrukh or Salman Khan? 
Salman Khan gets a minimum of 50 crore per movie where Shahrukh Khan gets 40 crores per movie. Nevertheless, Shahrukh Khan's yearly overall income of $38 million where Salman Khan's yearly overall income $37 million.
Who is Richer Shahrukh or Ronaldo? 
Shah Rukh Khan is richer than Ronaldo. Ronaldo's net worth is $412 million where Khan's is $600 million!