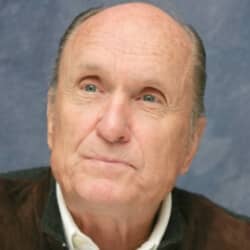 Robert Duvall is one of the popular American actors, directors, and producers who owns a net worth of $70 million. He is well known being a leading actor in the popular films The Godfather and The Godfather II.
Within his 68 years of an acting career, he has won numerous reputed awards. He is the four times Golden Globe Award winner. For his role in the film Tender Mercies, he has won the Academy Award. In 2005, he was honored with the National Medal of Arts. Besides, he has earned the BAFTA, Emmy, and Screen Actors Guild Award.
Apart from acting, he was a private first class ranked military officer. During the Korean War, he worked for one year in the United States Army. This legend is still working in the film industry since 1952.
Net Worth: $70 Million
Robert Duvall: At a Glance
| | |
| --- | --- |
| Full Name | Robert Selden Duvall |
| Gender | Male |
| Date of Birth | 5 January 1931 |
| Birth Place | San Diego, California, U.S. |
| Height | 5ft 8in (1.74m) |
| Weight | 78 kg |
| Spouse | Luciana Pedraza(m. 2005) Sharon Brophy (m. 1991 div. 1995) Gail Youngs (m. 1982 div. 1986)Barbara Benjamin Marcus (m. 1964 div. 1981) |
| Children | 4 |
| Profession | Actor, Producer, Director |
| Nationality | American |
| Net Worth | $70 million |
Early Life
On 5th January 1931, Robert Duvall was born in San Diego, a city in California, the U.S. His father is an Admiral of the United States Navy, and his mother, Mildred Virginia, is an amateur actress. Duvall passed his childhood in Annapolis, Maryland.
Talk about education, he went to Severn School located in Severn Park, Maryland. Later, he attended the Principia College situated in Elsah, Illinois, and took a degree in Bachelor of Arts in Drama. After attending the U.S. Army for one year, Duvall further studied in the New York-based acting school called Neighborhood Playhouse School of Theatre.
Career
Robert Duvall started his career in the Gateway Playhouse theatre situated in Bellport, New York City, in 1952. Later, he appeared in the play Witness For The Prosecution and Thieves' Carnival in this theatre. In 1959, Duvall appeared on his debut television series Armstrong Circle Theatre.
Later, he played a little role in the series like Naked City, Route 66, The Twilight Zone, The Outer Limits, The Untouchables, Combat!, The Mod Squad, and so on.
Duvall portrayed the role of Boo Radley in his debut 1962 American drama To Kill a Mockingbird film. Later, he appeared in popular films like Rambling Rose, Apocalypse Now, The Conversation, Bullitt, The Godfather, The Godfather II, The Handmaid's Tale, and so on. The American playwright and screenwriter Albert Horton Foote described him as "Our Number One Actor".
His achievements in the film industry are far behind the description. He has won Golden Globe, Screen Guild, Emmy, and so many popular awards. He is still working in the film industry.
Salary Highlights
This popular actor earns $11.43 million a year. His monthly salary is $952k. He gets weekly $220k and daily $31k. His hourly income is $1305.
FAQs
Who Is Robert Duvall's Daughter?
Actress Shelley Alexis Duvall is the daughter of Robert Duvall who was born in Houston, Texas, on 7 July 1949. She is the only daughter of Robert Duvall's four children.
Is Robert Duvall Related To Robert E Lee?
Robert belongs to several ancestries. His mother was a member of the Lee family of Virginia and was a relative of U.S. Civil War General Robert E. Lee.
What Actor Has Been In The Most Movies?
Eric Roberts appeared in most movies. This American actor has appeared in 401 movies so far. In the list, Robert Duvall has appeared in 83 movies.
Who Is The Richest Actor?
Shah Rukh Khan is the richest actor gaining $600 million net worth. In this count, Robert earning so far so good having $70 million in his pocket.