Richard Madden, a British actor is extremely popular for his portrayal of the role of "Robb Stark" in the epic American fantasy drama TV show Game of Thrones. Richard Madden has an estimated net worth of $7 million.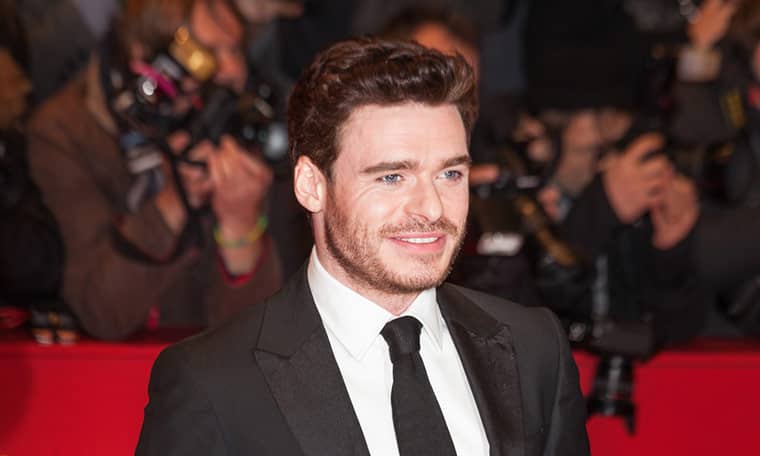 Early Life
Richard Madden was born in Renfrewshire, Scotland, UK. His mother, Patricia Madden was a school teacher and his father, Richard Madden worked in the fire brigade. He has two sisters named Cara Madden and Lauren Madden.
Richard Madden is very passionate about acting from an early age. He was very shy at an early age and due to shyness, he was bullied. To overcome shyness, he joined PACE Youth Theatre.
Richard Madden also attended the Royal Scottish Academy of Music and Drama, currently Royal Conservatoire of Scotland, and received a degree in 2007. In 2019, the Royal Conservatoire of Scotland gave him an Honorary Doctorate on drama.
Career
Richard Madden started his acting career at a very early age. He made his film debut by playing young Andy in Complicity at the age of 11. He played the lead role in Barmy Aunt Boomerang, a children's television series.
While studying music and drama in the Royal Conservatoire of Scotland, Richard Madden performed in a good number of plays like Tom Fool, Romeo and Juliet, Noughts, and Crosses. For his natural acting in Tom Fool in London, he was spotted by a team from Shakespeare's Globe.
In 2011, Richard Madden played the role of Robb Stark in one of the world's most popular TV series Game of Thrones which was the turning point of his career. He was in the first three seasons of the show. His appearance in Game of Thrones gained him huge fame and worldwide recognition.
In 2015, Richard Madden was cast as Prince Kit in Disney's romantic fantasy film Cinderella which was a massive box office hit collecting over $542 million worldwide. He is also well known for his role as Michael Mason in The Take (2016), Ikaris in Eternals (2021).
Richard Madden Net Worth:
Richard Madden is a successful actor who has an estimated net worth of $7 million. He is very popular for his role "Robb Stark" in Game of Thrones. Besides Game of Thrones, he has also worked on a decent number of films and TV series. A good amount of his fortune came from Game of Thrones.
How does Richard Madden make money?
Game of Thrones
Richard Madden wasn't paid as much as his co-actors like Kit Harington, Peter Dinklage, Lena Headey. In an interview with a Hollywood reporter, he said, "People think I am [rich], because of Game of Thrones, but when I signed up for that I was 22".
Richard Madden was a tier B actor in Game of Thrones and was paid $175K per episode. He has appeared in 22 episodes of the show which earned him almost $3.9 million.
Films and TV shows
Richard Madden has also appeared in a good number of Films and TV shows from where a good amount of his income has come.
Producer
Richard Madden is also one of the executive producers of the TV series Medici and Podcast series From Now.
Personal Life
Richard Madden is very private about his personal life. In an interview, he said, "I keep my personal life personal". This 35-year-old actor is unmarried and currently single. Although there is a rumor about him dating his several co-actresses, nothing was confirmed.
What is Richard Madden doing now?
Richard Madden has been working in the entertainment industry since childhood. Since then he has hardly been off work. This busy actor is currently working on a mini TV series called Citadel along with Priyanka Chopra Jonas, Stanly Tucci. Citadel is an action-packed spy series and is expected to release in February 2022.
Awards and Nominations
For outstanding performance in Bodyguard (2018) and Game of Thrones (2013), Richard Madden has been nominated for awards 12 times and he has won 5 of them.
Richard Madden: At a Glance
| | |
| --- | --- |
| Name | Richard Madden |
| Gender | Male |
| Sexual Orientation | Straight |
| Birth Place | Elderslie, Scotland, UK |
| Religion | Doesn't believe |
| Nationality | British |
| Relationship Status | Single |
| Marital Status | Unmarried |
| Profession | Actor, Producer, Soundtrack |
| Net Worth | $7 million |