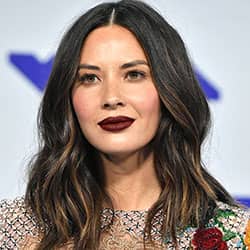 Olivia Munn is an American actress and model who has a net worth of $25 million. She is best known for her role as Sloan Sabbith in the American drama political series The Newsroom.
Lisa Olivia Munn has appeared in more than twenty movies and numerous television series. She has appeared in films like Big Stan, Date Night, Iron Man 2, X-Man: Apocalypse, The Predator, The Gateway, and so on. Besides, Olivia has appeared in popular television series like Attack of the Show!, Beyond the Break, The Newsroom, The Rook, and so forth.
As an outstanding female actor, Olivia won the Gracie Allen Award. Besides, she got a nomination for the 2017 Kids' Choice Award for her role in the X-Men: Apocalypse film. Moreover, Olivia is associated with many charitable institutions.
Olivia Munn: At a Glance
| | |
| --- | --- |
| Full Name | Lisa Olivia Munn |
| Gender | Female |
| Date of Birth | 3 July 1980 |
| Birth Place | Oklahoma City, Oklahoma, United States |
| Height | 5ft 4in (1.63m) |
| Weight | 52kg |
| Marital Status | Single |
| Profession | Actress, Model |
| Nationality | American |
| Net Worth | $25 million |
Early Life
Lisa Olivia Munn was born in Oklahoma City, Oklahoma, on 3 July 1980. Her parents are Kimberly and Winston Munn. Munn's father is an American, where her mother is of Vietnamese. After the Vietnam War, Munn's mother fled to the U.S. and settled here. Talk about education, Munn attended the Putnam City North High School. After completing high school, she studied journalism at the University of Oklahoma.
Career
In 2004, Munn started working in an NBC affiliate television station. Later, she joined Fox Sports Networks. In FSN, Munn served as a sideline reporter for women's basketball and college football teams.
Apart from journalism, Munn appeared in many super-hit films and television series. She gained popularity after her role in the political drama television series The Newsroom. In this series, Munn played the role of Sloan Sabbith, appearing in 25 episodes.
Talk about her filmography, Munn has appeared in popular films like Big Stan, Date Night, Iron Man 2, Magic Mike, X-Men: Apocalypse, The Predator, and so forth. Besides, Olivia Munn has appeared in music videos like Where's the Love? and Graduation in 2016 and 2019, respectively.
Munn has earned a lot, appearing in advertising campaigns for popular brands like Pepsi, Nike, Neutrogena, and so forth. Besides, many magazines, including Foam, Men's Edge, Playboy, and FHM, covered Munn.
Salary Highlights
Olivia Munn has accumulated her $25 million net worth from various sources. Talk about her earnings, Munn gets $1.98 million per year. Her monthly salary is $165k. Munn earns $38k per week, which counts over $5k per day. Munn's hourly rate is $226.
FAQs
Who Is Olivia Munn's Boyfriend? 
From 2014 to 2017, Munn was in a relationship with Aaron Rodgers. Aaron is an American football quarterback player. However, Munn has not married yet.
What Is Aaron Rodgers Worth?
Aaron Rodgers is a professional quarterback football player who owns a net worth of $120 million. Munn and Rodgers were in a relationship for three years. 
What Is Olivia Munn Nationality? 
Lisa Olivia Munn was born in Oklahoma City, Oklahoma, the U.S. Her father, Winston Munn, was an American, but her mother came from Vietnam during the Vietnam War.