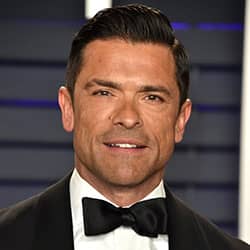 Mark Consuelos is an American actor who has a net worth of $41.6 million. He is popular for his role Mateo Santos in the American television soap opera All My Children. Besides, his role of Hiram Lodge on the American teen drama Riverdale made him further popular.
This prominent actor has appeared in numerous television series. Among these, All My Children, Law & Order: Criminal Intent, Pitch, The Protector are notable series. Besides, his appearance in films like Cop Out, A Walk Among the Tombstones, Nine Lives made him more popular in the film industry.
Consuelos gained the American Latino Media Arts Award. Besides, he won the Soap Opera Awards being an outstanding actor in a Daytime Soap Opera. In 2018, he earned the Teen's Choice Award. Mark married the American actress Kelly Ripa.
Net Worth: $41.6 Million
Mark Consuelos: At a Glance
| | |
| --- | --- |
| Full Name | Mark Andrew Consuelos |
| Gender | Male |
| Date of Birth | 30 March 1971 |
| Birth Place | Zaragoza, Spain |
| Height | 5ft 7in (1.71m) |
| Weight | 72kg |
| Spouse | Kelly Ripa (m. 1996) |
| Children | 3 |
| Profession | Actor, Producer |
| Nationality | American |
| Net Worth | $41.6 million |
Early Life
On 30 March 1971, Mark Consuelos was born in Zaragoza, Spain. His father, Saul Consuelos is Mexican where his mother, Camilla is of Italian descent. He has one brother and one sister. His brother is a doctor where his sister is a lawyer. Though he was born in Spain, he passed his childhood in Lebanon, Illinois, the U.S.
Talk about education, he went to Bloomingdale High School in Florida and later attended the University of Notre Dame. Mark graduated from the University of South Florida, taking a degree in Marketing.
Career
Mark Consuelos started his acting career playing a role in the educational drama series Connect With English. In 1995, he played the role of Mateo Santos on All My Children television soap opera. He gained huge popularity after playing this role. Besides, he fell in love with Kelly Ripa while working here and married in May 1996. They continued working in this series until 2002.
Later, he appeared in films like Cop Out, The Great Raid, My Super Ex-Girlfriend, and so on. Besides, he appeared in the Lifetime Canadian crime drama TV series Missing. In 2012, he appeared on the American police procedural drama Law and Order: Criminal Intent.
In 2017 to present, he is working on the American teen drama TV series Riverdale. He is playing the role of Hiram Lodge in this series.
Salary Highlights
This prominent actor earns $6.93 million per year. He gets a monthly salary of $578k. His hourly rate is $791. Hence, he gets $133k a week.
FAQs
How Much Is Kelly Ripa & Mark Consuelos Worth?
The American actress, dancer, journalist, and talk show host Kelly Ripa is the wife of Mark Consuelos. She owns a net worth of $120 million where her husband has a net worth of $41.6 million.
Are Kelly & Mark Still Married?
Yes, they are still married. Mark married Ripa in 1996. This couple has three children. They are Michael, Lola, and Joaquin.
What Is Kelly Ripa's Yearly Salary?
This prominent American actress earns $20 million a year. Her net worth is $120 million. However, Ripa's husband Mark earns $6.93 million a year. His net worth is $41.6 million only.