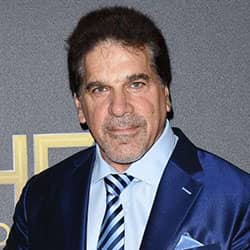 Lou Ferrigno is an American fitness trainer, actor, and former professional bodybuilder. This giant man owns a net worth of $15 million.
As a superhero lover, you must have heard the name of Hulk. This comic book icon portrayed the character of Hulk in the CBC TV series "The Incredible Hulk".
Talk about bodybuilding, Ferrigno was #7 richest bodybuilder. As a bodybuilder, he won numerous titles like IFBB Mr. America & IFBB Mr. Universe twice. This 1.96m giant bodybuilder appeared in the bodybuilding documentary "Pumping Iron".
As a fantasy-adventures lover, you will find Ferrigno in the "Sinbad of the Seven Seas" & "Hercules" films. Besides, Lou performed in the American sitcom TV series "The King of Queens".
Lou Ferrigno is a comedian too. He performed in the American comedy film "I Love You, Man". Now, this former bodybuilder earns $2.06 million a year.
Lou Ferrigno: At a Glance
| | |
| --- | --- |
| Full Name | Louis Judge Ferrigno |
| Gender | Male |
| Date of Birth | November 9, 1951 |
| Birth Place | Brooklyn, New York, U.S. |
| Height | 1.96m |
| Weight | 143kg |
| Spouse | Susan Groff (m. 1978; div. 1979) Carla Ferrigno (m. 1980) |
| Children | 3; (Louis Ferrigno Jr. Shanna Ferrigno, & Brent Ferrigno) |
| Profession | Actor, Fitness trainer & fitness consultant. |
| Nationality | American |
| Net Worth | $15 million |
Early Life
On November 9, 1951, Ferrigno was born in Brooklyn, New York. His father Matt Ferrigno who worked as a police lieutenant. Due to ear infection, Ferrigno lost his hearing of 75 to 80 percent at an early age.
Ferrigno was passionate about bodybuilding. At the age of 13, Ferrigno started weight training. He made his weight using a broomstick and filling with cement as he couldn't afford to buy weights.
Talk about education, Ferrigno went to St. Athanasius Grammar School. He learned metalworking from Brooklyn Technical High School.
Career
In 1969, Lou gained bodybuilding career success winning the title "IFBB Mr. America". Besides, he won the "IFBB Mr. Universe" title two times in 1973 & 1974 respectively.
Ferrigno became famous after his bodybuilding documentary "Pumping Iron". Besides, he ranked his name #4 in the world's strongest man competition held in 1977.
Talk about acting career, his "The Incredible Hulk" make him familiar to the comic book superhero lovers. Besides, Lou appeared in "Battle of the Network Stars", & "Trauma Center" series.
Ferrigno further enrolled his name in the sitcom series "The King of Queens" and comedy film "I Love You, Man". He is a voice actor as well. Lou lent his voice in the films "Thor: Ragnarok", "The Avengers", "Avengers: Age of Ultron" as the voice of the Hulk.
Salary Highlights
Lou Ferrigno's first job was a sheet metal worker earning $10 an hour. Currently, this iconic Hulk earns $236 per hour. His yearly income is $2.06 million. His monthly salary is over $172k.
FAQs
Who Is The Richest Bodybuilder?
Arnold Schwarzenegger is the richest bodybuilder having a net worth of $300 million. Lou Ferrigno trained with Arnold Schwarzenegger. Ferrigno is the No.7 richest bodybuilder.
Are Lou Ferrigno And Arnold Schwarzenegger Frienda?
Yes, they are longtime friends and workout partners. Even, they trained each other while preparing for Mr. Olympia contest. Though Ferrigno won two times Mr. Universe, he couldn't able to win Mr. Olympia.
What Is Lou Ferrigno Doing Now?
This incredible Hulk, Ferrigno is currently working as sheriff's deputy in New Mexico. This giant superhero is slated for this. Nonetheless, this $15 million owner is passing happy days in Arroyo Grande, California.