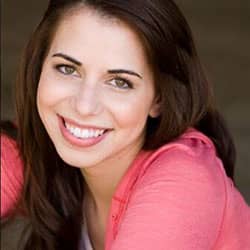 Laura Bailey is a voice actress, producer, director. She has a net worth of $1 million.
American teen drama series Dawson's Creek was the inspiration for Bailey to go acting. She is mostly known for voicing in video games such as BloodRayne, Street Fighter, Gears of War 4, The last of us Part 2.
Eventually, Laura got fame as she was dubbing several Japanese anime series to English. She was the line producer of the famous Japanese manga series Shin-Chan. Then she voiced the character Shin-Chan.
Therefore, Bailey voiced in almost 181 games, 45 movies,100 shows. She wanted to be an actress but ended up being a voice actress. Surely it was unexpected, something new and much challenging for her. Intensity and variability in voice is the trademark of this British actress.
Laura Bailey: At a Glance
| | |
| --- | --- |
| Name | Laura Bailey |
| Birthday | May 28, 1981 |
| Birthplace | Mississippi, US |
| Gender | Female |
| Profession | Voice actress, Director, Producer |
| Net worth | $1 million |
| Height | 1.65m |
| Nationality | American |
Early life
Laura Bailey was born in Mississippi. She joined theatre, in the Collin County Community College. Wherein she took participation in some plays. For example, Through a Glass Onion, Don't Rock the Jukebox.
Career
While Bailey was in college, she was noticed by a voice actor named Kent Williams. He called Bailey to give an audition for the American entertainment company Funimation.
Bailey got a part. Her first work with the company was as Kid Trunks on Dragon Ball Z. Moreover, she voiced in Blue Gender and Fruits Basket. In Fruits Basket, the role Tohru Honda was played by her.
Furthermore, in the Japanese anime television series Fullmetal Alchemist, Bailey voiced the villain role of Lust. As Funimation focused mainly on Japanese animations, she got to do voicing in a lot of Japanese anime.
After working nearly four years with Funimation, Bailey started ADR directing. She worked on Blue Gender: The Warrior, Gunslinger Girl, Kodocha, Shin-Chan.
Besides that, Bailey voiced in the animes named Tsubasa: Reservoir Chronicle, Genesis of Aquarion, Sengoku Basara: End of Judgement, Marvel Future Avengers. Also performed in featured films like Mass Effect: Paragon Lost.
Award and Achievements
Laura Bailey won 17 awards. Noteworthy that she was awarded the BTVA Anime Dub Television/OVA Voice Acting Award 2018, BTVA Voice Acting Award 2017. Beyond that, she received the NAVGTR Award 2019.
Quotes
"It's nice because after you've worked with various directors and producers enough times, they start to know your voice and what you're capable of."
"I guess anime helped me understand the Japanese culture a little better and makes me want to honour certain language nuances that don't always translate to English."
FAQs
Is Laura addicted to cigarettes? 
Not actually. She doesn't smoke in real life. 
What is the star mark of Laura Bailey? 
It's a Gemini.
Who is Laura's husband?
Travis Willingham. Laura and Travis got married in 2011. They have a boy.
What is the role's name that's Laura playing in Avengers 2020 video game?
Black Widow. 
Who are the parents of Laura Bailey?
It's not known about Laura Bailey's parents. She was born in Mississippi.