Kevin Costner is an extremely talented Hollywood actor, director, producer. He has won two Oscars for "Dances with Wolves" in 1990. He also has a hobby of singing and founded a country-rock band named Kevin Costner & Modern West. This Oscar-winning Hollywood celebrity has a massive wealth worth $250 million.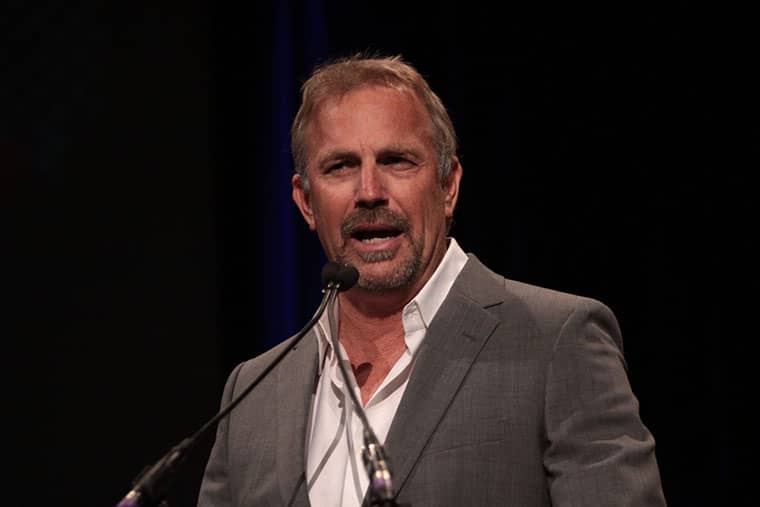 Early Life
Kevin Costner was born on 18 January 1955, in Lynwood, California, United States of America. His father, William Costner was an electric line servicer and his mother, Sharon Costner was a welfare worker. He is the youngest of three siblings.
In childhood, Kevin was very athletic and managed to get himself into the school's basketball, baseball and football teams. His hobby of writing and singing was developed in his teenage years. He used to sing in the Baptist church choir.
Kevin attended California State University and received higher studies in Business Administration. He gradually developed an interest in acting. He used to take acting lessons five nights a week.
Career
Kevin Costner started his career with a marketing job in Orange County. Being advised by Richard Burton, he wanted to follow his passion for acting. Soon he left his job and moved to Hollywood.
Kevin used to drive a truck, worked on a deep-sea fishing boat, and gave bus tours to stars' homes for living before getting a proper break-in Hollywood.
Kevin Costner made his debut in the film industry playing John Logan in Sizzle Beach, USA aka Malibu Hot Summer but wasn't released until 1886. By that time Kevin became a star.
In 1983, Kevin played a small role in The Big Chill but ended up getting cut in the editing room. For his performance in that movie, he came in sight of Lawrence Kasdan and cast Kevin in Silverado in 1985. The role "Jake" in Silverado was a breakthrough role of his career and his acting career got a huge lift.
In 1987, Kevin starred as Eliot Ness in The Untouchables which earned him huge fame and worldwide recognition. This movie won 12 awards including an Oscar. After that, he didn't need to look back and got himself engaged in numerous films and TV series.
Kevin Costner Net Worth:
As of 2022, Kevin Costner has an estimated net worth of $250 million. He is a successful Hollywood actor, producer, and director. A major part of his fortune came from films and TV series. He also owns a country-rock band. Kevin's wealth is also contributed by his business ventures like stocks, casinos, restaurants, baseball teams, and so on.
How does Kevin Costner make money?
Kevin Costner has massive wealth worth $250 million. A major part of his wealth came from the film industry. He also earns a handsome amount from his other ventures.
Kevin's major sources of income
Films and TV shows
Kevin Costner has been active in the film industry for more than 45 years. According to IMDB, he has made his appearance in 63 different movies and TV shows. He currently charges $7-17 million depending on the role and movies.
In his career of 45 years, Kevin has produced 22 films and TV shows. Almost $3.8 billion has been grossed worldwide by the movies and TV shows he produced. A massive amount from the collection comes in his pocket.
Kevin Costner has directed 3 films in his career which has a worldwide box office collection of $513 million. He has Oscars for directing the movie Dances With Wolves (1990).
Other Ventures
Kevin Costner has a keen interest in the business. He pursued the patent of an oil separation machine from the US Government and developed those machines. He also owns the Midnight Star Casino and Restaurants in Deadwood, S.D.
Kevin has founded a country-rock band named Kevin Costner & Modern West in which he used to perform. He also owns (partially) a baseball team Zion in the North America League.
Personal Life
Kevin Costner got married to his college life girlfriend, Cindy Silva in 1978. He had three children with Cindy: Annie, Lily, and Joe. Their marriage ended up divorced in 1994 after being together almost for two decades.
He has a son, Liam Timothy with Bridget Rooney, whom he dated for a brief time.
Costner got married again with his model girlfriend Christine Baumgartner in 2004. They are blessed with three children.
What is Kevin Costner doing now?
Kevin Costner is a busy Hollywood actor and producer. He is producing the TV series National Parks which is currently being filmed. He is also the executive producer of a mini TV series (6 episodes) One Giant Leap which is under pre-production.
According to IMDB, currently, Kevin is not acting in any movies.
Awards
In his 45 years career, Kevin Costner has won 58 awards including two Oscars, two Academy Awards, two Golden Globe Awards, a Primetime Emmy Award, and two Screen Actors Guild Awards.
Kevin Costner: At a glance
| | |
| --- | --- |
| Name | Kevin Costner |
| Gender | Male |
| Date of Birth | 18 January 1955 |
| Birth Place | Lynwood, California, USA |
| Marital Status | Married |
| Wife's Name | Cindy Costner (1978-1994)Christine Baumgartner ( 2004-present) |
| Children | 7 |
| Profession | Actor, Producer, Director, and Singer |
| Net Worth | $250 million |
Sources: