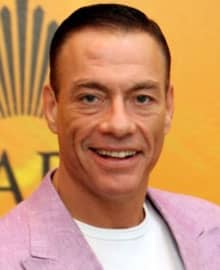 Jean-Claude Van Damme, shortly named JCVD, is a Belgian actor, filmmaker, former martial artist, and fight choreographer.
Jean-Claude Van Damme aka JCVD has a net worth of $30 million. He has accumulated this giant amount through martial arts and acting career. JCVD has appeared in numerous action films and is further known as The Muscles from Brussels. He is well known for his Kung Fu films.
From 1976 to 1982, Jean-Claude appeared as a martial artist. His martial arts career was fascinating.
Talking about the Kickboxing record, JCVD won 18 matches out of 19. On the contrary, Jean-Claude won 44 matches in the Amateur record and lost 4 matches throughout his career.
Well, in acting, JCVD appeared in at least 64 films since 1979 so far. Besides, he has appeared in famous television series like Robot Chicken, Behind Closed Doors, Las Vegas, Les Anges Gardiens, and so on.
Salary Highlights
JCVD has earned most of his wealth throughout his acting career. Since 1979, he is contributing to action films. Most of the films he appeared, earned a lot.
Below is the earning of JCVD from his notable films:
| | | |
| --- | --- | --- |
| Year | Name of Film | Earning |
| 1988 | Black Eagle | $70k |
| 1988 | Bloodspot | $25k |
| 1989 | Kickboxer | $70k |
| 1989 | Cyborg | $50k |
| 1990 | Death Warrant | $75k |
| 1991 | Double Impact | $0.6 million |
| 1992 | Universal Soldier | $1.5 million |
| 1993 | Hard Target | $3.5 million |
| 1994 | Street Fighter | $8 million |
| 1994 | Timecop | $5 million |
| 1995 | Sudden Death | $5 million |
| 2006 | The Hard Corps | $3 million |
Besides, JCVD played a villain role in The Expendable 2 film, which earned above $85 million in North America and $315 million at the Box Office.
In recent years, Jean-Claude Van Damme has appeared some high grossing films.
Here are these films earning:
| | | | |
| --- | --- | --- | --- |
| Year | Film Name | Budget | Earning from Box Office |
| 2011 | Kung Fu Panda 2 (voice role) | $150 million | $665.7 million |
| 2012 | The Expendable 2 | $100 million | $315 million |
| 2013 | Welcome to the Jungle | $3.5 million | $11 million |
| 2015 | Jian Bing Man | $12.88 million | $187 million |
| 2016 | Kung Fu Panda 3 (voice role) | $145 million | $521.2 million |
Apart from acting, Jean-Claude Van Damme spent six years as a martial artist. He won 18 matches in the Kickboxing record and 44 matches in the Amateur record.
Generally, a kickboxer earns $2000 per bout. Hence, a martial artist like Jean-Claude Van Damme has accumulated a lot from his boxing career.
To sum up, below is Jean-Claude Van Damme salary/income highlights:
Yearly Income: $5 million
Monthly Income: $416k
Weekly Income: $96k
Daily Income: $13k
Real Estate or Asset
Van Damme bought a brand new spec mansion situated in Marina Del Rey, California for $6 million. However, rapper Ice Cube bought that mansion from Van Damme paying $7.25 million in 2016.
Today, Jean-Claude Van Damme is living in Los Angles, California.
Jean-Claude Van Damme: At a Glance
| | |
| --- | --- |
| Full Name | Jean-Claude Camile Francois Van Varenberg |
| Gender | Male |
| Date of Birth | 18 October 1960 |
| Birth Place | Sint-Agatha-Berchem, Brussels, Belgium |
| Height | 5 ft 10 in (1.78m) |
| Weight | 78 kg (172 lbs.) |
| Spouse | Maria Rodriguez, Cynthia Derderian, Gladys Portugues, Darcy LaPier |
| Children | 3 |
| Profession | Actor, Martial Artist |
| Nationality | Belgium |
| Net Worth | $30 million |
Early Life & Career
Jean-Claude Van Damme was born in Brussels, Belgium, on 18 October 1960. His father, Eugene Van Varenberg, was a florist and his mother, Eliana, was an accountant.
Eugene Van Varenberg is a Belgium, where Eliana is a Flemish.
Eugene enrolled his son Van Damme in a Shotokan Karate School when Van Damme was only 16. Here Van Damme learned Shotokan Karate and Kickboxing.
At the age of 18, Van Damme earned his black belt, a sign of expertise, in Karate. Later, JCVD learned Taekwondo and Muay Thai Karate.
Within six years of his martial arts career, Van Damme has set a record both in Kickboxing and Amateur. JCVD became the European Karate Champion in 1979. Three years later, he officially said goodbye to martial arts.
Jean-Claude started his acting career in 1979. He played a minor role in the 1984 film Monaco Forever. Later, he showed boxing talent writing and acting in the 1989 film Kickboxer.
Since then, Van Damme successfully appeared in numerous action films. He further lent his voice to the Kung Fu Panda films.
Furthermore, JCVD was present in the expensive Expendable 2 film portraying villain character alongside Sylvester Stallone and Jason Statham, Dolph Lundgren, and so big names.
Jean-Claude is not only an actor but also a producer, writer. He has produced and written numerous action-thriller films so far.
Not only films Jean-Claude Van Damme also appeared in numerous television series including Las Vegas, Robot Chicken, Behind Closed Doors, and so forth.
Apart from these, Van Damme has appeared in many music videos. His appearance in the video game-like Street Fighter: The Movie is noteworthy.
This 'Muscles from Brussels' has won the prestigious Razzie Awards and The Stinkers Bad Movie Awards for his role in Double Team film.
FAQs
What Degree Black Belt Is Jean Claude Van Damme?
At the age of 18, Jean Claude Van Damme earned the black belt in karate. Black Belt is a symbol of expertise. However, Jean Claude ranked #2 in the Dan Black Belt in Shotokan Karate.
What Is Jean Claude Van Damme Doing Now?
After martial arts, Jean Claude began appearing in many action movies. He is still spending most of his time in numerous action movies. Besides, he is portraying himself in many short-lived TV series for Amazon.
What Martial Art Does Van Damme Use?
Jean-Claude generally uses Karate, Kickboxing, Taekwondo, and Muay Thai martial arts. He started learning martial arts at the age of 16. Special thanks go to his father who enrolled him in a Shotokan Karate School.
Who Is Van Damme, Daughter?
The American actress Bianca Bree is the daughter of Van Damme. This 21 years old American actress introduced her father Jean-Claude Van Damme. Bianca Bree has appeared in ten films so far. She has accumulated a net worth of $0.8 million.   
Sources