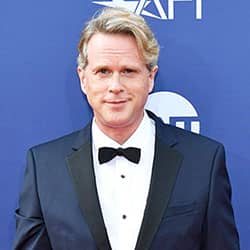 Ivan Simon Cary Elwes is mainly known as Carry Elwes. He was born on 26 October 1962 in Westminster, London, England. He is one of the most renowned English actors and authors. Elwes has a net worth of $8 million.
He moved to the United States, and then he started studying, acting at Sarah Lawrence College. He started his film career in his native country in 1984. Then he continued his career with another historical drama in 1985.
Well, we'll discuss his career in the next section. If you are interested to know about this amazing actor, then keep continuing.
Cary Elwes: At a Glance
| | |
| --- | --- |
| Born: | Oct 26, 1962 |
| Birth Place: | Westminster, London, UK |
| Birth Sign: | Scorpio |
| Height: | 6 ft (1.83 m) |
| Weight: | 74 KG (163 lbs) |
| Nationality: | English |
| Marital Status: | Married |
| Wife: | Lisa Marie Kurbikoff |
| Profession | Author, Actor, Film Producer |
| First Movie: | Another Country |
| Net Worth: | $8 million |
| Education: | Harrow School, London Academy of Music and Dramatic Art, Sarah Lawrence College |
Career
Well, in 1984, Cary Elwes made his debut with the film named "Another Country" Interestingly, he played the role of a gay student named James Harcourt. He also performed in Lady Jane, which is a historical British drama. In this drama, he performed with the opposite of Helena Bonham.
Elwes continued his career smoothly. In 2004, he took part in the horror–thriller Saw. In the same year, he starred in a romantic comedy film as a villain.
In 2010, Cary Elwes moved to Saw franchise to take part in Saw 3D, which is a popular 3D horror film based in the United States. In the next year, Ivan Reitman chose him to star in "No Strings Attached" along with Natalie Portman.
In the year of 2015, Cary Elwes successfully starred in 4 movies. In January 2016, he also starred as Warhol alongside Kevin Spacey in The Billionaire Boys Club, and this popular film was directed by James Cox, who is an American film director.
Lifestyle
Cary Elwes leads a luxurious life with his photographer wife, Lisa Marie Kurbikoff. They have only a daughter, Dominique Elwes who was born in 2007.
Cary Elwes with his Wife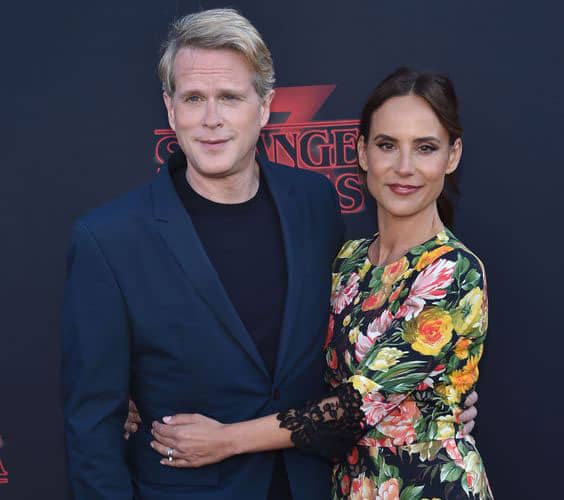 FAQs
Is Cary Elwes Married?
Yes, Cary Elwes is married, and he got married to photographer Lisa Marie Kurbikoff. The interesting thing is that they met at Malibu, California in 1991. In 1997, Elwes and Kuribikoff became engaged. Finally, they got married in 2000.
Is Cary Elwes a Catholic?
Most of the men on his paternal side attended denominational schools, but he didn't. However, Elwes grew up as a Catholic, in fact, he was an altar boy at Westminster Cathedral.
How do you Pronounce Cary Elwes?
There has been much debate about how exactly 'Elwes' * can be pronounced. Although some people say 'Ells', Carey Elwes himself says 'It would be Elvis but with a W'. However, the "ell-ways" is considered as the most common pronunciation.
Can Cary Elwes Sing?
Basically, the actors or actresses do not sing for their own roles. The entire vocals are performed by professional singers. Arthur Rubin and Debbie James sang for Cary Elwes and Amy Yasbeck.