Zak Bagans is a famous American TV show personality, paranormal investigator, author, and museum operator who has a net worth of $35 million. He is renowned among people for being the main host of a TV series, Ghost Adventures, broadcasted on the Travel Channel.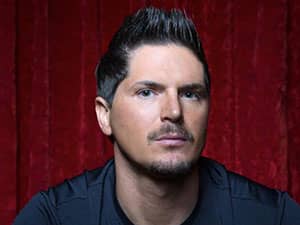 Keep reading to learn Zak Bagans's adventurous lifestyle and how he built up his massive wealth.
How much money does Zak Bagans make?
Zak Bagans earned most of the money by hosting a documentary TV show based on his paranormal investigations. He earns nearly a million dollars annually from hosting the show.
Besides, Zak Bagans earns from selling books written by himself. Moreover, his museum brings him a huge deal of money every day. To clarify, Zak Bagans previous year's estimated Income is given below in a periodic format:
Yearly Income: $1.5 million
Monthly Income: $125 thousand
Weekly Income: $28.84 thousand
Daily Income: $4.1 thousand
Hourly Income: $171.23
How does Zak Bagans make money?
Zak Bagans is a TV show personality, paranormal investigator, author, and museum operator at a time. Besides, he has a website on google from where he sells merchandise. Zak Bagans's sources of Income are full of diversity. His known sources of earning are given below in short:
TV shows and documentaries
Haunted museum
Books
Online merchandise shop
TV shows and documentaries
In 2004, Zak Bagans started his career by making a documentary film named Ghost Adventures by himself. Later on, he started a TV show in 2008 by the same name 'Ghost Adventures.'
Likewise, the documentary film, Zak Bagans made another film in 2018, named Demon House and he acted in his self-character.
From 2004 to the present, Zak Bagans has worked with 8 TV shows and made 2 films in total. Besides, he appeared in 3 TV series as a guest, including Nightline in 2012, The Late Late Show with James Corden in 2015, and Today in 2015.
Excluding the TV series where Zak Bagans appeared as a guest, other 5 TV shows are created by him. In addition, he worked his shows as an executive producer and in his self-character. The TV shows where he worked with multiple episodes are provided below to see at a glance:
| | |
| --- | --- |
| TV Show | Number of Episodes |
| Ghost Adventures (2008 – present) | 213 regular and 67 specials |
| Paranormal Challenge (2011) | 12 |
| Paranormal Paparazzi (2012) | 8 |
| Ghost Adventures: Aftershocks (2014 – 2016) | 25 |
| Deadly Possessions (2016) | 6 |
Haunted museum
While working for the Deadly Possessions, on 2 April 2016, Zak Bagans revealed that he found a haunted museum situated in Las Vegas, Nevada. One and a half years later, in October 2017, he publicly opened the museum.
The haunted museum has 33 rooms full of artifacts decorated on display. Some famous displays are, such as the Dybbuk box, mirror of Bela Lugosi, death van of Jack Kevorkian, etc.
Zak Bagans receives 44 dollars per person in the category of general admission. Most importantly, a person is bound to inspect the museum only for an hour and a half.
Books
Zak Bagans has done some writing in his career. He has co-written with Kelly Crigger a book named 'Dark World: Into the Shadows with the Lead Investigator of the Ghost Adventures Crew.' Certainly, the book was ranked 18th in a magazine named New York Times in the division of best-selling books in 2011.
In December 2019, Zak Bagans published another book named Ghost Hunting for Dummies. This book is also quite famous, but not like the previous one.
Online merchandise shop
Zak Bagans has a website on Google. The website sells various merchandise related to the haunted museum, including hats, books and music, t-shirts, iconic merchandise, etc. Most of the customers on this website are visitors to his museum and fans of his TV shows.
Biography of Zak Bagans
| | |
| --- | --- |
| Real Name | Zachary Bagans |
| Professional Name | Zak Bagans |
| Gender | Male |
| Sexual Orientation | Straight |
| Religion | Non-religious |
| Date of Birth | 5 April 1977 |
| Place of Birth | Washington, D.C. |
| Zodiac Sign | Aries |
| Height | 5 feet 11 inch |
| Weight | 80 Kg |
| Nationality | American |
| Marital Status | Not Married |
| Girlfriend | No |
| Profession | Paranormal investigator, TV personality, actor, museum owner, author |
| Net Worth | $35 million |
The early life of Zak Bagans
The famous paranormal investigator, Zak Bagans was born in the capital of the USA, Washington D.C. And he grew up in Glen Ellyn, located in DuPage County, Illinois.
Zak Bagans's father's name is Larry Bagans, and his mother's name is Nancy June Knapp, who was an interior designer. In addition, Zak has a sibling named Meredith Bagans.
Zak Bagans completed high school at Glenbard West High School. Further, he completed graduation from the Western Michigan University.
FAQs
Who owned Zak Bagans's museum previously?
Though the house, which is in use as the Zak Bagans Haunted Museum, was founded and owned by a businessman named Cyril S. Wengert. Besides, there is a rumor spread on air that in the 1970s, dark rituals were done in the basement of the residence.
How much does it cost to go to Zak Bagans Museum?
It costs around 44 dollars to visit Zak Bagans's haunted museum in the category of general admission. In addition, there is a regulation to follow to inter, such as no permission to visit under the age of 16.
When did Zak Bagans's museum open?
At the end of 2017, Zak Bagans opened his haunted museum. The museum was created at one of the oldest residences of Las Vegas. However, the mansion was founded in 1938 by a banker and a businessman named Cyril S. Wengert.
Sources