Joseph DePinto is the president and CEO of 7-Eleven.Inc from America. Which is the premier company in convenience retailing. He is considered one of the greatest businessmen in the retail business.
As of 2022, Joseph DePinto has an estimated net worth of $40 million. All of his endeavors have helped put his net worth.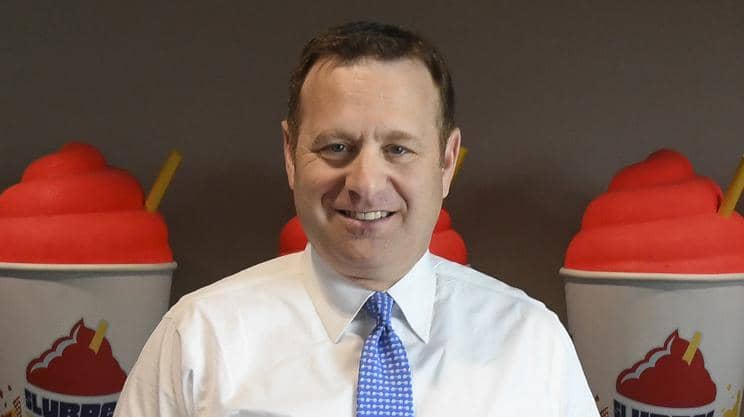 He worked as a chief executive at 7-Eleven.Inc, At GameStop Corporation, Joseph worked in the president role. He also worked for PepsiCo, Inc. and Thornton Oil Corporation. DePinto has been serving as a Director of The Retail Industries Leader Association since 2011.
Joseph DePinto: At a Glance
| | |
| --- | --- |
| Full Name | Joseph DePinto |
| Birthplace | Illinois, USA |
| Birthyear | 1963 |
| Age | 59 years old |
| Nationality | American |
| Spouse name | Ingrid DePinto |
| Occupation | Businessman |
| Net Worth | $40 million |
Early Life
Joseph was born in Chicago, Illinois, USA. His biography is not quite available on the internet and he has not shared many details about himself. Some of his professional and educational details can be found on the Internet.
Joseph graduated with an Engineering degree from the US Military Academy at Westpoint. Afterward, he attended the Kellogg School of Management at Northwestern University. From there, he earned his Master of Business Administration.
Career
Over the course of his career, he has worked with many high-profile companies in high positions. Among them, he is best known for being the Chief Executive Officer of the retailer company 7-Eleven.Inc.
7-Eleven, Inc is an American multinational retail supermarket company. which headquartered is situated in Dallas Texas. The company was founded in 1927 as an ice house store in Dallas. It was later named Tote'm Stores from 1928 to 1946.
The company has grown immensely over the years, with it being in the top 10 in Entrepreneur Magazine's 31st Annual Franchise 500. Joseph has been working with 7-Eleven for over 14 years. Now, 7-Eleven is one of the most expanded businesses as it has over 78100 stores.
7-Eleven sells many private-brand products, coffee, grocery items, fruits and vegetable items, salads, bakery items, package and prepared foods, gasoline, carbonated beverages, and donuts. They also provide financial services, and product delivery services.
Joseph worked in Gamestop corporation as the President after buying many shares. Which is the American largest video game and entertainment software company. At PepsiCo, Inc, he worked for almost two years.
Not only did Joseph work as the director of Brinker International, Inc, but he also glorified his career to work as a director of Jo-Ann Stores. Later worked for Thornton Oil Corp as Senior Vice-President. He also worked as the Chief Operation Officer at Thornton.
Along with his present activities, DePinto serves on the Board of the Business Executives for National Security. Dallas Stars Ownership offered a post for him in the Advisory Group. Along with that, he did the same duty at the Kellogg School of Management.
Joseph DePinto's net worth
Joseph has an estimated net worth is $40 million. He mostly earned it through a successful career in business. He owns over 15,756 units of BI stock worth over $2.5 million, over the last 10 years. Later, he sold EAT stock in exchange for $8 million.
Not only does he earn over a million dollars per year as part of 7-Eleven, but he also holds a board position in numerous organizations, it is expected that his wealth will continue to increase.
Real estate and car collection
Joseph lived in Southlake, Texas, United States of America. He lived with his family in a luxurious mansion in Texas. Talking about his car, there is no information about his car collection. We try to update his information.
How did Joseph DePinto earn money?
Joseph is considered one of the great businessmen in the retail business. Most of his revenue came from his company 7-Eleven, Inc. on the other hand, he earned a handsome amount of money from other business ventures.
Personal life
The 57-year-old business is currently married to Ingrid DePinto and has 4 kids. Joseph is a film enthusiast. In 2010, Joseph appeared in the reality series named Undercover Boss. He was also inspired by the story and outlook of one of his delivery drivers.
What is Joseph DePinto doing now?
Joseph is currently working as the CEO 7-Eleven, Inc. Additionally, in the Southwestern Medical Foundation, he is on the Board of the Council. He worked for the Dallas Stars and many more. But nowadays he wants to spend time more with his family.