Henry James Ruggs III aka Henry Ruggs is an American professional football player. He has played for Las Vegas Raiders in the National Football League (NFL). He drew media attention to the recent fatal car crash due to reckless driving resulting in death. As of 2022, Henry has an estimated net worth of $1.5 million.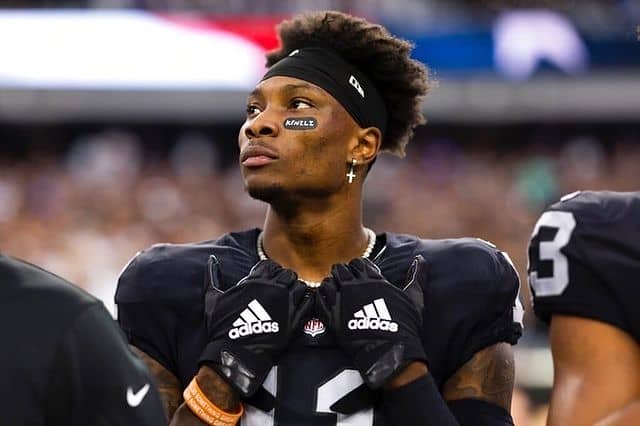 Early life
Henry Ruggs III was born on 24 January 1999 in Montgomery, Alabama, the United States to Henry Ruggs Jr. and Nakati Ruggs. He inherited his speed and athletic ability from his mother, Nataki Ruggs who was the track champion in her time, having a record of 40 yards in 4.23 s.
His younger brother, Kevontae Ruggs also played college football.
Henry attended Robert E. Lee High School in Montgomery. For his athletic ability and skills at football, he received a scholarship from school to play football.
In 2017, Henry joined the University of Alabama as he was offered a scholarship to play on their football team.
Henry Rugs: At a Glance
| | |
| --- | --- |
| Real Name | Henry James Ruggs III |
| Professional Name | Henry Ruggs |
| Gender | Male |
| Date of Birth | 24 January 1999 |
| Birth Place | Montgomery, Alabama, USA |
| Current Address | Nevada, USA |
| Relationship Status | Single |
| Marital Status | Unmarried |
| Profession | Football Player |
| Net Worth | $1.5 million |
Career
Henry Ruggs started his career as a football player in his high school days. In 9 matches, he caught 38 times for 639 yards and also scored 20 touchdowns.
For his speed and excellent performance in high school football, he was offered a scholarship to play football for teams from more than 20 colleges and he picked the University of Alabama.
His performance on Alabama's football team was outstanding. He had scored 24 touchdowns which is the third all-time leaderboard in Alabama's history.
In 2020, Henry dropped out from the University of Alabama and enlisted in the 2020 NFL draft. For his impressive track record, he was picked by Los Vegas Raiders in the first round of the NFL draft. He made his debut as a professional football player against the Carolina Panthers.
In his two-season career at Las Vegas Raiders, Henry scored 4 touchdowns and 921 yards. On 2 November 2021, Las Vegas Raiders released him as he was accused of reckless driving causing a fatal car accident.
Henry Ruggs net worth
At the age of 22, Henry Ruggs has become a millionaire having an estimated net worth of $1.5 million. He made this massive fortune at an early age by playing as a wide receiver at Las Vegas Raiders in the National Football League (NFL).
How does Henry Ruggs Make money?
Henry Ruggs is quite rich having wealth worth $1.5 million. His major source of income is football. Henry played two seasons for the Las Vegas Raiders as a wide receiver in the NFL. The payments from Las Vegas Raiders made him this massive fortune.
In 2020, Henry signed a four-year contract with Las Vegas Raiders and an optional fifth year which is worth $16.76 million. He received a signing bonus of $6.18 million.
But the Raiders released him on 2 November 2021 voiding the contract as he was accused of driving recklessly, having alcohol over the allowed limit and causing a car crash resulting in death. According to the contract, he will get $4.73 million which will benefit his net worth greatly.
Personal Life
Henry had a girlfriend named Roderic Scott while he was in high school who died in a car accident. He dedicates his scores and shows respect with a three-finger salute after every touchdown.
Later, Henry started dating Rudy Washington. He dated her for a long time and gave birth to a daughter named Kenzli Re'Nai with her on 7 May 2020. Their long-term relationship ended in 2021.
Henry started dating Kiara Kilgo-Washington who was with him in the fatal car accident and died due to severe injury.
Car Crash Incident
On November 2, 2021, Henry was driving his sports car Chevrolet Corvette with his girlfriend Kiara Kilgo-Washington at about 251 km/h while drunk.
The alcohol level in his blood was twice the allowed limit. He slammed his car into a Toyota RAV4 at a speed of 190 km/h.
Henry and his girlfriend got injured in the accident and were taken to the University Medical Center of Southern Nevada.
Although Henry survived the accident without any heavy injury, his girlfriend died due to severe injury. She had a dog with her who also died in the accident.
Later, he was arrested for reckless driving and driving under the influence resulting in death. He got bail paying a $150k fine.
What is Henry Ruggs doing now?
The car crash incident ended his career at Las Vegas Raiders and his football career is about to end. He is now under the strict supervision of the police. If the allegations against him are proven, he might be sent behind the bars for up to 20 years.