Klay Thompson is a widely famous professional American basketball player. He is known for playing in the NBA for the Golden State Warriors basketball team. In the history of the NBA, Klay Thompson is considered one of the best shooters. The NBA selected him as NBA all-star five times.
Explore more about Klay Thompson by reading the following article. Discover his achievements in the field of basketball and learn how he managed to make such a massive net worth. Moreover, know some additional details, including Klay Thompson's biography, family, education, etc.
What is Klay Thompson's net worth?
American basketball player Klay Thompson owns an estimated net worth of $55 million.
According to Forbes, on 6 April 2021, Klay Thompson had a net worth of 44.5 million dollars, and his annual salary is around 35.36 million dollars. Thus it can be estimated that he is currently possessing around 55 million dollars.
How much money does Klay Thompson make?
Klay Thompson is currently earning 35.36 million dollars per year only from the NBA.
According to Basketball-Reference, Klay Thompson has received 146.88 million dollars only from playing in the NBA since 2011. Besides, he made around 15 million dollars by endorsing brands. Moreover, Klay Thompson has worked in films.
How much does Klay Thompson make from the NBA?
Klay Thompson's main career is concentrated in basketball. He makes a massive deal of money every year from this. However, the amount of money Klay Thomson received per NBA season are tabled below to see at a glance:
| | |
| --- | --- |
| Season | Amount of Salary in USD |
| 2011-12 | 2.127 million |
| 2012-13 | 2.286 million |
| 2013-14 | 2.318 million |
| 2014-15 | 3.076 million |
| 2015-16 | 15.5 million |
| 2016-17 | 16.663 million |
| 2017-18 | 17.826 million |
| 2018-19 | 18.988 million |
| 2019-20 | 32.74 million |
| 2020-21 | 35.361 million |
| Total | 146.888 million |
Besides, according to Hoops Hype, Klay Thompson is in contract with the Golden State Warriors to play in their team until 2024. The team will pay a handsome amount for playing for them. The amounts are listed below:
| | |
| --- | --- |
| Season | Amount in USD |
| 2021-22 | 37.98 million |
| 2022-23 | 40.6 million |
| 2023-24 | 43.22 million |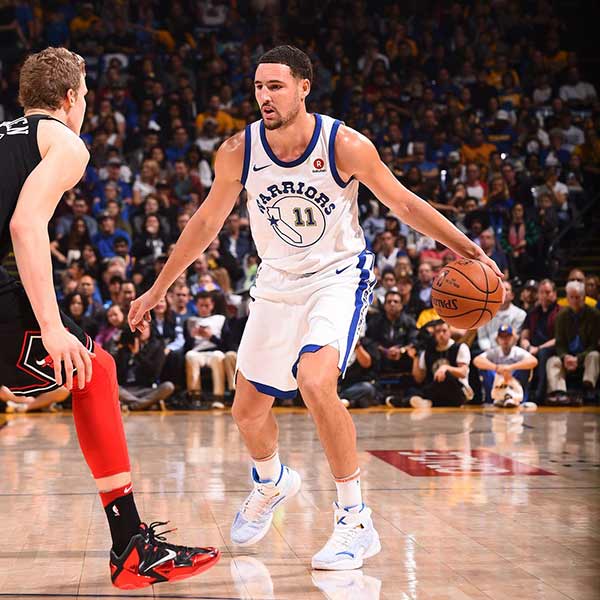 Klay Thompson's career as an NBA sportsman
In 2011, Klay Thompson was selected for the 2011 NBA Draft as the 11th player of Golden State Warriors. In that season, his gameplay was at the level of league-leading.
Klay Thompson was again at the top point holder in playing games and games starting in the 2012-13 season. However, he has won 3 regular NBA Championships for Golden State Warriors, including the 2014-15 season, 2016-17 season, and 2017-18 season.
Moreover, Klay Thompson has also won 3 playoffs with his team Golden State Warriors, including the years 2015, 2017, and 2018. Furthermore, he has been 5 times NBA all-star.
Klay Thompson's brand endorsements
As a well-known figure in the world of basketball, Klay Thompson is one of the first choices of many companies as their promotional character. Until now, he has handled around 15 million dollars worth of endorsements.
Some of the companies Klay Thompson endorses are, including Anta Sports Products, Panini, Electronic Arts, BodyArmor, Gillette, etc.
Moreover, Klay Thompson has signed a contract with a shoe brand in China, Anta, in June 2017. According to the deal, he receives 8 million dollars every year. Besides, the company gives Klay Thompson additional bonuses that fluctuate with the company's profit.
Workings of Klay Thompson in the field of Filmography
Klay Thompson has also stepped into the film and TV series industry. In 2021, he worked in an animated movie, Space Jam: A New Legacy. There, he worked in the voice role of his self-character.
In the same year, Klay Thompson worked in an episode of a TV series, NBA on ESPN. This TV series covers NBA's weekly affairs, and the episode where he appeared is Nuggets vs Warriors.
Biography of Klay Thompson
| | |
| --- | --- |
| Full Name | Klay Alexander Thompson |
| Professional Name | Klay Thompson |
| Gender | Male |
| Sexual Orientation | Straight |
| Date of Birth | 8 February 1990 |
| Place of Birth | Los Angeles, California, United States of America |
| Zodiac Sign | Aquarius |
| Religion | Catholic |
| Ethnicity | Mixed |
| Nationality | American |
| Nationality by Birth | American |
| Height | 6 feet 6 inch |
| Weight | 98 Kg |
| Marital Status | Not Married |
| Relationship Status | In a relationship |
| Girlfriend Name | Laura Ruth Harrier |
| Children | None |
| Profession | Professional Basketball Player |
| Net Worth | $55 million |
The early life of Klay Thompson
On 8 February 1990, Klay Thompson was born in Los Angeles, California, United States of America. When he was only two years old, his parents shifted to Lake Oswego, Oregon. In addition, Klay Thompson was born into a Catholic family.
Klay Thompson's father's name is Mychal Thompson, was the 1978 NBA draft's first overall pick. On the other hand, his mother's name is Julie Thompson, and she played volleyball for the University of San Francisco and the University of Portland.
At the age of 14, Klay Thompson with his family shifted to Ladera Ranch, California. There, he completed his high school at Santa Margarita Catholic High School in 2008. Later on, Klay Thompson attended Washington State University for undergraduate study.
FAQs
Who is Klay Thompson's girlfriend?
Klay Thompson is not single and currently dating a model and actress, Laura Ruth Harrier. Her ethnicity is black. Besides, Klay's girlfriend has acted in some hit movies, including Spider-man: Homecoming, Bios, etc.
Has Klay Thompson gotten injured?
Like other sportsmen, such as David Lee, Klay Thompson also suffered an injury. In November 2020, he has torn Achilles tendon. This injury led Klay Thompson out of the season for six months because he has gotten a major injury that would take 6 to 7 months to heal completely.
Is Klay Thompson the highest-paid player?
Klay Thompson is one of the highest-paid basketball players in the world. According to azcentral, he is in the 10th position on the list of top 30 highest-paid NBA players. However, Stephen Curry is in the number one position for receiving 45.78 million dollars per annum.