Justin Guarini is a musician, actor, and host. His net worth is $1 million. Justin earns mostly by singing and making songs.
In the very first season of American Idol, Justin became the runner-up. From that time he's become quite famous. He has starred in two films. One is From Justin To Kelly in 2003, another is Fast Girl in 2008.
Moreover, Justin has performed in many theatre plays such as Chicago, American Idiot, Romeo, and Juliet. He sings for movies also.
His first album was named after him. So the album Justin Guarini was released by RCA Records. However, his second album is Stranger Things Have Happened.
Besides that Justin plays the piano, guitar, and banjo. Curly hair is the trademark of this Georgia-native singer.
Justin Guarini: At a Glance
| | |
| --- | --- |
| Name | Justin Eldrin Bell |
| Birthday | October 28, 1978 |
| Birthplace | Georgia, US |
| Height | 1.83m |
| Profession | Musician, Host, Actor |
| Net worth | $1 million |
| Gender | Male |
| Nationality | United States America |
Personal Life
Son of Eldrin Bell and Kathy Pepino Guarini was born in Columbus, Georgia. His mother was a journalist. Jerry Guarini, the stepfather of Justin and his mother, has raised him.
Justin joined Central Bucks High School East. Furthermore, he studied vocal performance and theatre studies at the University of the Arts at Philadelphia. After moving to New York, he attended The School for Film And Television.
Career
From a very early age, Justin's musical practice started. A famous choral group named Atlanta Boy Choir had accepted him when he was only four.
In 2002, he auditioned for American Idol. Whereas Justin's performance was well praised by all the judges. Right after becoming the runner-up of the show, he had signed a deal with RCA Records.
Above all, he was the only one among the participants from American Idol's first season who was asked to appear on the famous American talk show named the Oprah Winfrey Show.
Thereafter the host of the show Oprah Winfrey praised him saying – Justin, you have it.
Justin's first album sold nearly 146,000 copies. The second album his was released through Justice Entertainment Ltd. He is the owner of this production.
In 2007 Justin signed another contract with TV Guide Network as it's a seasoned co-host for Idol Wrap & Idol Tonight. That contract has lasted till 2011. On the other hand, Guarini became a part of the Broadway theatre.
United with Shaun Ingram, Guarini co-produced an extended record. Which consists of 3 songs titled When She Cries, Rock Bottom, and Sweet Time.
Since 2015, Justin has been starring in tv commercials. He makes most of the money by singing and hosting. Because of being just multi-talented, he's much admired by the critics. He seems charismatic in every way.
Awards and achievements
For supporting music education, Justin was awarded the NAMM 'Music for Life' award in 2006.
Quotes
"There is a fine line between assertiveness and being relaxed."
"Either positive or negative comments are good because it shows I am still relevant.
"I'm not unknown, yet I'm not super famous where I can't go anywhere."
Justin Guarini Wife of Recent Image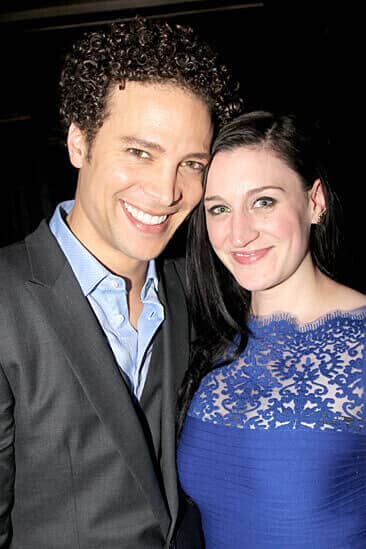 FAQs
Is Justin Guarini married?
Yes. He got married in 2009
Are Justin Guarini & Kelly Clarkson having a relationship?
No. They've been good friends.