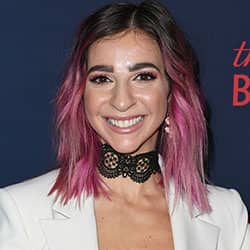 Gabbie Hanna, an American YouTuber, songwriter, and singer, who was born on 7 February 1991. She first became a star by posting videos on Vine, following that she created a YouTube account, and now she has a net worth of around $2 million.
Hanna wrote a poetry book named 'Adultolescence'. She also released her recorded song 'Out Loud' written by Hanna and Bruce Wiegner. This song's plot is based on Hanna's poetry book.
Later, she also released Extended Play, 2WayMirror, Bad Karma and more.
She has achieved Streamy Award, and also Shorty Awards for Best YouTube Ensemble.
Gabbie Hanna: At a Glance
| | |
| --- | --- |
| Name | Gabrielle Jeannette Hanna |
| Date of Birth | 7 February 1991 |
| Birthplace | New Castle, Pennsylvania, U.S |
| Occupation | Youtuber, singer, songwriter, author |
| Religion | Christian |
| Height | 5′ 5″ |
| Marital status | N/A |
| Spouse name | N/A |
| Children | N/A |
| Net Worth | $2 million |
| Nationality | American |
Personal Life
Gabrielle Jeannette Hanna, a millionaire Youtuber from New Castle, Pennsylvania, USA. She attended Pittsburgh University for her higher degree in psychology and communications.
She owned a house in 2019 which cost $2.2 million.
Career
After getting huge success on Vine she created her channel 'The Gabbie Show' on YouTube in 2014. Due to participating in a dance program, she lost her concentration from 'The Gabbie Show', and started reducing popularity, subscribers and views. As a result, she has to create another account and its name, 'The Gabbie Vlogs' and it began earning subscribers and viewers, now it has more than 1.5 million subscribers.
On the other hand, Hanna's music video made a blast on social media and MTV offered Hanna for joining their social media team.
In 2017 she worked on a single song 'Satellite'. Later, in 2019 Hanna published a song with the title 'Broken Girls' and it has more than 1 million views. And her song 'Medicate' is growing over 7.6 million views.
'Bad Karma' her 2nd EP released in April 2020 and 'Glass House' her 2nd single published in May 2020.
Awards and achievements
Gabbie Hanna attained Shorty Award for Best YouTube Ensemble also another one for Storyteller And Ensemble Cast.
Either, she was nominated for Shorty Awards as YouTube Comedian, Teen Choice Awards as Choice Web Star: Female, and Choice Viner.
Quotes
"I don't fear death. I fear the end of all my thoughts and dreams that will disappear into nothingness when I die."
" I always hid from my emotions. I always run to the bathroom and cried instead of letting anybody see it."
FAQs
How much money does Gabbie Hanna make?
Gabbie Hanna has a net worth of $2 million, the lion share of her money comes from his youtube.
Did Gabbie Hanna delete her Instagram?
Yes, Gabbie Hanna has deleted her Instagram profile.
What is Gabbie Hanna's nationality?
Though, Gabbie Hanna was born in New Castle, Pennsylvania, USA. So her nationality is American.