Despite the challenges, being a CNN anchor is a highly coveted position. The high salaries and prestige of the job make it a sought-after position by many aspiring journalists.
When it comes to salaries, CNN anchors make a pretty penny. But, who is the highest paid anchor on CNN?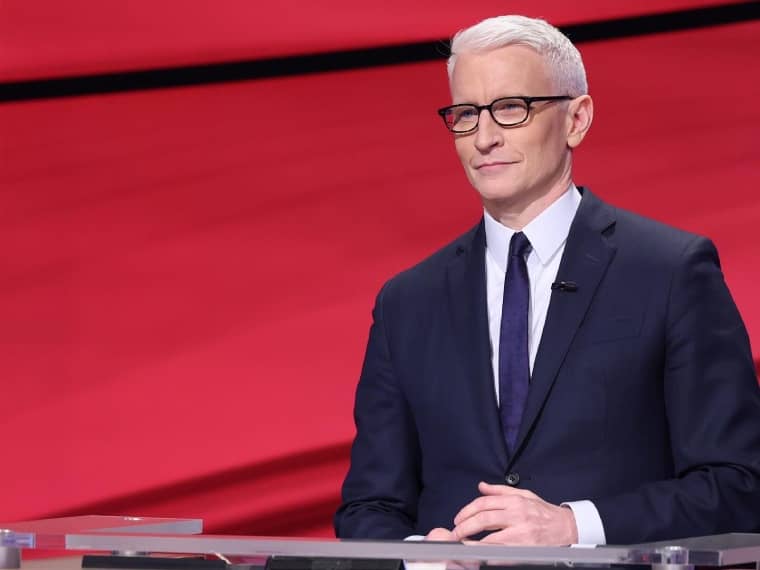 Highest paid CNN anchor 2023:
Anderson Cooper is the highest-paid anchor or host on CNN. He is an American-born broadcast journalist along with a political commentator. Cooper has been best known as "Anderson Cooper 360° primary anchor."
It is an American television news show. Besides, Anderson Cooper is a correspondent for the television magazine "60 Minutes." He takes the highest place as a well-known CNN anchor for a couple of years.
Anderson Cooper became the highest-paid CNN anchor due to his popular news show. His popularity has sharply increased because of his on-the-ground reporting of Hurricane Katrina breaking news events.
His excellent skill in reporting made him the highest-paid anchor on CNN. Anderson Cooper remains one of the most popular news anchors in the United States.
Anderson Cooper's CNN Salary:
Anderson Cooper is one of the wealthiest news anchors. He was a news correspondent for ABC News before joining CNN as an anchor. Anderson Cooper's average salary is around $12 million annually.
Multiple reports show he has an estimated net worth of $200 million. Cooper's vast wealth mostly derived from his media career. As a CNN anchor, he makes more than $230k weekly.
So according to our calculation, Anderson Cooper earns an average of $1 million per month. As a result, he became the highest-paid anchor on CNN. Cooper joined the cable news network in 2001.
Related Read: How Much do CNN Contributors Get Paid
How Much Do CNN Anchors Get?
According to the official website of CNN, an anchor can get anywhere from $40k to multi-million dollars per year. But the salary range depends on tenure & experience. The less experienced anchor gets a certain starting salary from CNN.
On the other hand, the most famous and experienced anchors can make more than $1 million annually like Wolf Blitzer and Erin Burnett. Wolf Blitzer takes an average of $5 million annually from CNN as an anchor.
CNN was the second most cable news network according to 2021. Making it possible, the anchors played an important role in keeping viewers hooked to it.
Who is The Highest Paid Female Anchor on CNN?
As of 2022, Erin Burnett is the highest-paid female anchor on CNN. She is an American-born news anchor and journalist. Erin gets over $3 million yearly or approximately $250k monthly.
Currently, she is working on CNN as the main anchor of Erin Burnett OutFront. It is an hour-long television news program that has been telecasted since 2011. Erin has an estimated net worth of $20 million.
Previously, Greta Conway Van Susteren was the highest-paid female anchor on CNN. But she left CNN and joined Newsmax TV as a news anchor. She has an estimated net worth of $35 million.
Former CNN anchor Chris Cuomo is demanding $125 million from CNN following his termination from the cable news channel last year. via @THR https://t.co/84pTnHx9x0

— Justia.com (@justiacom) March 17, 2022
What Are The Salaries on CNN?
CNN's official website says that the channel has around 4000 employees worldwide. The employees get a handsome salary from CNN. Including base and bonus, the annual salary averages $126k.
Director of Sales is the highest-paid job at CNN. They make more than $207k annually. On the other hand, Desktop Support is the lowest-paid job at CNN. They make roughly $45k a year.
CNN salaries according to departments:
| | |
| --- | --- |
| Department Name | Approximate Salary |
| Director of product | $130k |
| Engineering department | $170k |
| Design | $119k |
| Operations | $70k |
| Communications | $75k |
| Customer Support | $58k |
| HR | $129k |
People are currently interested in building up a media career to get a high salary. However, to reach the top position in this sector, you must need vast knowledge, experience & integrity.
Related Read: Who is the Highest Paid Anchor on GMA
Does Anderson Cooper Still Have a Job?
As of 2023, Anderson Cooper does not resign from CNN. He is still doing his job happily and is paid handsomely as well. Anderson is the main anchor of the news show Anderson Cooper 360°.
Previously, he left CNN due to a health issue. A news portal DEADLINE reported that Anderson Cooper tested positive for COVID-19. That is why he was far from his job for a few days.
Cooper missed his CNN program those days. Later, he came back to the show. Anderson Cooper joined CNN in 2001 with his own news show. He developed his reputation and became the highest-paid anchor on CNN.